.

| | | |
| --- | --- | --- |
| | | |
| Titles Reviewed | | |
A
Atlantic City
B
Big Deal (TV Series), Big Deal at Dodge City (aka...A Big hand for a Little Lady), The Big Town,
Bob le flambeur, Boiler Room, Bugsy
C
California Split , The Cincinnati Kid , Casino , Casino Royale, The Color of Money, The Cooler, Croupier
D
Deal
E
Eee-O 11(CD)
F
Face, Fever Pitch, Fear and Loathing in Las Vegas, Five Card Stud
G
The Gambler, The Gambler 2014, Grifters, Go, The Good Thief
H
Hard Eight, High Roller, House of Games, Havana , The Hustler, Honeymoon in Las Vegas,
The Honeymoon Machine.
I
Indecent Proposal.
J
K
Kaleidoscope, The Killing of a Chinese Bookie.
L
Lay the Favourite, Leaving Las Vegas, Lady Luck, Let It Ride, Lock Stock & Two Smoking Barrels, Luck (TV Series), Lucky You
M
The Man With The Golden Arm, Mississippi Grind, Molly's Game, The Music Of Chance
N
O
Only game in town, Oscar and Lucinda, Oceans Eleven (1960), Oceans Eleven (2001),
Oceans 13 (2007), Owning Mahowny.
P
Pasty Faces
R
The Rat Pack, The Rat Pack (CD), Reindeer Games, Robin & The Seven Hoods, Rogue Trader, Rounders, The Runner, Runner Runner
S
Secretariat, ShowGirls, Sin City 2: A Dame to Kill For
T
Trading Places, 3000 miles to Graceland, Two For The Money
U
V
W
Wall Street, Wild Bill
---
Know a film that should be here? Then

with why.
---
---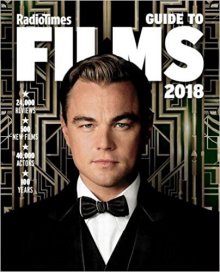 Radio Times Guide to Films 2018
The best and heaviest guide to films. Has good cast lists for sorting out those "Who is that" questions. Ideal for checking out obscure films on late night television.

With Time Out stillborn you have to rely on this weighty brick for many facts and some opinions. The reviews are more mainstream and less esoteric than Time Out's but to have this at your fingertips when IMDB is down will always be a source of comfort.

A 'must have' book for anyone interested in Films; Actors and Directors. Easy to use as a cross reference library, however, to stay up to date a new copy is advisable every three or four years.
Paperback - 1216 pages (29 Sep 2017)


£21.99

---
.