| | | |
| --- | --- | --- |
| | Horse Racing | |




Horse Racing dates back thousands of years but around 600 B.C. the saddle and stirrup were invented which allowed good horse-back riding. Since that time horses have been bred to race as their main point of existance.

In the UK wagers have been struck at racing in York, Doncaster, and Chester since the sixteenth century, but the first known professional bookmaker was a Harry Ogden, who worked at Newmarket Heath in 1794. In 1853, betting houses were banned, and for a hundred years only those who attended race meetings could place cash bets. Otherwise punters had to use credit, and to communicate with their 'turf accountant' by letter, telephone, or telegram.....' john haigh - taking chances



There are 60 racecourses in Great Britain (after Folkstone closed), staging two 'codes' of horseracing, flat racing and jump racing, both of which take place all year round. Sixteen courses race only on the flat, twenty-four only over jumps, and twenty under both codes, including racing on artificial surfaces at six All-Weather tracks.

Formal racing first began in North America in 1665 with the establishment of the Newmarket course in Salisbury, New York, a section of what is now known as the Hempstead Plains of Long Island, New York. Belmont Park is now part of the western edge of the Hempstead Plains. Its mile-and-a-half main track is the largest dirt Thoroughbred race course in the world. The traditional high point of US horse racing is the Kentucky Derby, held on the first Saturday of May at Churchill Downs in Louisville, Kentucky.

Together with the Preakness Stakes, held two weeks later at Pimlico Race Course in Baltimore, Maryland; and the Belmont Stakes, held three weeks after the Preakness at Belmont Park on Long Island, these three races form the Triple Crown of Thoroughbred Racing for three-year-olds. In recent years the Breeders' Cup races, run at the end of the year, have challenged the Triple Crown events as determiners of the three-year-old Champion.

In the UK, people new to racing will have heard of the classics without knowing what they are or that they are all flat races. It is common to think of them as taking place in three legs. The first leg is made up of the Newmarket Classics – 1,000 Guineas and 2,000 Guineas. Given that the 1,000 Guineas is restricted to fillies, this is regarded as the fillies' classic and the 2,000, which is open to both sexes, as the colts' classic. The second leg is made up of the Epsom Derby and Oaks, both ridden over 1 1/2 miles at Epsom in early June. The Oaks is regarded as the fillies' classic, the Derby as the colts', although it is an open race. The final leg is the St. Leger, held over 1 mile 6 1/2 furlongs at Doncaster and is open to both sexes.

Festivals showcase horse racing to the general public. Royal Ascot and the Aintree Grand National festivals are prime examples. The biggest and the best is the Cheltenham Festival held over four days every year at the Cheltenham Racecourse. The feature race among many other top class races is the Cheltenham Gold Cup, a Grade 1 National Hunt horse race run on the New Course over 3 miles 2½ furlongs. This is sometimes referred to as the Blue Riband of jump-racing. The Gold Cup is the most valuable non-handicap chase in Britain, and in 2012 it offered a total prize fund of £491,850 and in 2017 it was £575,000.

The Grand National is the biggest fixture on the UK horse racing calendar. This is a steeplechase and is the centrepiece of a three-day meeting, one of only four run at Aintree in the racing season. It is the most valuable National Hunt event in Britain, offering a total prize fund of £975,000 in 2012 since when it has been £1 million. The race is popular amongst many people who do not normally watch or bet on horse racing at other times of the year so if you are planning a flutter look for the best odds. The first televised coverage was in 1960 with commentary led by Peter O'Sullevan but from 2013 it is was shown on Channel 4 and in 2017 it moved to ITV.



| | | |
| --- | --- | --- |
| Basics | | |


Essentially there are two types of racing, Flat and National Hunt.

Flat racing in its turf form (grass) reaches its peak in the Summer and Autumn and features the five Classics the 2000 Guineas, the 1000 Guineas, the Oaks,

the Derby and the St. Leger, as well as a number of major meetings such as Royal Ascot featuring some of the world's most valuable thoroughbreds. The leading jockeys are people like Frankie Dettori or Ryan Moore.

An addition to flat racing came in 1989 when All Weather tracks opened to allow racing in bad weather and the winter months. These tracks use artificial surfaces that do not freeze and rarely get waterlogged. This is All Weather Flat racing.

Jump racing has three disciplines.

Hurdles - Horses jump over small low resistant fences made from thin wood and brush
Chase - Horses jump over substantial fences and water hazards
NH Flat - Often called 'bumpers', these allow horses new to the world of National Hunt to experience the softer more undulating courses that hold jump racing. Horses can run a maximum of three 'bumpers'

The jump season starts quietly during the summer months and reaches its climax with the Cheltenham National Hunt Festival in March and the Grand National at Aintree a few weeks later. Jump racing has a distinct charm all of its own with many small tracks staging meetings that have a very strong local feel, yet it also attracts a bigger paying audience than flat racing.
.


| | | |
| --- | --- | --- |
| A Day Out | | |


At many courses there is a dress code for the Members' Enclosure which, for example, may require a man to wear a jacket and tie. Indeed, for some people dressing up is all part of the fun of going racing. If in doubt, do not hesitate to

telephone the course for guidance. The key to dressing for the races is not so much style as comfort: there's no point in looking terribly fashionable if you're freezing cold as the sun goes down. To enjoy a day's racing to the full may require a good deal of walking around, so give particular thought to your footwear.

What to take
You will probably want to take with you a newspaper for a list of the runners or the Racing Post provides in-depth information, and enough money to get you through the day! A few courses have banks which will cash you a cheque, and you can purchase Tote betting vouchers at any course by cheque or credit card. If you take a camera you must disarm the flash, as flash photography can upset the horses (which will in turn upset many of your fellow racegoers). You will not normally be allowed to take food and drink (including alcohol) into the enclosures (unless picnicking in a Course Enclosure), but you will find a wide selection on sale inside.

Which enclosure?
Top of the range is Members or Club Enclosure ,for the use of annual members of that course (like season ticket holders at a soccer ground) but usually available to non-members for a daily charge. The cost varies depending on the course and the nature of the occasion - the average is around £12 to £15, but perhaps double that on the day of a very big race. For big meetings you can often book in advance (and for some it is essential to do so).

The Members Enclosure - admittance to which is by a small cardboard badge which you should keep displayed - has the best viewing and the best facilities, and your badge allows you to take advantage of all the facilities in the next enclosure down, usually called Tattersalls or Grandstand and Paddock (popularly known as 'Tatts'). Here, for an entrance charge in the region of £8 to £10 (higher at major meetings), you will have access to the parade ring and winner's enclosure (where the horses can be seen at close quarters) as well as a good view of the track and extensive eating, drinking and betting facilities. The presence of the bookies gives Tatts - usually the largest enclosure on the course - its characteristic hubbub and atmosphere. On the rail which divides Tatts from Members are to be found the 'rails bookmakers', who bet - mostly on credit and without displaying their odds on boards - with some of the heavy hitters among the punting fraternity.

The Silver Ring or Course Enclosure is the cheapest (around £3 to £5), at most courses without access to the parade ring and winner's enclosure, but with betting and catering facilities. Cars are allowed in the Course Enclosure at some racecourses and picnicking is a very popular pastime.

Children up to the age of sixteen are admitted free to all racecourses if accompanied by an adult (there are age restrictions in the Members Enclosure at some courses).


| | | |
| --- | --- | --- |
| The Races | | |


At the head of each race listed in the racecard will be details for that event, including the prize money on offer, and it may be helpful to know the different categories of race.

Flat Racing
Conditions Race (or Weight-for-Age) - The horses carry specified weights according to such factors as age, sex, whether they have won before or the nature of the races they have won.

Handicap - This is a contest in which the weight each horse is to carry is individually allotted (by the official handicapper) according to past performance,

the theoretical object being to equalise the chances of all horses in the race. A Nursery is a handicap for two-year-olds. A Rated Stakes on the flat or a Limited Handicap in jump racing is one in which the range of weights is kept narrow: this encourages the participation of high-class horses, who will not have to make large concessions to other runners.

Selling Race - Directly after a Selling Race the winner is offered at public auction - a highly interesting and often entertaining sight for racegoers.

Claiming Race - All of the horses in a Selling Race except the winner, which is auctioned on the racecourse, and all of the horses in a Claiming Race are able to be claimed at a value set against the horse by the trainer when making the entry.

Maiden Race - These are for horses that have not won a race yet.

Jump Racing
Handicap - This is a contest in which the weight each horse is to carry is individually allotted (by the official handicapper) according to past performance.

Beginners Chase is a Steeple Chase race for horses which have never won a Steeple Chase at any Recognised Meeting in any country.

Novices Race (hurdle or steeplechase), for horses which have not won a hurdle or chase respectively before the first day of the current season.

National Hunt Flat Race (popularly known as a 'bumper'), in which prospective jumping horses race without the inconvenience of having to clear obstacles;

Hunter Chase for horses which have been regularly hunted or raced in Point to Points.


| | | |
| --- | --- | --- |
| The Horses | | |


Colt - ungelded male flat (normally) horse

Filly - female horse up to four years old

Foal - horse of either sex from the time of its birth until 1 January the following year. All racehorses are given the nominal birthday of January 1st. Thus a "two-year-old" born in June and one born in January of the same year are considered to be of the same age for the purposes of satisfying the conditions of some races re: weight carried. In reality, the January horse may be considered to have a significant advantage in terms of physical development at this early stage in its career.

Gelding -

castrated horse

Jolly - betting parlance for the favourite in a race - the horse with the shortest odds

Juvenile - two-year-old horse

Maiden - horse which has not won a race before the beginnnig of the current deason

Mare - female horse five years and over

Novice - a novice is a horse who is just starting in the particular discipline, it can win and race again in another Novice but will have a penalty

Plater - horse which usually runs in selling races

Schooled - trained to jump

Sire - father of a horse

Yearling - horse of either sex from 1 January to 31 December of the year following its birth


| | | |
| --- | --- | --- |
| The Form | | |


Form is information about a horse's past performances and data about the going, the course, weight carried, style of running, jockey, time the race took to run, distance of the race, distances between the horses at the finish, and

Understand all this and you'll never be able to talk about anything else. Typically this is presented in racecards like these.

DISTANCE
Horses have an ideal range of distances over which they run .

GOING
The 'going' is the state of the ground - ranging from firm to heavy - and many horses run better on one particular surface than on others.

CLASS
Form is relative, and running fifth in the Derby would be better-class form than winning a very minor race

TIME
Although horses do not race against the clock, the time of a race can be highly significant when measured against the standard for course and distance

COURSE
'Horses for courses' - that is, that some horses perform particularly well at certain courses.

TRAINER AND JOCKEY
Are they in form? A trainer out of form may indicate illness in the yard and while a jockey doing well recently may help his confidence, it may also dampen the price of the horse.

WEIGHT
Your horse may be carrying too much weight.

Blinkers - Has the horse ever worn blinkers before? Will it be better off.

Parade Ring - The good signs in a horse before the race are a coat with a good sheen to it, an intelligent and alert appearance, high head with big alert ears, a well-muscled body and a springy step etc..

Unless you want to make a career out of this don't get carried away with form. Some people study their whole lives and make no inroads into understanding a way to predict value for money.


| | | |
| --- | --- | --- |
| Betting | | |


More - Single Bet types - Combination Bets - Tote Bets - Articles - Betting on Horse Racing.

There are three ways of having a bet on a racecourse:

tote
Betting points can be found in every enclosure, including Members and it operates on a pool basis, whereby all the money bet in a particular pool is shared out among the winners.

If you bet on a horse to win all the money that everybody has bet on horses to win in that particular race gets pooled together. When the race is over, 19.25% of the money is taken away as government tax and the rest is distributed back to the people who bet on the winning horse, pro-rata with how much each person bet. The same goes with betting place, if your horse gets placed then you will recieve part of the pool back after 20% tax has been removed. Other tote bets

Bookmakers on a racecourse
These are to be found in the Tattersalls/Grandstand and Paddock and Silver Ring/ Course Enclosure. It is very simple but be aware that you can only bet to win and some will take an each-way bet.
Remember:
shop around to get the best odds
state the name of the horse
always keep your card as a receipt
never throw away a bet until the 'weighed in' signal has been given
no betting tax is currently levied on on-course bets or with bookmakers
The Racecourse Betting Shop
Betting in a racecourse betting shop (some courses have more than one) is very similar to betting in any off-course shop. You can have a variety of bets (including combination bets such as doubles and trebles) at much smaller stakes than a ring bookmaker would appreciate. You can also bet at the day's other meetings.

As in a off-course betting shop, you fill in a slip and hand it over together with your stake. The slip is receipted and you are given a duplicate, which you return to the counter for paying out should you be successful. Winnings are calculated at the Starting Price.



If you are betting for small sums your aim is just to have fun, theres no point chasing losing bets. If you are betting more seriously then you aim to get the best value from each bet - get the odds you want, not necessarily the odds on offer, and if they are not on offer think about not having a bet.


| | | |
| --- | --- | --- |
| Tipping Services | | |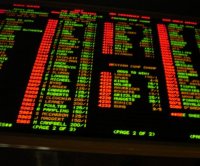 There are three general types of tipping services which charge either by premium line call charges or subscription::
Betting Tips on Horses
Laying Horses to Lose
Sports Picks: Football, NFL, etc.

We are interested in the first two for the purpose of this page but will be analysing the third elsewhere.

There are many sites and tipping lines that offer punters tips and they are based either on inside information or price evaluation. Only a few of these have any chance of success and it takes constant monitoring to see what you think are the best and analysing their credability and success.

Very difficult analysis but Sportlife's Betting Zone have had some great success especially in the Golf section and BettingKingdom has great back stats to check through for you own selection of advice.
Take a look at our page on Do Horse Race Tipping Services Actually Work?



| | | |
| --- | --- | --- |
| The Tracks (85) United Kingdom & Ireland | | |