Here's another one of those movies that got away. Another one that has disappeared from peoples memories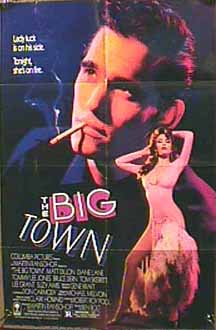 and their video collections. It is basically a fine movie paying honest attention to the gambling as well as rolling over the top with a story and a decent (very) cast.
Should you be a blues fan as well then you are in for a treat. Everybody who was anybody in the Chicago blues scene in the '70s is playing their own stuff on the score.
First though, the gambling. We are so often treated to glimpses of private craps games in American movies its as though we all know how to play. We don't, but here we almost see the ins-and-outs of a professional setup to rid the Chicago scene of its money. Its semi-believable. The Craps action is completely believable and they bring in a few nice touches like the loaded dice scene.
The story? Well its an older 'hardcase' pro with a nice girl and the young upstart threatens everything kind of movie. Tommy Lee Jones does a good job of being the pro and Matt Dillon plays Matt Dillon. What is good and bad about the film is the way in which no character has any humane features, they are all what they do which is just true about gamblers and gangsters.
What's wrong with it is the plot gets very thin with motive. People do the nastiest of things for very little reason.
Marks 7½/10
| | | | | | | |
| --- | --- | --- | --- | --- | --- | --- |
| Director | ~ | Ben Bolt (II) | Main Cast | Matt Dillon | ~ | J.C.Cullen |
| Writer | ~ | Clark Howard & Robert Roy Pool | | Tommy Lee Jones | ~ | George Cole |
| Production | ~ | Columbia Pictures | | Bruce Dern | ~ | Mr. Edwards |
| Runtime | ~ | 109 mins | | Tom Skerritt | ~ | Phil Carpenter |
| Cert. | ~ | UK 15 | | Diane Lane | ~ | Lorry Dane |
| | |
| --- | --- |
| Quotes | "Lady luck is always on his side. Tonight, she's on fire." |