There have been attempts at showing real poker and real poker players in the past. Noteably the Cincinnati Kid. Most fail.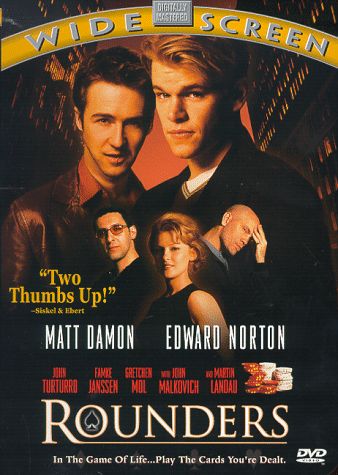 Here is a decent try but it gives in to the power of the box office by front-lining a cheating scumbag in the story.
Mat Damon (Mike McDermott) is the lead here and he never quite gets to grips with the part of poker player. Mostly he is concerned with having a nice apartment, a nice girlfriend and hopes of being a lawyer. All of these are as untypical of a poker player as you can get. He's a nice enough chap though and you kind of like him, which is essential for you to like the film. Edward Norton ('Worm') plays his old friend who has gone wrong and who persists on pushing the limits of honesty and their friendship.
Through the leads' commentary (Mike), we get to know some real truths about a pro poker player. They are ironically the sort of things that don't make good viewing and we never see them. We do meet Joey Knish, played by John Turturro, and he is as close as the film gets to a hard working pro.
There is plenty of card action in this movie and it is a must for any player and any gambling enthusiast. The story is sane by modern standards and the acting is good. One question you will want to ask John Malkovich the next time you see him is, 'where the hell did you get that Russian accent from?'.