.
The Gambler (1974)
---


So you've found it, the granddaddy of gambling movies. What you wont find here is Hollywood sentimentality.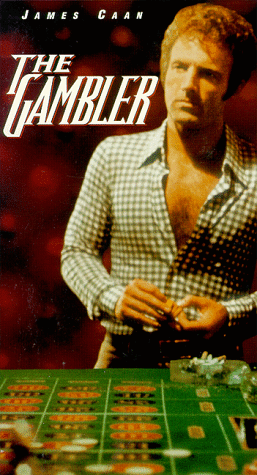 This film has somehow been forgotten even by those people in the serious gambling business.

Deep down inside all people, no matter how successful they are, is the realisation that they are human and weak. To live sensibly they put those feelings out of the way. When you watch this film there is no hiding place, they come out and get you! Gustav Mahler helps with an eerie score.

James Caan plays the lead, Axel Freed. He is deliberately portrayed as intelligent man to show you that you are not safe whatever your brain is like. His character is stunningly accurately played as a man lured by the gambling fix and drawn by the temptation of self-destruction. The support are all very solid and there are no silly sub-plots. I would say that the mob link is too much of this movie but this was 1974 when it would have been difficult to gamble large in the U.S. (other than Vegas) without involving them.

This is all about the physical state of being a gambler rather than specific attention to any way to do it. More or less the director is saying that addiction is a bad thing. Well whoopie! He gets it part right when Axel (James Caan) says that it is the power of thinking you're right that motivates your desire to see whether you really are. Interperated properly you get~ being the correct judge of a random event makes you like god, for only he can do that. Get close to god enough times and you become god. Reasonably addictive!


Truthfully this is a gamblers movie. Others will find it a bit tough and may not be able to relate to the pain, which is essential. High marks for reality. Non gamblers score~7/10.

A neglected and underrated masterpiece, presenting one of the most convincing and thorough psychological studies in all cinema. James Caan, in what may well be his best-ever performance, portrays a compulsive gambler with an unusually acute awareness of his own motivations. The 'back story', from which we learn how his family background helps feed his obsession, is subtly and convincingly portrayed. The whole is a tragedy, laced with grim humour. The score uses Mahler's music to great effect, the direction is tight and closely focused throughout and the final scene can only be described as perfection.
Marks 10/10
| | | | | | | |
| --- | --- | --- | --- | --- | --- | --- |
| Director | ~ | Karel Reisz | Main Cast | James Caan | ~ | Axel Freed |
| Writer | ~ | James Toback | | Paul Sorvino | ~ | Hips |
| Production | ~ | Paramount Pictures | | Lauren Hutton | ~ | Billie |
| Runtime | ~ | 111 mins | | Morris Carnovsky | ~ | A.R.Lowenthal |
| Cert. | ~ | UK 15 | | Jacqueline Brooks | ~ | Naomi Freed |
Quotes

.....for ten thousand they brake your arms, for twenty your legs,
for fifty you get a whole new face.
If I win these three, I might just get back to level!
---