.



Bob, an old gangster and gambler is almost broke, so he decides in spite of the warnings of a friend, a high official from the police, to rob a gambling casino in Deauville. Everything is planed exactly, but the police are informed about the planned coup. Meanwhile in the Casino, Bob starts to gamble.

Back in Paris's Montmartre district, everyone knows Bob, a well-dressed compulsive gambler. He's generous, moralistic, drives a two-toned convertible coupe, lives in a swank apartment, and has the respect of the police. But he's on a losing streak, and even when he hits it big at the track, he loses at the Deauville casino. When he learns that the casino keeps a fortune on Grand Prix weekend, he plots a robbery. The subplots trace a seemingly innocent yet flexible girl's social climb and the greed of a croupier's wife who betrays the thieves.


This movie is a genuine find for the movie buff. It clearly sets out a plot line that movies ever since have copied with great success. For instance the extensive ganster briefing and planing that appears in modern classics like Heat and Resevoir Dogs.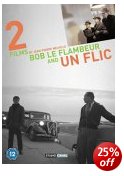 New Release DVD


The film also goes ahead of time when treating gambling as a way of life, as in the great The Gambler. Its also quirky in shooting with location shooting throughtout, not one studio shot.

For gambling buffs there is a shot of 1950's gambling in Paris and the casino at Deauville which by looking at this film has not changed in the last 50 years. The customers have though.

New DVD with extra film, "Un Flic", of the same genre only 17 years later in the American cinema. Click on the image right.
Director
Jean-Pierre Melville
Bob Montagné
Roger Duchesne
Producer
Florence Melville
Isabelle Corey
Anne
Writing
Auguste Le Breton / Jean-Pierre Melville
Daniel Cauchy
Paolo
Production
Organisation Générale Cinématographique
Guy Decomble
Inspector Ledru
Cert./Runtime
98 mins
André Garet
Roger
.