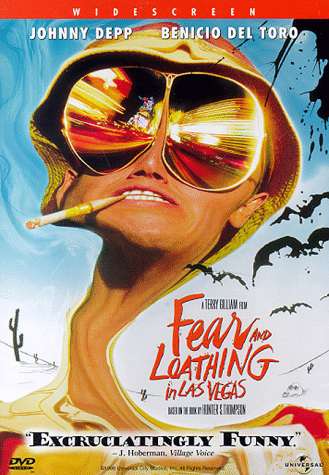 The original cowriter and director of Fear and Loathing in Las Vegas was Alex Cox, whose earlier film Sid and Nancy suggests that Cox could have been a perfect match in filming Hunter S. Thompson's psychotropic masterpiece of "gonzo" journalism.

Unfortunately Cox departed due to the usual "creative differences," and this ill-fated adaptation was thrust upon Terry Gilliam, whose formidable gifts as a visionary filmmaker were squandered on the seemingly unfilmable elements of Thompson's ether-fogged narrative.

The result is a one-joke movie without the joke--an endless series of repetitive scenes involving rampant substance abuse and the hallucinogenic fallout of a road trip that's run crazily out of control. Johnny Depp plays Thompson's alter ego, "gonzo" journalist Raoul Duke, and Benicio Del Toro is his sidekick and so-called lawyer Dr. Gonzo.

During the course of a trip to Las Vegas to cover a motorcycle race, they ingest a veritable chemistry set of drugs, and Gilliam does his best to show us the hallucinatory state of their zonked-out minds. This allows for some dazzling imagery and the rampant humor of stumbling buffoons, and the mumbling performances of Depp and Del Toro wholeheartedly embrace the tripped-out, paranoid lunacy of Thompson's celebrated book. But over two hours of this insanity tends to grate on the nerves--like being the only sober guest at a party full of drunken idiots.