.

Film Title ~ Rogue Trader (1999)
---

Well here is the film of the autobiography of the man Nick Leeson. Ewen McGregor is a decent choice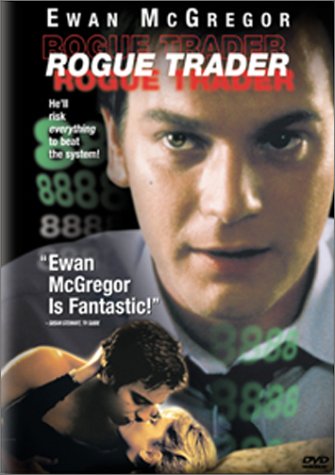 as Leeson but the rest of the cast (save Tim McInnerny) were trying to end their careers right here.

Leeson will be remembered for a long time. This film is an attempt to put you in the picture as to how it was possible for the oldest bank in the world to burn all its money. Leeson did it with total co-operation of the senior figures in the bank through their total lack of interest and understanding. He was psychotic, they were criminally incompetant.

This movie starts awefully with no real point to the opening ten minutes. After that it runs along at a fair speed with McGregor making all the running, thank god. He makes some real points about the market and his bosses but never really anything of substance that you can take away with you. For the uninitiated, there is no explanation of how the SIMEX market works or what he was trading in. That would have helped a bundle because otherwise its all just in the air. The tie up with an earthquake in Kobe, Japan, isn't done too well either. There was also no mention of why the bank staff got away scot-free.

If you like to see how to get rid off £600,000,000 then this film is alright. For enthusiasts of the markets this is stock viewing for the general picture, but no more. To save the picture from complete disgrace, McGregor does make you feel a bit sorry for Leeson.

There was plenty of material here for a gripping home grown film along the lines of 'Defence of the Realm'. That had subtlety, this has an empty beer glass. Sorry British movie fans.
Marks 6/10
Director
~
James Dearden
Main Cast
Ewen McGregor
~
Nick Leeson
Writer
~
James Dearden
Anna Friel
~
Lisa Leeson
Production
~
Granada Film Prod.
Newmarket Capital
Tim McInnerny
~
Tony Hawes
Runtime
~
101 mins
Yves Beneyton
~
PierreBeaumarchais
Cert.
~
UK 15
Irene Ng
~
Bonnie Lee
Quotes

Thats all the market is, one giant casino.
I've just lost fifty million quid, ....in one day!
you keep doublin' up and sooner or later, ...you're bound to win
---
---