.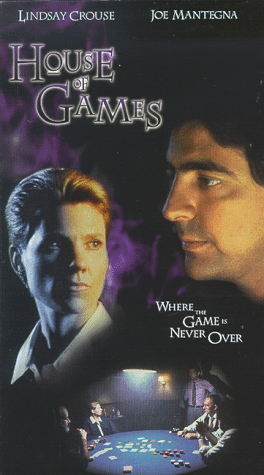 David Mamet and Joe Montegna! You know this movie is going to be punchy with these two guys and they don't let us down. Its all about con-men and their professional attitude towards their victims.

There is no reason why this story is told in film because there is no significance to the backdrop and no history to the cast. Yet we are happy to see it, it is a fresh change from The Sting copycats.

Montegna plays the lead con-man and Lindsay Crouse plays the intended victim who is a psycho-analyst by trade. Her profession is important to lend some spice to the old confidence seduction routine. The con-artists try and take someone whose job it is to spot the mental games being played with her. Why try her? Because she wants it. She wants to be close to the danger and be intrigued by the con artists' underworld.

This is a great little movie that doesn't pretend to be anything other than a good time in front of the screen. Its played so well that all comers can like it. For the gambling movie buff, Ricky Jay plays 'Vegas man' and George. He is a world reknown card magician and could pull off more than the efforts in this film.

On the negative side, I feel the ending is weak, though I won't blow it for you (its our policy).
Marks 8½/10
| | | | | | | |
| --- | --- | --- | --- | --- | --- | --- |
| Director | ~ | David Mamet | Main Cast | Joe Montegna | ~ | Mike |
| Writer | ~ | Jonathan Katz | | Lindsey Crouse | ~ | Margaret Ford |
| Production | | Filmhuas | | Mike Nussbaum | ~ | Joey |
| Runtime | | 102 mins | | J.T.Walsh | ~ | The Businessman |
| Cert. | | UK 15 | | Ricky Jay | ~ | George/Vegas Man |
| | |
| --- | --- |
| Quotes | there's one born every minute....and two to take them |
---