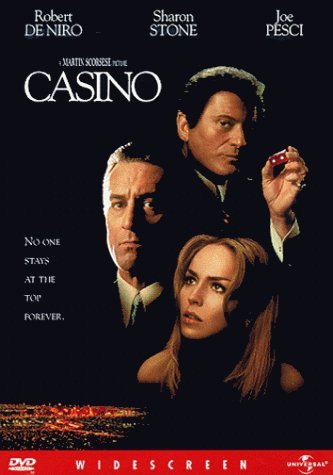 Director Martin Scorsese reunites with members of his GoodFellas gang (writer Nicholas Pileggi; actors Robert De Niro, Joe Pesci, and Frank Vincent) for a three-hour epic about the rise and fall of mobster Sam "Ace" Rothstein (De Niro), a character based on real-life gangster Frank "Lefty" Rosenthal.

Through Rothstein, the picture tells the story of how the Mafia seized, and finally lost control of, Las Vegas gambling. The first hour plays like a fascinating documentary, intricately detailing the inner workings of Vegas casinos.

If you've got three hours of your life to spare then this is not too bad a use of it. Its a film about violence rather than gambling although the director tries to get back onto that track right at the end of the picture.

FACTS
Nicholas Pileggi, who wrote the book Casino was based on, also wrote the novel Wiseguy, which was made into Goodfellas.

Frank "Lefty" Rosenthal (died 2008 aged 79), was a Las Vegas legend, a pioneer who brought sports bookmaking into US casinos as a legitimate business, at least by Vegas standards, who introduced female blackjack dealers and immediately doubled business at the tables, was the inspiration for the "Ace Rothstein" character played by Robert De Niro. But his greatest achievement may have been simply surviving into old age.

Rosenthal owed that good fortune partly to his instincts and partly to a design flaw in the 1981 Cadillac Eldorado. On October 4 1982, a bomb exploded in his car as Rosenthal left Tony Roma's Las Vegas steakhouse with a bag of spare ribs for his children. Only a metal plate placed under the driver's seat to correct the car's imbalance saved his life. He soon took his children and left Las Vegas, first for California and then to Florida, where he managed his nephew's bar and grill and, later, ran a profitable internet betting site.

In 1974, reportedly as a result of his wife's nagging, Rosenthal took a job as floor manager at the Stardust hotel, and soon had an executive position with the company, reputedly a mob front, that owned that casino and three others. He presented a television talk show sponsored by the Stardust; his first guest was, perhaps not surprisingly, Frank Sinatra. In reality he was running all four casinos, but without a licence, and in 1976 the Nevada state gaming commission deemed him unsuitable. Although he won an appeal to a friendly judge, the battle continued until finally, in 1988, he was placed in the "black book" which bars gamblers from casinos. Meanwhile, he fell out with Spilotro, who had begun an affair with McGee, and whose role in skimming large amounts of untraceable casino cash from the mob's own skim had been revealed. Spilotro was also engineering jewellery heists from casino hotels, further irritating the city's powers-that-be.

The question of who tried to blow up Rosenthal remains unanswered. Rosenthal claimed it was due to his association with Spilotro - "once they discovered we were childhood friends there was no way to overcome it" - but his own role in the skim might be a better reason. Or Spilotro himself might have felt his former pal had sold him out. A month later, McGee was found dead in a Los Angeles motel, of an overdose of alcohol and drugs. Soon afterwards, Rosenthal left Las Vegas for good.

When Casino appeared, Rosenthal was quoted as saying, "I'm not Bob [De Niro] and he's not Frank," but in a 2007 interview he conceded that the film was "almost totally accurate ... I raped the strip's casinos." Nicholas Pileggi, who wrote the film and its book, said, "When Lefty went, the new Las Vegas emerged, the corporate Vegas." Indeed, in today's Las Vegas, the mayor, Oscar Goodman, was once Rosenthal's attorney. "I don't believe he ever spent a day in jail when I represented him," he said. "Law enforcement ... probably didn't care for him but he treated me well and paid his bills on time."