Virtual slots started of course in land based casinos but their true growth and development came in the late 1990s and early 2000s with ease of access to the internet and faster connection speeds. Those games developed multiple play and payout features incorporating the infinite scope of virtual technology. Now, just a few years on, the world has come full circle with the individual touch coming back to the player in the form of slots on your mobile device with unbelievable choice in the slots you can play, sign-up bonuses, play bonuses and free spins amongst others.

Slot machine is basically an American English term but is recognised around the world. Most other countries have their own terms, in Britain for instance slots machines can also be called fruit machines from the early take up of fruit symbols on the reels. Puggy can be used in Scotland and most everywhere "slots" will be understood, especially in Canada and USA. In Australia, slot machines are called pokie machines and you will find them in every pub. They are by far the most played casino game in Australia. "Pokie" derives from poking money into the machines. Online slots are very popular all over the world, and players can enjoy a large variety of games from free spins to classic Vegas slots.

Slot machines are also known as one-armed bandits because they were originally operated by one lever on the side of the machine as opposed to a button on the front panel, and because of their ability to leave the gamer impoverished. Many modern machines are still equipped with a legacy lever in addition to the button. A gambler strategically operating multiple machines in order to draw the highest possible profits is called a multi-armed bandit.


[The basic slot machine is a three reel random sequence generator.]
| | |
| --- | --- |
| Slot Origins | |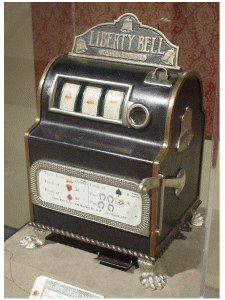 Sittman and Pitt of Brooklyn, New York, U.S. developed a gambling machine in 1891 which was a precursor to the modern slot machine. It contained five drums holding a total of 50 card faces and was based on poker. This machine proved extremely popular and soon many bars in the city had one or more of the machines. Players would insert a nickel and pull a lever, which would spin the drums and the cards they held, the player hoping for a good poker hand. There was no direct payout mechanism, so a pair of kings might get the player a free beer, whereas a royal flush could pay out cigars or drinks, the prizes wholly dependent on what was on offer at the local establishment. To make the odds better for the house, two cards were typically removed from the deck: the ten of spades and the jack of hearts, which doubles the odds against winning a royal flush. The drums could also be rearranged to further reduce a player's chance of winning.

The term "slot machine" originally meant any device that was activated by a coin or token, but it was the 1895 invention by car mechanic Charles Fey of the three wheel stand alone slot machine that established what we now understand as a true slot machine. Due to the vast number of possible wins with the original poker card based game, it proved practically impossible to come up with a way to make a machine capable of making an automatic payout for all possible winning combinations. So the 3 wheel device was more practical and a great hit.

Three years later he developed this into the Liberty Bell slot machine with Diamond, Spade, and Heart symbols painted around each reel. Liberty Bell was a huge success and spawned a thriving mechanical gaming device industry. Even when the use of these gambling devices was banned in his home state after a few years, Fey still couldn't keep up with demand for the game elsewhere. Liberty Bell machine was so popular that it was copied by many slot machine manufacturers. So later, in 1907, competitor Herbert Mills produced a look-alike called Operator Bell using lemons, plums, and cherries, leading to the British term "Fruit Macines".

Various improvements were slowly added and then in 1964 Bally, the famous Las Vegas company brought out an all electrical slot machine. Bally developed the first fully electromechanical slot machine called Money Honey, although earlier machines such as the High Hand draw poker machine by Bally had exhibited the basics of electromechanical construction as early as 1940. The electromechanical approach of the 1960s allowed Money Honey to be the first slot machine with a bottomless hopper and automatic payout of up to 500 coins without the help of an attendant. The popularity of this machine led to the increasing predominance of electronic games, and the side lever soon became redundant.

| | | |
| --- | --- | --- |
| Video Slots | | |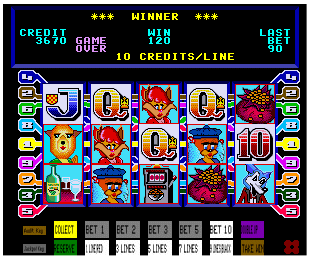 The first true video slot machine was developed in 1976 in an industrial suite in Kearney Mesa, CA by N. Cerracchio, R. Greene, W. Beckman, J. Reukes, and L. Black under the direction of the Las Vegas based Fortune Coin Co. This slot machine used a modified 19" Sony Trinitron color receiver for the display and logic boards for all slot machine functions. The prototype was mounted in a full size show-ready slot machine cabinet. The first production units went on trial in the Las Vegas Hilton Hotel. After some "cheat-proofing" modifications, the video slot machine was approved by the Nevada State Gaming Commission and eventually found popularity in the Las Vegas Strip and downtown casinos. Fortune Coin Co. and their video slot machine technology were purchased by IGT (International Gaming Technology) in 1978.

The introduction of the video slot machine with virtual wheels meant slots had reached its ultimate platform. Websites bring 100's of Virtual slots to the end user with a number of bonuses that challenge the conventional machines but the endless possibilities that could be added in the virtual world has led to today's incredible choice of slot games on offer.

The first American video slot machine to offer a "second screen" bonus round was Reel 'Em In developed by WMS Industries Inc. in 1996. Reel 'Em In represented the Americanization of the multiline video slot—the first video slot with multiple paylines and a bonus event that was without an Australian pedigree. It also represented the first game in the multiline genre that would reach Nevada's casinos. This type of machine had appeared in Australia from at least 1994 with the "Three Bags Full" game. In this type of machine, the display changes to provide a different game where an additional payout may be won or accumulated.

Video slots are also essential of any online casino today as they give game makers a chance to push the boundaries of what's possible online. Games like Thunderstruck, Jurassic Park and The Dark Night Rises, all by Microgaming, are much loved by casino fans around the world. Then there are also the 3D video slots from BetSoft with titles such as The True Sheriff and Boomanji that feature exhilarating graphics quality that are visually very appealing.

Although Australia is famous for its pokie machines that are a huge part of the economy, the first pokie did not arrive on its shores until 1953, courtosy of Aristocrat, and the first legal casino (Tasmania) not until 1973!

| | |
| --- | --- |
| Mobile Slots | |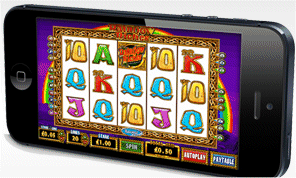 Mobile slots refers to playing games of chance or skill for money by using a remote device such as a tablet computer, smartphone or a mobile phone with a wireless internet connection. The first mobile slot games appeared in 2008 and have now multiplied to now give hundreds of choices for players. Themed games are the most popular, starting from games like Rainbow Riches the market has exploded with slot games based on TV and Film thmes like Rocky, Game of Thrones and Tomb Raider.