| | | |
| --- | --- | --- |
| | Bingo | |
The game of Bingo evolved from the Lo Giuco de Lotto which was the Italian lottery game that was developed in 1530. In the eighteenth century, the game had changed in France with playing cards, tokens and the reading out of numbers being added to the game.

The game evolved further into two different versions, the British version and the American version. In 1929 Edwin Lowe took a version of Beano, a carnival type version of lotto and turned it into the game now played in the USA.

Mecca Bingo was the first commercial bingo establishment to be built in the UK, courtesy of entrepreneur Eric Morley, in 1961, helped largely by the Betting and Gaming Act (1960).

The British version is based on ninety numbers and has been widely played in land-based bingo halls in Great Britain, Ireland and Australia. The American or seventy-five number version predominates elsewhere in the world.

There is now a vast array of bingo sites to play on and choosing between them based on security, help and support, the loyalty programmes and various jackpots available is best done by using a guide where there is a source of bingo sites information and reviews.

| | |
| --- | --- |
| UK Bingo | |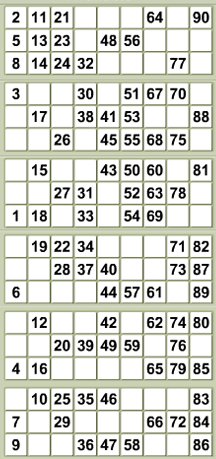 Traditional UK Bingo is 90 ball bingo and can not only be played at the old style bingo halls but you can now play at hundreds of top bingo sites as well. Online bingo sites offer deals so it's always worth keeping an eye out for these.

A typical bingo strip is shown to the right. It contains five tickets each with twenty-seven spaces, arranged in nine columns by three rows. Each row contains five numbers and four blank spaces. Each column contains either one, two, or sometimes three, numbers.

The first column contains numbers from 1 to 9, the second 10 to 19 and so on.

The game is presided over by a caller, whose job it is to call out the numbers and validate winning tickets. They will announce the prize or prizes for each game before starting. The caller will then usually say "Eyes down" to indicate that he is about to start. They then begin to call numbers as they are randomly selected, either by an electronic Random Number Generator (RNG), by drawing counters from a bag or by using balls in a mechanical draw machine. Calling may take the format of simple repetition in the framework, "Both the fives, fifty five", or "Two and three, twenty three", but some numbers have special calls due to their significance and their nickname will be called instead. This practice is no longer commonplace in the UK..

The different winning combinations are:
Line — covering a horizontal line of five numbers on the ticket.
Two Lines — covering any two lines on the same ticket.
Full House — covering all fifteen numbers on the ticket.

It is normal for a line game to be followed directly by a two line game and a full house game, or just by a full house game. In all cases, the last number called must be in the winning sequence. If a player does not stop the game in time and the caller calls out the next number the player's winning claim is often invalidated.

When players first come to a bingo venue they usually buy a books of tickets, normally between one and six books. Play is divided into sessions with different books, each with a designated number of pages. Players in the UK usually prefer to buy books of six tickets containing all possible numbers in different combinations.

As each number is called, players check to see if that number appears on their tickets. If it does, they will mark it with a special marker called a "dabber" or a "dauber". When all the numbers required to win a prize have been marked off, the player shouts in order to attract the caller's attention. There are no formal rules as to what can be shouted, but most players will shout one of "Yes", "Bingo", "Line" or "House", depending on the prize. So if you're interested in online bingo you can read more about online bingo and find new bingo sites.


| | | |
| --- | --- | --- |
| USA Bingo | | |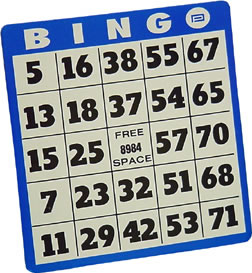 Players buy printed sheets before the start of each game which are marked with unique sets of numbers, typically from 1 to 75. Each of these cards has different sets of numbers so there are no duplicates in any one Bingo game, giving each player a unique card, although this doesn't guarantee just one winner. The numbers are aligned in columns marked B, I, N, G, and O respectively with 5 from a range of 15 numbers being printed in each row, i.e. a random 5 numbers from 1 to 15 in column B, another 5 from 16-30 in column I and so on. In a popular variation of the game, the middle number on the card is already marked off.

When the game starts the 'caller' draws numbered balls from a tombola and calls them out to the room. If players have those numbers on any of their cards, they mark them off with a big felt pen called a 'dauber'. In modern games, the bingo caller may call randomly generated numbers instead, and even be replaced entirely by a computerised screen.

Bingo players try to match the numbers being called to a specific pattern specified at the start of the game. This pattern may be to mark all four corners of one card, or to cover all the numbers (a pattern called a "Cover-All"), or to mark off a complete straight line or one of many other patterns as there are lots of different variations. The first person to mark off numbers matching this pattern shouts out "Bingo" and collects a percentage of the total stake money, or some other prize, it depends on the game rules.

Typical bingo prize jackpots can be anywhere from a few dollars and plush toys, to thousands of dollars, brand new cars and more. Progressive jackpots on the internet have seen prizes regularly hit six figure jackpot sums and higher. When playing bingo in the offline bingo halls, you need to be quick and pay attention if you are going to get anywhere at all. Bingo callers don't exactly hang around so you've got to keep up with the pace they set if you are not going to miss numbers and thus, greatly reduce your chances of winning.

Online
You usually have some labour saving tools at your disposal. Auto-Daub is an essential feature, allowing you to play many cards at once with the game itself marking off the numbers for you - absolutely no chance of missing any numbers! You can of course turn this feature off for a more realistic feel.

You can also buy cards for less online. A typical game card in a bingo hall will cost around $1 per card on average, whilst online you will find them for 10 cents or less. These are great for the casual player who is more interested in the community aspect than winning the big bucks..


| | | |
| --- | --- | --- |
| UK Origins | | |

Bingo in the UK is very different to that in the USA. UK bingo has always been more commercial than its American counterpart, it was introduced to these isles by a Mr Eric Morley, the man also responsible for the Miss World competition.

Bingo games were seen as a way of putting the surfeit of cinemas and theatres to good use. In 1950s Britain, an increasingly affluent society forsook the picture house for the television. Cinema fought back, but attendances declined sharply throughout the decade.

The Gambling Act of 1960 abolished the ban on gambling, which paved the way, and bingo had the added bonus that the fabric of the building would require little alteration for its new purpose, unlike other conversions of cinemas to shops or bowling alleys. The Gambling Act did not regulate the industry however, and it was known to be a rather shady business in part.

Although the Government considered outlawing bingo, public protest changed their minds, and instead the Gaming Act of 1968 cleaned the business up considerably. By the early 1970s, the crude bingo blower machines were being replaced by state of the art electronic Random Number Generators, and in the 1980s, the National Game was introduced, played across many clubs.

Throughout the 1990s, laws governing bingo halls were increasingly relaxed by the government, but the introduction of the smoking ban was a crushing blow. Bingo halls earn the majority of their money with interval games, and this income was decimated overnight.

The first 90 number online bingo club was launched in 2005, and since then, both major players and newcomers have started operating online bingo sites. Although not all have been successful, online bingo games and bringing new players as well as established ones into play.


| | | |
| --- | --- | --- |
| USA Origins | | |

The first real push into the English speaking world came in the late 1920's when a hard up New York toy salesman by the name of Edwin S. Lowe stumbled across a carnival game in Georgia. The game of Beano, as the booth-owner called it, involved a caller drawing numbered wooded discs from a bag and shouting them out to the waiting players. Each player had a game card with numbered squares and some dried beans. Every time a number was called out which was on their card, they would mark it with a bean. The first player to have a straight line of beans, either in a horizontal, vertical or diagonal direction was declared the winner. Such was the popularity of this game that try as he might, Lowe didn't get to play that night but the idea was formed.

In New York he invited friends over to his appartment to play this new game. They became immediately hooked and at one point, so excited was one female member of the party, that instead of shouting out "Beano!" to signify she had won, she yelled "Bingo!" instead. The name stuck and Lowe went on to create the first commercialised version of the game, retailing at $1 for a 12 card set and $2 for a 24 cards.

Bingo found it's way out of the family room and onto a grand scale thanks to the fund-raising efforts of a priest from Pennsylvania. The priest had seen a great opportunity to raise money for his church by holding bingo gaming events but had ran into an unfortunate problem. The game cards would produce tens of winners each game instead of the desired one or two, because they had never been designed to be played en-masse. The subsequent quest to find 6000 cards with 6000 different number combinations (in the pre-computer age!) took many months.

The Lowe Bingo Game had two versions; the first a 12-card set for $1.00, the second a $2.00 set with 24 cards. Bingo was a wild success. By the 1940s Bingo games were all over the country. Lowe had many competitors and all he asked was that they pay $1.00 a year to conduct the games and to use the name Bingo.

| | | |
| --- | --- | --- |
| Are You New To Bingo? | | |

If you're considering playing online bingo for the very first time, you can rest assured you'll be joining a global gaming phenomenon that is continually increasing in popularity. No longer is bingo just a game for old ladies; it is played by people of all ages, all sexes and a variety of cultures.

Online bingo offers players a chance to play a wide and varied range of bingo games and slots games, which you can enjoy from the comfort of your own home. Of course online bingo can also be played on mobile phones or tablets meaning you can play from just about anywhere including when you're travelling to or from work, wanting to have a bit of fun on your lunch-break, or just wanting to idle away a few minutes trying to win cash prizes that range from £30 right up to jackpots that can run into tens of thousands of pounds and sometimes hundreds of thousands of pounds.

The fun doesn't stop there though as many online bingo sites have online forums, chat-rooms, newsrooms and community rooms. Even better, many online bingo sites offer new customers free-play cash, bonus cash and bonus rewards schemes for players to take advantage of, whilst many have continuing bonus rewards and VIP clubs in which members can accumulate points every time they play a game of bingo, and then use these points to claim prizes and rewards once they've reached a certain total..

New Customer Free Bets

New customers will often be given free-money to play with simply for becoming a member, whilst on some sites a small deposit will be doubled or even trebled. There may be some terms and conditions that apply before you can withdraw any winnings from free-play money (often have to play it through a few times) but remember you can have loads of fun with that money – for FREE!

Design and Appearance

Most of the online bingo sites are really aesthetically pleasing and incorporate wonderful vibrant colours and state-of-the-art graphics. The sites tend to be really helpful as well with full games schedules telling you what types of bingo games you can play, countdown clocks to when the bingo games are starting, how much the game costs and how much you can win.

Types of games

The most popular bingo game in the UK is the traditional 90-ball bingo. This is the game that has traditionally been played at bingo halls, clubs and family holiday resort since bingo was first introduced. Players can win by getting one line, two lines or a full house, and the majority of sites' rules are fundamentally the same, though some vary slightly – so always check.

A popular alternative is 75-ball bingo in which players often win when their numbers make a certain pattern on the bingo card.

Cost of games and prizes

Players can play a game of bingo for just a few pennies and whilst the prizes for such games are often, though not always, quite small – you can have loads of fun for not a lot of money. If you fancy playing for an amount of money that winning a jackpot would provide, these games tend to cost a little more – but the bigger the prize the bigger the thrill.

Online rooms

The online chat-rooms, communities and forums are great places to do a bit of socializing and there are always like-minded bingo players on them whatever time of day you fancy chatting. They're also great for asking questions about certain games or rules you're unsure of – and the people are always willing to help.



| | |
| --- | --- |
| Bingo Calling Nicknames | |


Number
Nickname
Explanation
1
Kelly's Eye
Military slang; possibly a reference to Ned Kelly
2
One little duck
From the resemblance of the number 2 to a duck; see '22'
Me and you
Romantic rhyme
3
Cup of tea
Rhyming
You and me
Romantic rhyme
4
Knock at the door
Rhyming
5
Man alive
Rhyming
6
Tom Mix
After Tom Mix, a star of silent era Westerns
Half a dozen
Real
7
Lucky for some
7 is considered a lucky number in some cultures
8
Garden gate
Rhyming
9
Doctor's Orders
Number 9 was a laxative pill given out by army doctors in WWII.
10
(David's) Den
The name refers to whoever currently resides at Number 10 Downing Street.
11
Legs Eleven
A reference to the shape of the number resembling a pair of legs. The players often wolf whistle in response.
12
One dozen
A reference to there being 12 units in one dozen.
13
A baker's dozen
A reference to there being 13 units in one baker's dozen.
14
Valentines day
Straightforward
15
Young and keen
Rhyming
16
Sweet 16, never been kissed
Custom
17
Dancing queen
Rhyming
18
Key of the door
Coming of age, thus getting the key to the future
19
Goodbye teens
Straightforward
20
One score
Slang for 20
21
Key of the Door
Coming of age, thus getting the key to the future
22
Two little ducks
Visual imagery
23
The Lord is My Shepherd
The first words of Psalm 23 of the Old Testament
24
Knock at the door
Rhyming
25
Duck and dive
Rhyming
26
Two and six, half a crown.
Pre-decimalised currency in the UK. Also "Pick and mix"
27
Duck and a crutch.
2 looks like a duck 7 looks like a crutch. Also "Gateway to heaven"
28
Two and eight, in a state.
Rhyming. Also "Over weight*
29
You're doing fine
Rhyming
30
Burlington Bertie
Reference to a music hall song of the same name composed in 1900, and a more famous parody (Burlington Bertie from Bow) written in 1915.
Dirty Gertie
Common rhyme derived from the given name Gertrude, used as a nickname for the statue La Delivrance installed in North London in 1927. The usage was reinforced by Dirty Gertie from Bizerte, a bawdy song sung by Allied soldiers in North Africa during the Second World War.
31
Get up and run
Rhyming
32
Buckle My Shoe
Rhyming
33
All the threes
Straightforward
34
Ask for more
Rhyming
35
Jump and Jive
A dance step
36
Three dozen
Straightforward
37
A flea in heaven
Rhyming
38
Christmas cake
Rhyming
39
Those famous steps
John Buchan's THE 39 STEPS – memorably filmed by Alfred Hitchcock in 1935
40
Life begins at
Straightforward
41
Time for fun
Rhyming
42
Winnie the Poo
Rhyming
43
Down on your knees
Rhyming
44
Droopy drawers
Rhyme that refers to sagging trousers.
45
Halfway there
Straightforward
46
Up to tricks
Rhyming
47
Four and seven
Straightforward
48
Four dozen
Straightforward
49
Rise and shine
Rhyming. Also "PC", PC 49 was a well known cop show on radio in the 40s and 50s.
50
Bulls eye
Straightforward
51
I love my mum
Rhyming
Tweak of the thumb
Rhyming
52
Danny La Rue
A reference to drag entertainer Danny La Rue. Also used for other numbers ending in '2' (see '72' below).
Chicken vindaloo
Rhyme introduced by Butlins in 2003.
53
Here comes Herbie
53 is the racing number of Herbie the VW Beetle. Players may reply "beep beep"! Also "Stuck in the tree".
54
House with a bamboo door
Earl Grant, famous House Of Bamboo lyrics - Number fifty-four, The house with the bamboo door, Bamboo roof and bamboo walls, They've even got a bamboo floor!
55
All the fives
Straightforward
56
Was she worth it?
This refers to the pre-decimal price of a marriage licence in Britain, 5/6d. The players shout back "Every Penny". See also 76.
57
Heinz Beanz
Refers to "Heinz 57", the "57 Varieties" slogan of the H. J. Heinz Company.
58
Make them wait
Rhyming
59
Brighton Line
Rhyming
60
Blind 60
Also "three score" and "five dozen".
61
Bakers bun
Rhyming
62
Tickety boo
Rhyming. Also "Turn on the screw".
63
Tickle me
Rhyming
64
The Beatles number
Also "Red raw"
65
Stop work
A reference to the British age of mandatory retirement.
66
Clickety click
Rhyming
67
Made in heaven
Rhyming
68
Saving grace
Rhyming
69
Anyway up.
Visual. Also "The same both ways", or "your place or mine".
70
Three score and ten
Straightforward
71
Bang on the drum
Rhyming
72
Danny La Rue
Rhyming. Also "A crutch and a duck" or "Par for the course".
73
Crutch with a flea
Also Queen B
74
Candy store
Rhyming
75
Strive and strive
Rhyming
76
Trombones
"Seventy-six Trombones" is a popular marching song.
76
Was she worth it?
This refers to the pre-decimal price of a marriage licence in Britain, 7/6d. The players shout back "Every Penny"
77
Two little crutches
Visual. Also "Sunset strip".
78
Heavens gate
Rhyming
79
One more time
Rhyming
80
Gandhi's Breakfast
Imagine looking down from above on Gandhi sitting cross-legged in front of a plate. Also "Eight and blank".
81
Stop and run
Also "Fat lady and a little wee ".
82
Fat lady with a duck
Also "Straight on through ".
83
Fat lady with a flea
Also "Time for tea".
84
Seven dozen
Straightforward
85
Staying alive
Rhyming
86
Between the sticks
Rhyming
87
Torquay in Devon
Rhyming. Also "Fat lady with a crutch".
88
Two Fat Ladies
Visual
89
All but one
Also "Nearly there".
90
Top of the shop
Straightforward reference
---

---