Betting on sports is as old as sports itself but having a formalised system of being able to bet is not so old. Bookmakers are thought to have existed in the Colleseum in Rome, 2000 years ago, but the earliest detailed account of one is generally accepted as being Harry Ogden, an English bookmaker who opened for business in the 1790s. He started operations on Newmarket Heath taking bets on all horses in the races that took place, very near to where Newmarket Racecourse, the home of the UKs flat racing, stands today.

Whilst bookmaking has made the natural evolution to a business that will take bets on virtually anything, betting on horse racing still remains the purest, most natural and heavily integrated of all sports betting.

Where to Bet on Horse Races
All forms of betting include Horse Racing, bookmakers, exchanges, pool betting (the Tote), binary betting and spreads. The most popular is still the bookmaker, simple in format and easy to understand. When you win at 5-1 you know you have won £5 for your £1 bet. Understanding the bet is the most important thing especially if you are new to betting on horse races. Thats the reason we suggest bookmakers like https://sport.netbet.co.uk/ as a starting point before you branch out into more exotic betting mediums. Every UK race is covered as well as the big races from around the world.


Value
If you are a casual punter having an odd bet or a day at the races it still doesn't hurt to try to get value. And if you are a regular player then that is what you are looking for all the time. By Value we mean the price of the horse reflects better odds than the true odds of the horse winning. But how do you find value?

Form
The study of form has no limits. The British Horse Racing Authority (BHA) has plenty of information but especially are in control of the horse racing ratings which are a good start point. The are four types of official rating, Chase, Hurdle, Flat and AWT (All Weather Track) ratings.

Weight
A horse rating will always be a number that represents pounds weight, it is a relative measure. So a horse rated 120 carrying an extra 20 pounds in weight as a penalty would be running as an equal to a horse rated 100 with no penalty.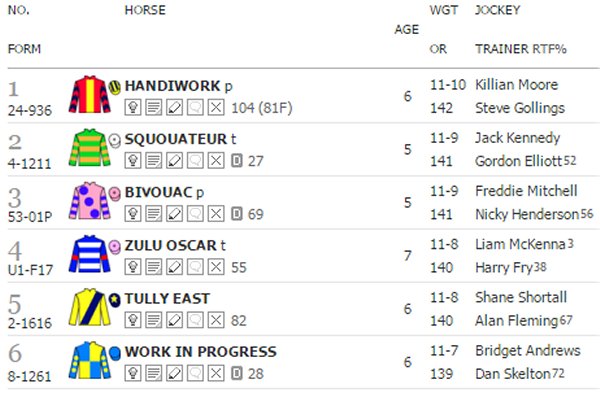 Above is the top part of a typical card from the Cheltenham Festival. This is a handicap race which means the official (in this case Hurdle) rating was used to determine the weight each horse carried. So the top rated horse on 142 (Handiwork) starts the list with the top weight decided by the clerk of the course, in this case 11-10, which is 11 stone 10 lbs, as shown. The next highest rated is Squoateur on a rating of 141 and is thus carrying 1lb less, 11-9. And so on down to a limited number of runners or 10-0 which is the lightest weight allowed.

Form
On the left under the horses number are the form figures. 1 means the horses won, 0 meands the horse finished 10th or worse, F = Fell, P = Pulled Up, U = Unseated Rider and B = Blundered.

Days of Track
The number under the horses name, in Handiwork's case "104 (81F)", means last ran 104 days ago but the 81F means it ran 81 days ago on the flat, so this horse has run both codes.

Claim
The 4th horse, Zulu Oscar, is being riden by Liam McKenna and that jocket has a "3" after their name. This jockey is allowed to claim 3lbs off the weight and so the horse is carrying 11-5 rather than 11-8 as shown. Claims are generally for a jockey relatively new to the sport, complete beginners get 7lbs and as the rider wins races this reduces, first dropping to 5lbs after winning 20 races, then 3lbs when riding 40 winners and finally to Zero pounds after 70 winners. (New jockeys can get a 10lb allowance if they are riding for a stable that has hired them permanently)..
Race Type

This race is described by the above image. So it says its an handicap, so each horse carries a weight related to the official rating minus jockey claim. Conditional jockey is one that has not ridden out their claim, so not won 70 races yet.

Class
There are 6 Classes of race in NH (National Hunt) and 7 on the Flat. This is Class 2 so quite a strong race.

Age and Rating
(4yo+ 0-145) This means the race is for 4 year old horses and older and the horses are limited to a top rating of 145.

Going
One of the most important pieces of data for form analysis is the "Going". Here it is Good which for NH racing is about as fast as anyone wants. The Going ranges from Heavy, to Soft to Good to Soft to Good for NH racing. Horses are generally better on particular ground so when the Going changes to Good from a period when the ground might have been very wet then you need to look back at the form of a horse on Good maybe Good to Soft ground.

Study Form
So now you have the brief breakdown of the types of race and horse you can understand the form more. Each horse has run previously at many tracks, sometimes the same one. The ground will differ, the distance will differ, the weight carried will differ and so on. Find what suits you and narrow your search for where the value lies bering in mind that the price is the most important. A strong chance to win does not necessarily mean that 4/5 Fav is justified or is value.

Keep up with the race calender at the BBC.

---