| | | |
| --- | --- | --- |
| | Greyhound Racing | |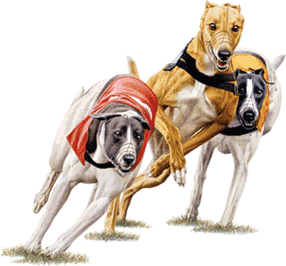 With attendances reaching three million and £2.5 billion wagered on races each year, it is no surprise that greyhound racing remains one of the country's most popular spectator sports

Twenty five tracks offer quality restaurants, bars and corporate facilities envied by the rest of the entertainment industry. Between them, they host 70,000 races a year, each featuring six beautiful, sleek greyhounds racing with breathtaking speed and agility. With races taking place every fifteen minutes at most tracks, it's non-stop action

American Owen Patrick Smith introduced greyhound racing to Britain in its modern day format. Having invented the very first mechanical lure and circular track in the US in 1925, Belle Vue Stadium of Manchester opened in 1926.




| | | |
| --- | --- | --- |
| History | | |


Owen Patrick Smith together with politician Brigadier-General Alfred Critchley and entrepreneur Sir William Gentle set up the Greyhound Racing Association (the GRA) in 1926. The GRA built the very first purpose built greyhound racing stadium in Britain in the Gorton area of Manchester in 1926. Belle Vue Stadium, as it was called, held its first meeting on the 24th July 1926 and 1700 people went through the gates to watch six races of seven greyhounds take place. A red greyhound named Mistley won the first race by eight lengths at odds of 6/1. Within weeks crowds of 11,000 per meeting were clambering to see this exciting new sport

By the end of 1926 the GRA was able to repay an initial bank loan and begin planning expansion into London. This was White City, a stadium originally built for the London Olympics in 1908, and was bought and opened for greyhound racing in 1927. Later that year White City held the very first Greyhound Derby with a prize of £1,000. The Derby is still the biggest race in the greyhound racing calendar and is now held at Wimbledon stadium in south west London.

In 1928 the National Greyhound Racing Club was set up to establish and enforce a set of rules for racing. Greyhound Racing very quickly became an extremely popular pastime with superstars such as Mick the Miller getting hero status. The boom of racing was however checked by the Second World War. When it that ended expension returned and the boom continued throughout the 50s and 60s.

With the advent of televised horse racing attendances began to fall in the late 60s and a general slump in the 70s caused several tracks to close.

In 1979 the British Greyhound Racing Board was set up to enable various stake holders in the sport to discuss the promotion and improvement of the greyhound racing industry, to consult with the NGRC regarding the rules of racing and to improve the care and welfare of the greyhound. On the 1st January 2009 the Greyhound Board of Great Britain (the GBGB) became operational, taking on the functions of both the British Greyhound Racing Board and the National Greyhound Racing Club.

As a betting product, greyhound racing has never been more popular. Some £2.5bn is staked on the outcome of greyhound races each year, but a falling percentage of that is being traded at the tracks. As of 1st September 2007, the Gambling Commission came into being, introducing under its licence conditions many of the new laws set out in the 2005 Gambling Act. Among them, licensed betting shops became able to trade until 22.00 every evening throughout the year. Prior to that, evening opening of betting shops had been restricted to May-August.

A percentage of off course betting turnover (currently 0.6% of turnover) is returned to the sport via a voluntary levy. It amounts to approximately £12m per annum and is used to finance welfare and integrity work, plus promotion of the sport and commercial activities.


| | | |
| --- | --- | --- |
| Greyhound Colours | | |


| | | |
| --- | --- | --- |
| Trap | | Colour Description |
| | | Red jacket with a white number |
| | | Blue jacket with a white number |
| | | White jacket with a blue number |
| | | Black jacket with white number |
| | | Orange jacket with a black number |
| | | Black and white tripe jacket with a red number |
| | | |


| | | |
| --- | --- | --- |
| How To Bet | | |



Betting on Greyhound Races : The most popular way to bet is on the track's own tote but many punters like to bet with the often colourful bookmakers who ply their trade usually by the side of the track. Most bookmakers will only accept win bets and punters take the price on the bookies board at the time they strike the bet.

Tote Bets

Win only - Choosing a greyhound to be first past the post.
Place only - Choosing a greyhound to be either first or second.
Forecast - Picking two greyhounds to finish first and second. A popular bet is a reversed forecast which means your choice can be first and second in either order.
Trio or trifecta - Very much the same as a forecast but, as the name implys, punters have to pick the first three home.
All-Ways Forecast - Pick 3 dogs & predict the 1st and 2nd in ANY order which is six bets in one. If any of the three greyhounds fill first and second, the bet has been successful.
All-Ways Trio - Pick 3 dogs & predict the 1st, 2nd and 3rd in ANY order which is six bets in one.
Speciality bets - Most tracks run Jackpots and other unusual bets which involve the outcome of more than one race. Further information on these types of wagers can be obtained from the track you plan to visit. e.g. Pick 6 Jackpot means picking the winner of the six jackpot leg races using the card provided.


| | | |
| --- | --- | --- |
| The Races | | |


Greyhound Race types : At the top of each racecard there will be information telling you the name of the race, the time it will be off, the race number (sometimes up to 15), the race distance in metres and then the type of race. The type of race will be described by alpha-numeric codes as follows:

| | |
| --- | --- |
| OR | An open race for any grade of dog, usually the best greyhounds |
| A (1-12) | Graded race for dogs of similar ability. Appears as A1, A2, etc. |
| P | Puppy races for dogs of between 15 and 24 months old |
| HCP | Handicap race where dogs get a distance handicap starting from different positions |
| H | Hurdle race where dogs jump at least three hurdles |
| S (1-6) | Six bend race. Appears as S1, S2, etc |


| | | |
| --- | --- | --- |
| The Race Card | | |


Greyhound Race Card : For each race dogs are listed in trap order under the heading of the time of the race, the prize money, the distance and then the type of race.


| | |
| --- | --- |
| Date/Track | Last time raced and where |
| Dist | Distance raced |
| T (or Tp) | The trap the greyhound ran from |
| Brk-T | Break time to leave the traps |
| STm | Sometimes a split time is in a card, that is the time to reach the winning line for the first time |
| Pos | Often called bend order and labelled SPl shows the position through each bend |
| Fin | Winning line position |
| Dist | Sometimes labelled By, this is distance won or beaten by. |
| Winner | Winner of race or second if sample greyhound came first |
| Remarks | Comments on what happened to the runner during the race |
| W-T | The time the race was won in |
| G | Going. The track officials view expressed in hundreths of a second |
| Wgt | The greyhounds weight in kilos |
| Odds | Price returned by the SP compiler after each race |
| Class | Class of the greyhound. Usually A1, A2 etc.. T stands for trial |
| Clc-T | Calculated time taking into account the going |


| | | |
| --- | --- | --- |
| The Form | | |


Greyhound Race Form : The form of a greyhound has to be judged from past race performances. Many factors come into play for punters assesing the current ability of a dog. These include how fresh the dog is or how consistent the dog is. Offiical track handicappers make an assesment of how slow or fast they think the track is running on the day and add time (in positive or negative amounts of hundeths of a second) to a dogs time to get the calculated time which appears on the racecard form guide.

Many punters assume their own handicap for a track and it may vary from race to race depending on the changing conditions. Thus a different calculated time is found and dogs can be rated accordingly. This requires a lot of work if you are to take it seriously and part with your money.



| | | |
| --- | --- | --- |
| Greyhound Race Tracks | | |



Belle Vue
Manchester M18 7BA
Tel: 0870 840 7557
Info
Brighton & Hove
East Sussex BN3 7BZ
Tel: 01273 204601
Info
Brough Park
Newcastle-upon-tyne NE6 2XJ
Tel: 0191 210 5300
Info
Crayford
Kent DA1 4HR
Tel: 01322 557836
Info
Hall Green
Birmingham B28 8LQ
Tel: 0870 8407400
Info
Harlow
Essex CM19 5DY
Tel: 01279 426804
Info
Henlow
Bedfordshire SG16 6EA
Tel: 01462 851 850
Info
Kinsley
West Yorkshire WF9 5EH
Tel: 01977 610946
Info
Mildenhall
Suffolk IP28 8QU
Tel: 01638 711777
Info
Monmore Green
Wolverhampton WV2 2JJ
Tel: 01902 452648
Info
Nottingham
Nottingham NG2 4BE
Tel: 0115 910 3333
Info
Oxford
Oxford OX4 6LJ
Tel: 01865 778 222
Info
Pelaw Grange
Co. Durham, DH3 2AF
Tel: 0191 4102141
Info
Perry Barr
Birmingham B42 2ET
Tel: 0121 3562324
Info
Peterborough
Peterborough PE1 5BJ
Tel: 01733 296930
Info
Poole
Dorset BH15 2BP
Tel: 01202 677449
Info
Portsmouth
Portsmouth PO2 8QU
Tel: 02392 698000
Info
Romford
Essex RM7 9DU
Tel: 01708 762345
Info
Shawfield
Glasglow G73 1SZ
Tel: 0141 6474121
Info
Sittingbourne
Kent ME10 3SB
Tel: 01795 475547
Info
Sheffield
Sheffield S6 2DE
Tel: 0114 234 3074
Info
Stainforth
Nr Doncaster DN7 5HS
Tel: 01302 351639
Info
Sunderland
Sunderland SR5 1RP
Tel: 0191 5686200
Info
Swindon
Swindon SN25 4DN
Tel: 01793 721 253
Info
Towcester
London Road
Towcester
NN12 6LB
Tel: 01327 352 567
Info
Wimbledon
London SW17 OBL
Tel: 0870 840 8905
Info
Yarmouth
Great Yarmouth NR30 5TE
Tel: 01493 720 343
Info

| | | |
| --- | --- | --- |
| Retired Greyhounds | | |

What happens to greyhounds at the end of their career?

Approximately 10,000 greyhounds retire from racing each year, typically between three and four years of age. Many never make the grade or retire at a much younger age as a result of minor injury. A great many owners will adopt greyhounds into their homes or arrange for them to live out their retirement at a kennel.

The Greyhound Trust works extremely hard to encourage owners to take their responsibility for their dogs seriously, and we also encourage the public to consider taking on retired greyhounds.

A greyhound is the original low-maintenance companion animal. Despite their well-deserved reputation as formidable athletes, they do not require large amounts of exercise: the vast majority are perfectly content with two short walks a day and they just love to relax on a comfortable bed.

They are short haired dogs and require little grooming. Many people who suffer from an allergic reaction to dogs in general may find that greyhounds do not have this effect.

Greyhounds are placid animals and therefore are particularly good with children; they also make excellent pets for the elderly because they do not require large amounts of exercise.

So if you are interested in adopting a retired greyhound then get in touch with The Retired Greyhound Trust.


---