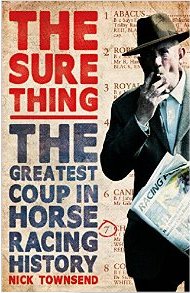 The Sure Thing: The Greatest Coup in Horse Racing History
by Nick Townsend

Barnel Curley is an extraordinary character: part spoiled priest, part obsessive, part philanthropist but all-conquering enemy of the bookies. This is a fascinating story of the logistics of a multi-million betting coup but it is a triumphantly compelling portrait of Curley

At times, the book reads more like a biography, perhaps because the same author was involved in writing that book, but don't be concerned about any possible duplication. Away from the main topic, we learn quite a lot about Barney's life and his other contributions to the world of horse racing, including his role in helping Frankie Dettori to become successful and his spat with John McCririck that can be found on Youtube.

This is the full story of how the legendary gambler does it is, unveiled in great detail. It helps if you know your way around racing, but if you don't this book will make you want to get clued-up fast

Paperback - 432 pages (23 Apr 2015)

£6.29

$6.63


-----------------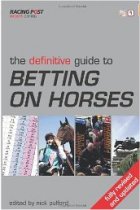 The Definitive Guide to Betting on Horses
by Nick Pulford

This is a fully updated edition of the ground-breaking look at horserace betting, first published in 2004. "The Definitive Guide to Betting on Horses" is crammed with the expert views of many of "The Racing Post" journalists. Among the gems included are: The winning approach to betting on the Classics and the big festivals by Pricewise (Tom Segal); the types of races and horses that are best for betting by "The Racing Post" handicappers, consistently the most successful tipping team; how to spot a potential winner by senior "Racing Post" race-reader Graham Dench; a complete guide betting exchanges and how to make them pay by top "Racing Post" betting editor Paul Kealy; the importance of speed figures by expert Nick Mordin; plus a full breakdown of the effect of the draw, how to find value, a guide to spread betting, bets to avoid, betting systems and how they work, and much more.

This is a great book that is genuinely useful. It covers subjects that arent really covered in other books like for example horses prefer right or left tracks and how to judge a tipster.

This collection of articles provides a multitude of insights into the complex and mysterious world of horse-racing. While no-one should expect to find the key to successful betting here, you can expect to learn a great deal that will help you make wiser, more informed decisions - bearing in mind that every horse race is an opportunity to lose money. Great value for money!

Hardcover - 272 pages (16 Sep 2011)

£11.04

$20.65


-----------------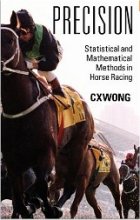 Precision: Statistical and Mathematical Methods in Horse Racing
by C X Wong

This book thoroughly discusses the mathematical and statistical methods in handicapping and betting techniques. Differentiations, combinatorics, normal distribution, kernel smoothing and other mathematical and statistical tools are introduced. The jargons and equations are kept to a minimum so that it is easy to understand for most readers. More than 20 professional programs are freely available to download, which can allow readers to easily apply the methodology introduced in the book.

This book can be divided into three main parts: horse handicapping (Chapters 2-6), wagering (Chapters 7-9) and theories in practices (Chapters 10-11). He uses plenty of examples to describe how you go about choosing your performance factors based on hard measured figures, then how to estimate the probability and find overlays. Importantly he shows how to identify which factors matter and those that don't. If you want to follow the maths, it can be heavy going, but the excel programs do the heavy lifting for you. There's enough layman explanations to keep you up to speed so you know what he is trying to show. There's also some interesting war stories about what it's like on the inside of a betting syndicate.

I think this will help anyone trying to get to grips with the maths of gambling, its examples are from Hong Kong racing but the practical application of underlying principles can be applied to all sorts of markets.

This book was originally written in Chinese and it is clear that the translator's first language is not English, because the grammar is incorrect in places but it is still easily understood.

Hardcover - 282 pages (28 Mar 2011)

£29.95

$39.95


-----------------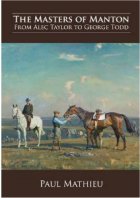 The Masters of Manton
by Paul Mathieu

This book tells the stories of the four racehorse trainers who built the famous Manton yard in Wiltshire, and some of their owners and of course, great horses. Plenty of research has gone into this account and betting plays a large role. Indeed, it started with a gamble, Teddington's victory in the 1851 Derby, the first of many plots where the whiff of skulduggery hangs in the air.

The first of the trainers, Alec Taylor, trained 12 Classic winners before handing the reins over to his son 'Young' Alec, who himself was no slouch, notching up 21 Classic successes between 1905 and 1927 and winning seven consecutive trainers' titles. Young Alec trained the legendary Sceptre at four, while Bayardo and Gay Crusader were two other superstars of that era. These were the halcyon days, but even during this glory period there was scandal. The death of a Taylor stable lad, James Luddon, highlighted the cruel living standards his employees had to endure. However, the trainer was exonerated of any wrongdoing.

You do need to be interested in racing to buy The Masters of Manton. It contains some interesting social history, but basically it's about everyone who ever dreamed of having a big race winner... . It's easy to read and highly recommended.

Hardcover - 303 pages (April 2010)

£21.80


-----------------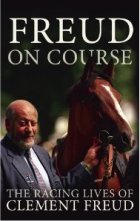 Freud on Course: The Racing Lives of Clement Freud
by Clement Freud

Anyone unamused by this book should consider therapy themselves. It is what it is: the weekly musings of a man who adored the rackety world of racing, given an afterlife as much because of who he was as for his gentle, funny, self-deprecating, occasionally dyspeptic descriptions of the sport of kings and quasi-criminals. This is a marvellous testament to his acerbic wit, appetite for the absurd and oblique take on the world.

That we shall not see his like again there can be no doubt. The charm of this book lies in the reminders of times gone by and an older man trying to accept changing times without compromising the standards he believed in. Above all, those who love horse racing, and a gamble, belong to an association. One where the members all recognise one another yet share a resignation that all suffer from an irredeemable weakness: but one that allows a very special pleasure on those rare occasions when relieving the old enemy, the bookmaker, of a large bundle of notes.

Hardcover - 272 pages (5 Jun 2009)

£11.11
Paperback - 272 pages (4 Jun 2010)

£8.09

-----------------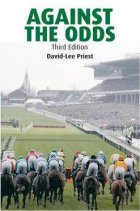 Against the Odds: A Comprehensive Guide to Betting on Horseracing
by David-Lee Priest

This book represents the culmination of an ambitious project aimed at researching the potential for profitable betting in British horse racing. Recent developments in computer technology have enabled the author to analyse the performances of over 1 million runners in 100,000 races. The findings are distilled in a meaningful and accessible way that is anchored by an understanding of betting and horseracing.

The author's scientific background is tempered with his experience of betting professionally. Readers are afforded an applied understanding of how to improve their chances of winning money. More than all this, readers will find that "Against the Odds" offers fresh and original writing in a domain where approaches to betting have become predictable and formulaic.This book presents; the philosophy of gambling; ability ratings; course suitability; past performance figures; race grade; draw; and, the betting market.

Editor's Opinion
The writer analyses profitable systems from handicaps, speed ratings, weight, sex(!), headgear, finishing positions, fitness, time of year, class, draw etc etc and presents a number of easily workable 'rules' for each type of race to enable you to make profitable selections and trim down the field significantly for each type of race. Essential reading and highly recommend for the serious horse racing player wanting to make a profit betting on horses.

Paperback - 288 pages 3rd Revised edition (3 Oct 2008)

£9.09

-----------------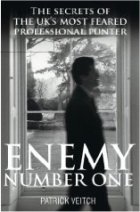 Enemy Number One: The Secrets of the UK's Most Feared Professional Punter
by Patrick Veitch

Enemy Number One offers an often controversial but utterly fascinating insight into Veitch's life of punting. For anyone who likes the occasional bet or who takes gambling seriously and has both the 'brain surgeon' and 'mad axeman' capabilities to do it there is more to be gleaned from this book than probably any other betting book.

Veitch is no ordinary punter. Enemy Number One documents an eight-year period of profits in excess of £10 million. It also chronicles the tactical headaches of placing bets with the bookmakers using Veitch's vast network of agents and sub-agents.

Veitch has had no comfortable ride, though. Just a short while after becoming a full-time punter he was the victim of an extortion attempt by a dangerous criminal who was subsequently tried twice for murder and later convicted of attempted murder. Veitch was forced to flee and go into hiding, returning to Cambridge to testify in a bulletproof jacket with police protection.

Editor's Opinion
Now I have to say that this is indeed better than the average racing or gambling book. However, before you get too far into the book there are signs that not all is well, some things just don't add-up. Take for instance his Ferrari, a depreciating asset that he uses as collateral to obtain a loan. What? A shrewd mind like his! And then later in his story his major coup d'état was basically insider dealing, which is still illegal as far as I can remember.

The conclusion is that you won't have gone far wrong at the price of this book but an editor and a ghost writer would have been worth their salt.

Hardcover - 304 pages (16 April 2009)

£10.04

$22.58
Paperback - 304 pages (19 April 2010)

£8.09

$ ??

-----------------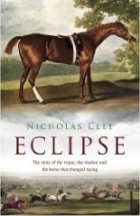 Eclipse
by Nicholas Clee

Racing, of all sports, is the most fuelled by gossip and innuendo. This makes the Sport of Kings attractive to people from every walk of life, a point emphasised in Nicholas Clee's biography of Eclipse, perhaps the most famous racing horse of all time. Though Eclipse could not have been more aristocratic, he was owned by a jailbird chancer and a brothel owner - Dennis O'Kelly and Charlotte Hayes, the madam's madam in what was "a golden age" for prostitution. The pair were a perfect partnership, gambling and philandering being kindred interests and in the mid-18th century people would bet on anything:

The horse, in contrast to his owners, was so good that he made the sport boring. In one race, he left the rest of the field 240 yards behind: in another, he started at 1-100, testament to the bookies' despair. He frequently won by a walk over, for no one dared take him on.

Yet despite his magnificence on the course, he was more valuable off it and it was O'Kelly's genius to realise that stud fees could dwarf prize money. The entwined fortunes of horse and owners make for a ripping yarn expertly told: part Flashman at the Races; part Seabiscuit without the schmaltz.
Will Buckley of The Observer

Hardcover - 352 pages (12 Mar 2009)

£15.00

$30.07

-----------------
Betting on Two Year Olds: The Inside Track
by Nick Attenborough

The first comprehensive guide to UK two year old racing.

This book has wealth of knowledge for the expert and the amateur alike. All the different phases of the two year old season in terms of race fixtures and horse development are explained in an easy to read fashion.

Whether or not the pointers in the book will actually help you in terms of successful betting is in debate. Certainly they will afford the avid student many more ways 'into' a race, by which is meant that you can assess a race by your own personal set of values that this book will have highlighted.

All in all this is a welcome addition to the literature on horse betting. Its one to have on your shelf if you are intent to tackle the two year old flat season.

Hardcover - 198 pages (1 April 2009)

£14.99

$??

-----------------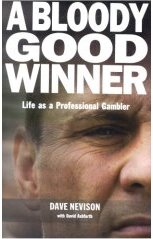 A Bloody Good Winner: Life as a Professional Gambler by Dave Nevison

Dave Nevison is doing, every day, what thousands of punters dream of doing - living the dream of life as a professional gambler. Since taking the plunge in 1993, Nevison has made his living, a very good living, from backing racehorses.

One of the best aspects of the book is Dave's brutal honesty (which I think is essential when it comes to this genre of reading, there's just no realism to people who just constantly win all the time) when it comes to how he's done over the years. Although as he became more successful, he found it harder and harder to get his bets down. Therefore he uses a number of associates to put his bets on.

There has been a bit of criticism within racing circles of Dave's harsh treatment of certain jockeys and trainers, although I think it comes across, not as bitterness, but as rounded and well argued. As punters, there's nothing worse than feeling that a certain jockey could have ridden a ride more aggressively. Although he really does stick the knife into certain towns and cities he has the misfortune to stay in.

One compliment to pay to this book is that you will start buying the Racing and Football Outlook every week just to read Dave's column. He's just as honest there.

Hardcover - 256 pages (19 Oct 2007)

£9.59

$31.42

-----------------

Racing Post's 500 Strangest Racing Stories by Graham Sharpe

This is a book about the unexpected, the off-beat, the quirky - five hundred of the strangest stories in horseracing's history. If you go racing or watch racing for any length of time, you soon realise that it is suffused with an aura on unreality and other worldliness. Odd moments abound, the surreal is almost commonplace.

In "500 Strangest Racing Stories", read about how a jockey lost a race when he insisted on riding in a top hat, what happened when a trainer fitted his short-sighted runner with spectacles, and why a racehorse was sent to jail.

Hardcover - 272 pages (14 Sep 2007)

£9.09

$25.83

-----------------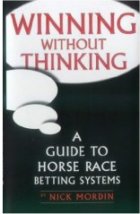 Winning Without Thinking: A Guide to Horse Race Betting Systems by Nick Mordin

The author will, I'm sure, be the first to admit that the title is a misnomer, because thinking is very much what he advises. But it is a clever title none-the-less. Yes you have to think like mad, but having thought, then must put aside all the usual 'conventional' reasoning for picking a selection and just believe the elements you have isolated even if from a normal point of view it may look dubious..

The Racing Post, Mordin is unique - there is no-one else writing anything quite like this for the British market … thoroughly recommended.

Paperback - 426 pages new edition (15 Oct 2006)
UK Amazon £8.54 or U$17.73 from Amazon USA

-----------------

Seabiscuit: An American Legend by Laura Hillenbrand

This story has got it all, excitement, drama,disappointment, suspense, tragedy, determination and even comedy.This is a true story written like a novel. Read this marvelous book to see what Seabiscuit, his owner, trainer, and jockeys accomplished when the rugged, little stallion turned seven---well past the retirement age for most Thoroughbreds.
Times, 20th May 2001 'a rip-roaring narrative...Hillenbrand tells the story with flair and skill, relishing the larger than life characters who inhabited this forgotten demi-monde.'

Paperback - 437 pages new edition (2 April, 2002)
expected price £6.39 Buy This Book or U$9.00 from US Amazon

-----------------

Crossing the Line by Charlie Brooks
(New edition)
In January 1999, Charlie Brooks, former leading race horse trainer, was arrested in connection with a police investigation into race fixing. He crossed the line from insider to outsider, and this is his informed and honest view of the weird and wonderful world of British horse racing. Gripping insight into the racing world.

Paperback - 317 pages (2 November, 2000) expected price £6.39 Buy This Book

-----------------

An Arm and Four Legs by Stan Hey

Anybody who has considered owning a racehorse should be made to read this as a matter of course, but equally if it has never occurred to you, it will also make interesting if somewhat salutary reading. In any case, this is one of the first books I've read about horse racing which does not presuppose knowledge of the subject. If anyone wants to know why the sport was once dubbed the Sport Of Kings and is still dominated by royalty (latterly from Dubai rather than Europe), this book will explain.

Paperback - 230 pages new edition (28 September, 2000) expected price £6.40 Buy This Book

The Inside Track by Alan Potts

Considering how many people like to have a bet, there are relatively few good books about the gambling. True, there do exist slim volumes of esoteric mathematically-based rhetoric of the sort that make the outpourings of Einstein and Russell seem like pulp fiction, but accessible, interesting books about punting are few and far between. This makes Alan Potts's book all the more refreshing. There are sections covering flat racing and jumping, and also detailed discussion of all-weather racing and the world of spread betting.

Hardcover - 255 pages (1 June, 1998) expected price £18.00 Buy This Book

Betting for a Living by Nick Mordin

From an author who devises and tests his own systems, this book describes how, during the winter of 1991/2, he applied his ideas at the racetrack and took over £1000 per month from bookmakers. It details the exact methods he used and explains the precise reasons behind every bet made.

Hardcover - 320 pages (16 November, 1992) expected price £18.00 Buy This Book

The Boss by John Budden
The sudden death of Gordon W Richards in October 1998 brought a premature end to a legendary training career which had seen him rise from obscurity to national fame as a master of his profession. Consigned to racing's scrap-heap with a broken back at the age of 29, he scraped a living as a livery stable proprietor and horse-dealer in a remote part of Northumberland until, five years later, he "discovered" Playlord and a new dawn broke.
Rugged, demanding, often outspoken, sometimes ruthless but never lacking in humour, Gordon made relentless progress through the training ranks. "The Boss", as he was widely known. liked to run his stable his own way. Horses, not humans, headed the pecking order, as many famous riders and owners discovered to their cost. Few escaped unscathed, but in over 30 years at Greystoke he employed only six stable jockeys, and two of theses, Ron Barry and Jonjo O'Neill, gained Championship honours.
The Boss charts the successes of the man who twice saddled more than 100 winners in a single season and who scooped the pool in the Aintree Grand National on two occasions. This enthralling biography, written with the full co-operation of Richards himself, provides a compelling insight into the forces that drove him to become one of the most respected trainers in the world.
Paperback - 240 pages (15 March, 2001) expected price £6.39 Buy This Book

Jenny Pitman by Jenny Pitman
Jenny Pitman OBE faced a double whammy when she applied for her trainer's licence. First, she was an outsider to the world of racing; second, and more importantly, she was a woman in what was still very much a man's world. As she tells us in her frank and entertaining autobiography, simply titled Jenny Pitman, she overcame the first problem much easier than beating the second. This is a personal story for those who love racing.
Paperback - 425 pages ( 4 November, 1999) expected price £5.59 Buy This Book

A Licence To Print Money by Jamie Reid
An exploration of the world of horseracing and gambling
Forget the tired biographies of worthy jockeys and trainers, this book cuts to the real soul of the sport - gambling. The core of the book concerns a series of essays on the history, culture and technicalities of betting on racing. These are well researched, well written and unearth a host of 20th century characters which many punters will enjoy reading about. These essays are interlaced with details of the author's own gambling forays, which make for compelling reading. The final chapter's account of a small sting at Redcar is outstanding, one is so involved with the story that it feels like taking part. The adrenaline flow produced by reading it is akin to that produced by having an over-big wager of one's own.
Paperback - 288 pages (October 1995) expected price £7.19 Buy This Book