How to Claim an Outstanding Bingo Bonus:
5-Point Checklist
---

I'm guessing you already know that virtually any online bingo operator offers some kind of welcome promo for their newly registered players so I will skip the fluff and get to the point: how to spot the truly advantageous bonuses and avoid ones that just chain you to countless terms and conditions. We comprised this checklist of the main characteristics of a good bingo bonus that never fails to work its magic. You can thank us later.

Know your bonus! - The first and maybe not so obvious thing to do is check what kind of bonus you are about to claim. Is it a deposit-related one or is it just a complement for registering on the site? What games can you play with it? Most often it's just bingo but there are also some operators which split their bonuses in 2 parts – one for bingo and the other one for side games (slots, casino, instants). If it's only a bingo bonus check the number of the rooms where you can use it. The decent operators will let you play in all the rooms in the lobby, while the other will admit you to just a room or two every other Tuesday.

What's the qualifying deposit? - If you need to make a deposit to trigger the bonus, take into account not only the minimum amount of the qualifying deposit but also the ratio between the money you put in and the money you are given. Is it better to get £40 on your tenner or £25 on a fiver? Depends on your needs but technically speaking the second one gives you 500% on top compared to the 400% of the first one. Also, some bonuses are fixed and others let you decide on how much you are willing to deposit and then the operator adds up a certain percentage on it. For example if you get 400% on deposits between £10 and £100, you can receive anything from £40 up to £400. Honestly speaking though, these offers are not so common.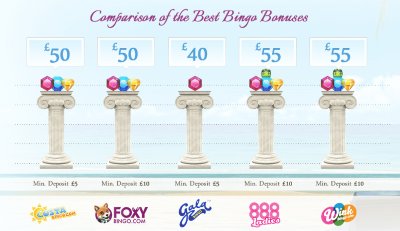 How long will it be valid? - Some bonuses may be valid for a week or two, while others will be available for up to a month. It may seem a relatively minor issue – I mean, everyone knows how to spend money, right – but it's nice to know you can take your time. This is especially true if the bonus is not available on the mobile site because you will have to actually be at home at your PC to spend it. But more importantly you will have more time to fulfil the play through requirements. Which leads us to the next point.

What are the wagering requirements? - All bonuses are non-withdrawable i.e. you cannot take the bonus and withdraw it immediately after that. This should be self-explanatory. They become withdrawable only after you wager the money a few times. Note that some operators require you to play through only the amount of the bonus while other demand you to wager the total of the bonus plus the deposit. Usually the wagering you need to do for a bingo bonus is between 2 and 4 times the bonus but for slots and side games it is at least 20 times.

Do you need a promo code and where can you get one? - The code is rarely a requirement, it's more of an extra – if you find one, you get more money than the other players. Those codes could be individual (and in this case you will be sent a special email), or correspond to a special offer which is negotiated by a certain partner in which case you can find it on sites like the one we've linked above.


---