Why online poker is good for the game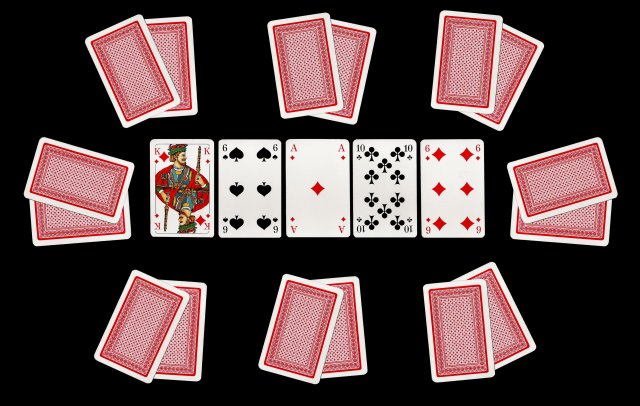 Source: Wikimedia - Photo by Nyks. CC BY-SA 3.0
Not too long ago, when Phil Hellmuth barely had a WSOP bracelet to his name, regulated poker games were only available at casinos. Fast forward 20 years, and the revelation that is the internet was born. This impacted so heavily on all aspects of society, and poker was no exception. The subsequent partial migration from casino floors to online card rooms hasn't all been positive - many players still prefer 'live' poker - but as a whole it has been beneficial to the game.

Inspiring a generation
Not to say that the younger generation wouldn't have picked up the game anyway, some certainly would have, but it is safe to say that in poker embracing the online revolution, far more technologically-adept youngsters have been drawn to the game.

The reason for this is that it hit a whole new demographic, ensuring that the younger generation who have been brought up surrounded by technology had a platform on which to play poker that is most relatable to them. Additionally, with online poker streamed through sites like Twitch and YouTube, there is more exposure to the game for those who are on these sites regularly, which may subsequently lead to an increase in its interest.

What's more, there's a complete anonymity with online poker, meaning those who may be intimidated by mixing it up with regulars at a casino can enjoy the game from the comfort of their own home playing behind their on-screen alias.

Build a community
Twitch is a prime example of how communities through online poker can be built. The likes of Lex Veldhuis, perhaps the most prolific poker streamer on the site, have built up a viewership in the thousands who tune-in to his channel up to six times a week. Not only does his persona and gameplay (being an aggressive medium to high-stakes pro), entertain his viewers, but he also adds an educational side to his streams by talking through his thought processes to try to better his viewers' poker ability.

This would not have been possible without online poker to act as the medium that brings all of these people together. The online poker scene itself has by default created its own community. Similarly to how all the live high-stakes tournament regulars will frequently meet at tables and casinos, certain tournament and games attract a very specific type of player. Therefore, regular online players of these games will begin to be familiarised with one another, and they have the tool online through game chats to even interact amongst themselves.

More accessible
The main, and most obvious, reason online poker is beneficial to the game as a whole is that it makes it more accessible to players across the world. Theoretically, all that is needed is an internet connection and a poker account to play online poker. Before the internet, and when online poker was established - around 1998, players would have to travel to a casino to play live if they wanted to find a real game of poker (as opposed to games organised by themselves among friends for instance).

Providing poker is legal in the location, a person can access a card room and potentially play a number of variations of poker at all different stakes. They will be able to connect with thousands of other players instantly, and even have the freedom to play hundreds of hands an hour by multi-tabling.

Incentives
Live poker games at casinos rarely have incentives to encourage players to play, and in fact rake is often higher in live games than online - assumingly down to the fact that the dealers are costing the casino money. Having said that, most casinos do offer bad-beat jackpots where if a player loses a hand with four-of-a-kind or better, they win a large sum of money.

Of course, casinos do have independent offers, but online poker rooms are the most lucrative when it comes to bonuses and rewards. FullTilt for instance, are currently offering an ultimate player's trip around the world. This is significant to the sport as it simply entices players to continue to play, where they may not were certain incentives not there.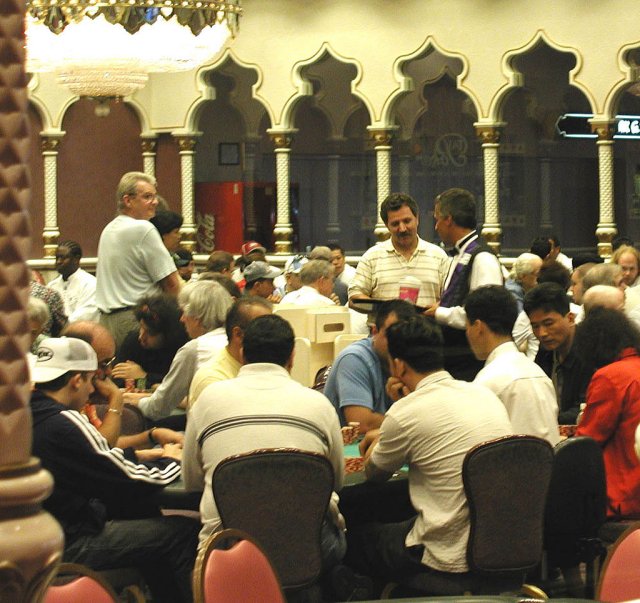 Source: Wikimedia - Photo by Raul654. CC BY-SA 3.0
In conclusion...
Chris Moneymaker's WSOP Main Event win in 2003 was a significant event in poker history. As a complete amateur to the game, he saw off a field of 838 other competitors to win $2.5m. The next year saw entrants to the main event triple. Moneymaker generated interest by giving every amateur player genuine belief that they could replicate his huge win.

Although he helped catalyse an increase in participation of professional (or organised) poker, without a large enough platform to showcase the game the amateur levels would not see the benefit. Ensuring that people are attracted to poker, and thus begin to play at an amateur level, is vital for the long-term growth and sustainability of the game. So, without that bridge for new players to enter and begin to learn the game, the future of poker would be under serious threat.

Online sites gave poker that accessibility to the masses, and ensured amateurs could play regularly and develop their skills without having to go up against the pros - who'd simply crush them everytime. The online revelation also later rejuvenated the game, forcing it to evolve as its popularity grew. All in all, online poker has been crucial in supporting the continued success of the discipline of poker, and it will definitely prove to be instrumental to its progression in the future.

---