.

---
We are building are list of DVDs. Check in on a regular basis.
---

Texas Hold Em Poker - Vol. 1 - Champion Fundamentals
by Gus Hansen, Phil Laak, Antonio Esfandiari, Andy Bloch

All four pros teach the basic fundamentals of Texas Hold'em strategy, using on screen instruction and actual game footage. Learn how to read the board, manage your chips and when and how to bluff. A must have to the beginning player.






DVD Release Date : November 2, 2004
£19.99 Buy this for the UK or U$27.96 for the USA

---

2003 World Series of Poker (REGION 1) (NTSC)
by Triumph Marketing, Ltd

2003 World Series Of Poker-THE WORLD'S PREMIERE POKER EVENT. "Moneymaker makes his mark as every man's champion."

In what will be long remembered as the most improbable win at the 34th annual World Series Of Poker, amateur Chris Moneymaker parlayed an online entry fee of $40.00 into the dream of a lifetime. A record 839 players were part of the incredible tourneyment in Las Vegas that saw today's best professional players pay an upfront entry fee of $10,000 for a chance to win a life's fortune. But in the end, the 27-year-old Moneymaker held a full house of fives over fours to beat the odds and walk away a multi-millionaire. This 2-disc DVD set contains all of ESPN Original Entertainment's telecast of the 2003 World Series Of Poker, without commercial interruption, presented in fullscreen (1.33:1) digital video. Chapter points set at the key rounds allow you to jump directly to the action, and the DVD set includes special features from ESPN's Cold Pizza and PTI. With this DVD, you are in control of every frame of video as ESPN captures the emotion, strategy and luck in route to crowning the champion of the World Series Of Poker.




DVD Release Date : November 2, 2004
expected price UK £13.13 Buy this for the UK or U$27.96 for the USA

---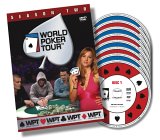 World Poker Tour: Season Two (REGION 1) (NTSC)
by WPT

World Poker Tour raised the bar for televised gaming on TV and fueled the current poker explosion. An estimated 60 million people in the U.S. now play poker and poker's popularity continues to skyrocket.

Bringing the heat to DVD, World Poker Tour Season Two is an eight-DVD set stacked with cunning poker stars, fierce competition and record-breaking prize pools. Tournaments are set in some of the world's most glamorous locations, ranging from classic gambling cities such as Las Vegas and Atlantic City, to more exotic tournaments aboard cruise ships sailing the Sea of Cortez and the Caribbean. With millions at stake, each of the 14 episodes offers skilled card playing and action on the felt. The box set also features an entire disc filled with bonus material.

Running time: 21 hours.
14 episodes/8-DVD Box Set.

DVD Special features:
Commentary by Phil "The Unabomber" Laak, Antonio Esfandiari, Daniel Negreanu and Erik Lindgren WPT Championship Special: Expanded "Poker Corner" w/championship analysis from pros Annie Duke, Negreanu and Phil Hellmuth. Player Profile Poker Takes Over Hollywood – a short profile on celebrities that play on the World Poker Tour. Poker Corner: Tips From All the Episodes



DVD 1320 minutes - March 22, 2005
expected price £25.47 Buy This DVD for £s or U$44.99 from Amazon.com


---

World Poker Tour: Season 1 (REGION 1) (NTSC)
by WPT

Own the official collection of the popular television show, World Poker Tour-Season One, a runaway top rated show on Travel Channel! In its inaugural season, the World Poker Tour - with $10 Million of cold hard cash and the best poker in the world, launched a 13-tournament poker series that transformed the great North American card game into a national pastime! Experts Mike Sexton and Vince Van Patten make you feel like you are in the seat - making million dollar decisions on every hand. Irresistible host, Shana Hiatt, explains the game and the luxurious locales that make up the World Poker Tour.

DVD Features: WPT Road to the Championship; WPT Poker Primer; Interactive Menus; Scene Selection; RSDL Dual-Layer Edition. Running time: 1,300 minutes. 15 Episodes/5-DVD Box Set.



DVD 1300 minutes - July 6, 2004
expected price £33.17 Buy This DVD for £s or U$71.98 from Amazon.com

Note: As Region 1 DVDs are dispatched to you from the USA or Canada, you may be subject to import duties and taxes that are levied once the package reaches your country. Whether any charges are payable will depend on the value of the package and where you are having it delivered to. We have no control over these charges and cannot predict what they might be.

---