How to Gamble Sensibly and Securely at Online Casinos
---
There are few better ways to forget about your shitty day than to get into your pjs, put up your feet and get lost in your favourite online casino games.

Let's face it, life can be a huge pain in the backside sometimes and we're all looking for a way to blow off some steam and escape our troubles at least for a little while. Some people like to Netflix and chill, while others enjoy a good old piss-up with friends. The rise and rise of the online casino industry over the past few years means that nowadays, people have a new form of entertainment to engage in.

Maybe you like to have a cheeky spin on the reels in your lunch break or spend a lazy Saturday morning playing virtual blackjack. Whatever your style, it's important to remember that just like anything in excess, gambling is not without its consequences.

In order to avoid developing an addiction, always enjoy gambling safely. Here's our tried and tested tips on how to nurture gambling as a healthy hobby, without letting it overwhelm you.

1) Always Gamble for Fun - Not to Win Money

Start by asking yourself this one fundamental question; 'Why am I gambling?' As mentioned above, gambling is a great way to enjoy yourself, forget your troubles and blow off some steam. However, if it becomes something more than that for you - a way to earn yourself some extra cash for example -  it could mean the beginning of a slippery slope to a dangerous gambling problem. So just enjoy the thrill of the game and don't think too much about the rewards. If you win, great. But if not, no biggie.

2)  Practice Social Gambling

After taking heed of our first point above, you should now regard gambling as you would any other hobby ie. simply a fun way to pass time. Don't take it too seriously and don't even consider becoming a pro at it. It should just be another form of entertainment and a socially acceptable pursuit which you're not afraid to open up about. Alternatively, to keep it all social but gamble vicariously, you could simply sit down and watch one of the many great gambling films – and mind you, you may even learn one or two good moves or tricks which can fine tune your skills.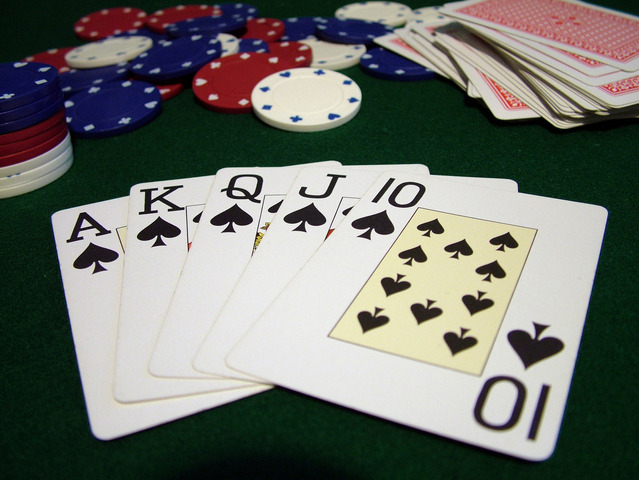 3) Gamble with Friends

Practicing gambling as a social activity with friends is a great way to keep yourself in check. Invite your friends to play along in a game of online poker and you'll soon find yourself having twice as much fun with your buddies experiencing the same thrills you are. You're also less likely to get carried away and be able to stop each other taking some unsensible risks.  

4) Keep your Gambling Budget Low

Do it like the shopaholics and set yourself a budget to keep track of how much you're spending on gambling. On average, a UK household spends approximately $166 annually on gambling. Use this figure as a guideline and set your budget below it to keep your gambling expenses low.

5) Only Play at Licensed and Approved Online Casinos

This is an important one, so listen up folks! You should only ever play at licensed and certified casinos which have positive reviews in order to ensure that your personal and banking information remains secure. The operators featured on our site have been approved by our casino testers so you can expect no foul play here.

6) Be Realistic about Your Online Gambling Goals

You may have read stories about players hitting the jackpot and winning millions of dollars from online casino games. While this may be true for the lucky few, the rest of us would do well to keep things in perspective. Don't expect to win large amounts from online games and the like. Of course you can just opt for the welcome bonuses and the free spins in Swedish casinos which will definitely help towards keeping your budget minimal – perhaps with minimal excitement and thrill too. As long as you keep your expectations low, you will be able to enjoy gambling as the carefree pass-time it is. For a list of casinos visit this website.

7) Keep Your Bets Small to Avoid Blowing your Budget all at Once

This one is another version of 'Don't put all your eggs in one basket'. Basically, avoid blowing your entire gambling budget on one bet. You're more than likely to walk away disappointed. Instead, place small wagers to stretch out your budget for longer and you'll get to enjoy many more hours of gambling entertainment.

8) Set a Time-frame for your Online Gambling

It's easy to get carried away on a game and you could find yourself spinning those reels for much longer that you anticipated. To keep things interesting, discipline yourself by setting time limits for your online gaming and playing in short bursts. This will allow you to appreciate it more while keeping yourself in check.

A Final Word of Advice on Sensible Gambling

We all know that online gambling is the best thing since sliced bread and we're not here to tell you otherwise! Just take heed of the advice above and always play responsibly and within your limits, so you can carry on playing as a happy and healthy gambler.

Useful websites if you think you may need some support:

Stödlinjen – A Swedish guide that offers anonymous and free counseling to players and families

GamCare – A UK based national provider of information, advice, support and free counselling for the prevention and treatment of problem gambling