---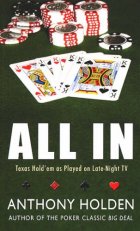 All In: Texas Hold'em as Played on Late-Night TV
by Anthony Holden

User-friendly guide to the Texas Hold'em poker game, by author of the classic book BIG DEAL.

When Anthony Holden was the only British player in the 1988 world poker championships in Las Vegas - with which his classic poker book, "Big Deal", begins - there were 167 entrants. Last year there were 2,500; this July (2005) there were 5700.

What qualities do you need to play poker well? How do you know when to bet, raise or fold? When to bluff? What's the difference between casino poker and online poker? Where to buy chips? Which online site to choose - and how much to risk? Anthony Holden, the game's finest writer, will answer all these questions and more, adding a brief history of the game and anecdotes about its great players, how it recently got so popular, and a glossary of useful poker terms - as well as advice on the percentage chances of winning a hand, the subtleties of 'position', the difference between pot-limit and no-limit poker, and so on. Aimed at those wishing to play Texas Hold'em, the poker game played on TV and in the world championships, Holden's manual will be the definitive starter's guide.



Paperback -160 pages (December 8, 2005)

£3.99

not available

---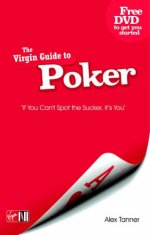 The Virgin Guide to Poker: If You Can't Spot the Sucker..it Must Be You
by Alex Tanner

Intrigued by the talk of big pots, flushes, blinds, and bluffs? Seduced by the subtle politics of the game? Or simply drooling over the possibility of a huge win? Whatever your inspiration "The Virgin Guide to Poker" covers everything you need to know to become a poker pro.

This essential guide moves from a brief history of the game and a solid grounding in the rules to understanding bankroll and calculating pot odds. Whether you want to play online, with friends and a few beers, for money or just for fun, "The Virgin Guide to Poker" will bring the thrill, the buzz, the pure anticipation, and nail-biting excitement of poker within your grasp.



Paperback - 224 pages (December 8, 2005)

£8.39

$11.53
---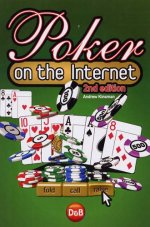 Poker on the Internet (second edition)
by Andrew Kinsman

Andrew Kinsman started his games playing career with chess, early on reaching the position of International Master. His has clearly moved on to better things and has done some serious homework on this project.

This book covers all the aspects of poker on the internet that the new or experienced player would want to find out. There are good discussions of the worrying aspects of internet poker as well as site reviews of the main operations world wide. He gives a good comparison of live versus online play and talks quite a bit about how to organise your online play so as to keep yourself in check.Great beginners and low-intermediate guide. If this is your first holdem book, or you've put in a few hundred hours online in low limits but are eying the online game, then you can't go wrong. This is a very thorough book and covers all the basic strategies at every stage of the game. Andrew Kinsman takes a very "user friendly" approach to describing the game and fundamental strategies thoroughly. Kinsman also addresses the specific techniques applicable to online play.



Paperback - 208 pages (October 6, 2005)

£9.09

U$13.57
---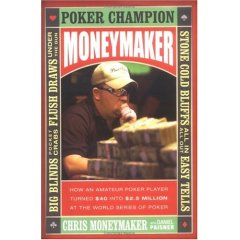 Moneymaker: How an Amateur Poker Player Turned $40 into $2.5 Million at the World Series of Poker
by Chris Moneymaker, Daniel Paisner

Moneymaker's improbable 2003 victory at the World Series of Poker (where he was an untested amateur player) has been seen on ESPN's WSOP series as many times as a Seinfeld rerun. Here, with veteran coauthor Paisner, Moneymaker (the publisher insists this is his real name) presents a blow-by-blow, hand-by-hand account of the experience.

Unlike James McManus in Positively Fifth Street, Moneymaker eschews analyzing the psychology and milieu of the poker world in favor of his real interest: gambling. The result is a sophisticated deconstruction of the important hands Moneymaker played as the tournament progressed, many already famous among fans of the WSOP. For connoisseurs, this offers an entertaining and insightful insider analysis that will allow them to decide for themselves whether Moneymaker was fabulously lucky or played a skillful game and thus deserved his success. For the uninitiated, the excitement of Moneymaker's progression toward the big prize will be enough to thoroughly engage. Readers also get some surprisingly candid glimpses into a gambler's consciousness--one that reflects the myth of American exceptionalism, the idea that each of us is entitled to make and to break our own rules, and to make our own luck.



Paperback 240 pages (February 1, 2005)
UK Amazon £9.09 U$16.29 from Amazon USA

---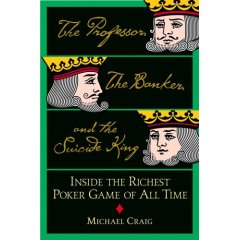 The Professor, the Banker, and the Suicide King: Inside the Richest Poker Game of All Time
by Michael Craig

"A thrilling portal into a culture the rest of us can scarcely imagine, this book plants the reader ringside for history's richest poker game, then won't let go until we know the hearts and minds of the world's greatest players, and the soul of the billionaire amateur who dared challenge them for everything they owned."
- Robert Kurson, New York Times bestselling author

The "professor" is Howard Lederer, a professional poker player whose rigorous analytical approach to the game earned him his nickname. The banker is Andy Beal, a multimillionaire obsessed with beating the world's best poker players at their game, limit Texas hold 'em, played for stratospheric stakes. The suicide king, a symbol of the aleatory nature of the endeavor, is the king of hearts, who holds his broadsword behind his head. It's a great mix, and Craig (The 5 Minute Investor) offers a knowledgeable and observant chronicle of the high-stakes games between Beal and the syndicate of professional players organized by the "Babe Ruth of poker," Doyle Brunson. The syndicate put up $10,000,000 to sit opposite Beal, trading $100,000 bets. Beal, for his part, took a mathematical approach, at one point running millions of computer simulations of various poker problems, in search of an edge against the pros, who rely on an uncanny intuition honed by thousands of hands. Craig includes enough details about the professionals to allow readers insight into their gambler personalities. Having interviewed many of the participants in this legendary poker battle, he describes it with an appropriate sense of awe, and readers will be awed as well.



Hardback 288 pages (June 2005)
UK Amazon £12.87 U$16.47 from Amazon USA

---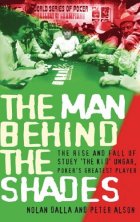 The Man Behind the Shades: The Rise and Fall of Stuey "The Kid" Ungar, the World's Greatest Poker Player
by Nolan Dalla, Peter Alson and Mike Sexton (Foreword)

Begun as an as-told-to by Dalla with Stuey Ungar, this biography tells in painful detail the story of the poker and gin superstar. Ungar is certainly a fascinating subject. He was prodigiously dysfunctional, a manic sports bettor and cocaine addict who won an estimated $30 million during his life, but who, after his death in 1998, needed a collection from his friends to pay for his funeral.

Unfortunately, the complexities of Ungar's personality aren't satisfactorily unraveled by the authors. They offer stories from the likes of poker legend Doyle Brunson and Mike Sexton, television's reigning poker guru, of Ungar's fabulous skills as a card player and spectacular need for "action," but few insights into the source of Ungar's self-destructive demons: he died prematurely at age 45 from the ravages of drug abuse. Without any analysis, the repetitious account of years of poker ups and downs, sports gambling losses, manic acts of generosity and descents into drug abuse, as tragic as it is, becomes tedious. Still, without distorting or downplaying Ungar's depredations, this is a heartfelt, respectful and accepting biography.



Hardback 316 pages (June 30, 2005)
UK Amazon £11.29 U$16.50 from Amazon USA

---