---
---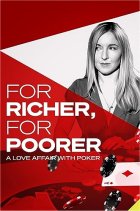 For Richer, For Poorer: A Love Affair with Poker
by Victoria Coren

Audiobook was recorded in 2023.

In September 2006, Victoria Coren Mitchell won a million dollars on the European Poker Tour. For Richer, for Poorer tells the story of that victory, but also of a 20-year obsession with the game. It is a journey which has taken Victoria from a secret culture of illegal cash games to the high-stakes glamour of Las Vegas and Monte Carlo, and brought with it friendship, laughter, and money, but also loneliness, heartbreak and defeat.

With disarming honesty, Victoria lays all of this bare. For Richer, for Poorer also tells the story of the poker revolution. How did this cult card game, populated by a small community of colourful and eccentric players, move from the back streets to the mainstream in a few short years? It is a fascinating story from a trusted insider.

Victoria Coren's love affair with poker... Throughout her life it has provided an escape from her real life troubles, from learning to play with her older brother when she felt unable to fit in at school to religiously visiting her favourite poker club following a difficult breakup. She writes very well, keeping the reader engaged throughout and she describes her emotions with brutal honesty even the most difficult of times.

The book brings the old school characters of the poker world to life and creates a romanticism around the poker underworld. She seems torn about the changing face of the game, on the one side booming popularity with the internet era and celebrity status it has brought the top players but on the other side moving away from shady underground clubs and characters that drew her initially to the game.

Brings you into a different world most people are not aware of but there are some very important philosophical thoughts brought to life in this tome.

Audiobook : - 10 hours and 2 minutes - Audible Studios (14 Sep. 2023)

£2.99
Paperback : - 352 pages - Canongate Books (3 Mar. 2011)

£7.31

Kindle: - 354 pages - Canongate Books (17 Sept. 2009)

£1.99
---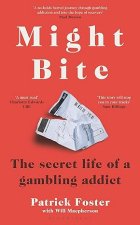 Might Bite: The Secret Life of a Gambling Addict
by Patrick Foster (Author), Will Macpherson

Powerful ... electrifying ... compelling . challenges deep-seated class assumptions about gambling ... [which is] still regarded as a problem for poor people, for losers. You only have to read Foster's unflinching account of entitlement, self-hatred and degradation to know that is the biggest lie of all.

For more than 12 years, Patrick Foster lived a double life. Turning 31, a popular and sociable young teacher and former professional cricketer, he had a lovely girlfriend and a supportive family. But he was hiding a secret and debilitating gambling addiction from even those closest to him.

Huge bets had led to huge debts, thousands of lies, and consequences for his mental health that pushed him to the edge of the platform at Slough station, where he was moments from taking his own life in March 2018.

That month Patrick had turned a £30 bet into £28,000, then lost £50,000 on a single horse, Might Bite, in the Cheltenham Gold Cup, watching the race in a silent classroom as his students undertook a mock exam in front of him. In his desperation, he had taken out every possible loan, and borrowed money from family, friends and even the parents of children he taught. Although his life was unravelling around him, he could not stop.

You might think that this is just one man's story. But problem gambling affects one in 200 people in the UK alone. Hundreds lose their lives annually as a result. The industry is worth more than £14 billion.

Might Bite is a shocking, cautionary tale of just how easy it is to fall victim to the insidious lure of 'winning big'. And of how recovery is possible from the depths of addiction, no matter how inescapable it seems.

Hardback : - 256 pages - Bloomsbury Sport (3 Feb. 2022)

£12.46
Paperback : - 256 pages - Bloomsbury Sport (15 Feb. 2024)

£10.99

Kindle: - 288 pages - Bloomsbury Sport (3 Feb. 2022)

£7.13
---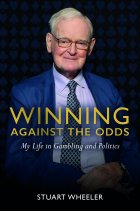 Winning Against the Odds: My Life in Gambling and Politics
by Stuart Wheeler

Wheeler's colourful and varied career means he can draw on a wide range of stories and anecdotes, which he tells in a characteristically forthright style. He is very blunt about the weaknesses of the politicians and business leaders he has met along the way. Wheeler holds himself to the same standards as this book is a bit like attending a good after-dinner talk by a speaker who has an interesting story to tell and is willing to throw caution to the wind.

A life long love of gambling took Wheeler from a failed law career as a barrister to city trading and then by chance to set up IG Index, the first sports based index trading company. It was a grey area of the law but they had a license to trade financials and so no one questioned the legality. This was a great innovation that nearly ended in disaster when Black Monday hit on October 19, 1987.

Making trading on stock market indicies much easier to the general public gained IG many new semi-wealthy clients who the big boys would not touch with a barge pole. Unfortunately, in the '87 crash, many of them went long on the DOW Jones expecting bounce back from Friday's 108pt (5%) fall. Monday saw a 508pt fall, or 22.6%, the largest one day DJIA fall in history. Unlucky maybe but many customers had no deposit margin and lost more than they had or were prepared to pay. The brokers with whom IG had hedged on the other hand did have IG's deposit and quickly asked for the rest to be paid, a large sum of money IG did not have. IG then obviously asked its customers to pay the millions they owed to which came the response, from many a solicitor, that gambling debts were not enforceable and they would not pay.

Tremdous luck befell IG. Parts of the new Financial Services Act 1986 had been implemented already which defined these trades as CFDs, contract-for-differences, and thus enforceable by law. It was a bad week but bankruptcy was avoided. He did however go on to sell all his shares after floatation missing a 10 fold increase in the price and hundreds of millions of pounds.

Fun read with a great back story that covers the romantic gambling eras of the 1970s and 80s. A book that lends a narative to parts of the history of gambling. The politics part is covered in the last part of the book and really is just what happens to people with too much money and little understanding of the real world.

Hardback: - 288 pages - Quiller Publishing Ltd (26 Sept. 2019)

£14.00

Kindle: - 288 pages - Quiller Publishing Ltd (26 Sept. 2019)

£13.30
---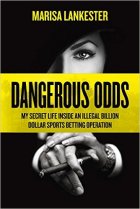 Dangerous Odds: My Secret Life Inside an Illegal Billion Dollar Sports Betting Operation
by Marisa Lankester

Marisa Lankester's unique chronicle of high crimes and low company is as wild a ride as any reader is likely to be taken on. She was the lone woman in the eye of a predatory hurricane that blew across continents and devastated countless lives.

This thriller-like memoir describes bookmaking for an illegal international sports-betting operation. Canadian Lankester, who has been a bookmaker and a model, fell into bookmaking after arriving in Los Angeles to train for a long-distance driving competition. When the police shut down Lankester and her boyfriend/boss's bookmaking operation, the couple moved to his hometown to start over. They married and had a baby, but owing to continued trouble with the law, moved to the Dominican Republic to set up an offshore office and started taking bets anew. Lankester's experience on the island was tumultuous--she spent time in prison, was raped repeatedly by a corrupt official, evaded the FBI, divorced and reconciled, nursed her ex-husband after a near-fatal accident, and became a popular model.

This is a great read about the world of sports gambling. Marisa just tells it how it is. Unlike most other gambling books, she stays away from the bragging or boasting about her criminal life and just tells the story as is.

Paperback: - 390 pages - Cappuccino Books (Aug 2016)

£12.60

Kindle: - 405 pages - Cappuccino Books (May 21, 2014)

£3.59
---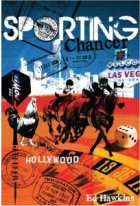 Sporting Chancer: One Man's Journey to Take On the World
by Ed Hawkins

A classic memoir from a gambling journalist who found himself unemployed.

A true story from Ed Hawkins told in smooth prose. This is not a seat of your pants recount of living on the edge, more a quiet and funny, sometimes rueful, tale of a man bereft of his favoured employment who sought a challenge. We see him leave the country on a mission to follow the English cricket team as they play the Ashes in Australia and win money in the process.

If you don't like cricket it will not be a problem getting in the way of your enjoyment. If you are looking for serious professional sports analysis then that might do. However, the charm of the piece is the judgement style in Ed's betting, the feel punter in the man who mixes very detailed knowledge with emotional flurries of irrationality. He tries to emphasize the former whilst being tempted by the later.

Occasionally Hawkins deviates from the story to launch into a rant or two about how society and religion view gambling. This isn't unpleasant. He quotes the Prophet from the Qur'an saying "if they ask you what you should give (gambling for a gambol), then 'Give what you can spare'". Sound advice indeed. Interpret as you wish.

This memoir is just the right length and ends well with an adventure into cockfighting. A fun read.



Paperback: - 224 pages - Pitch Publishing Ltd (1 May 2011)

£6.45
---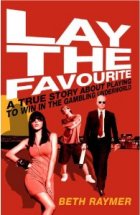 Lay the Favourite: A True Story about Playing to Win in the Gambling Underworld
by Beth Raymer

A fast-paced memoir set in the underworld of sports betting.

A true story of money, sex, glamour and gambling. When Beth Raymer arrived in Las Vegas, her dreams didn't extend beyond getting herself a job as a cocktail waitress at a casino on the strip. And then she met Dink, one of the biggest gamblers in town, and found herself seduced by the adrenalin-fuelled, high risk, high reward world of professional sports betting and the obsessive, funny, rule-breaking bookies that run the show.

This book is an unusual read, mostly compelling, sometimes irritating. I liked it not least because its written from the perspective of a young woman which is what occasionally makes it irritating. Unlike other memoirs, which I will not mention, this rings true throughout, from New York to Vegas and the Caribbean.

You as the reader don't learn much about bookmaking or sports betting except that it takes a lot of work to be good at it and even then there are pitfalls that will end most careers eventually. Dangers like the mafia, the FBI, theft by employees and drug addiction are all here but not treated in an over dramatic way.

This memoir is just the right length and ends well. Recommended.



Paperback: - 240 pages - Yellow Jersey (5 Aug 2010)

£8.39
---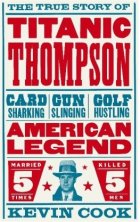 Titanic Thompson: The Man Who Bet on Everything
by Kevin Cook

The biography of Titanic Thompson recounts a life that is so outlandish you almost couldn't make it up.

A gambler and hustler who started out in the early twentieth century, Titanic travelled America playing poker, gambling on golf games and placing bets on anything he could think of. He married 5 times and murdered 5 men and lived a life so interesting it could quite easily be made into a film.

The stories of his early exploits as a child are a bit Tom Sawyer, where he hustles people and uses their own greed against them. His later life show him making bets of such audacity that although highly unscrupulous, you can't help but be impressed with his ingenuity and bare-faced cheek. Using sleight of hand, card marking and other scams with various accomplices Titanic made vast sums of money from things like games of poker, betting on golf games and how many melons may be in a lorry he sees drive past, to tossing a (secretly weighted) bottle cap over a block in distance.

This book portrays Titanic as a ruthless gambler and yet at the same time gentlemanly and generous and it's a wonder he hasn't been heard of more often. Other reviewers on Amazon have noted this book has an almost tabloid quality to the writing and whilst I agree it doesn't have a great deal of depth and skims over some details (like his brief time in jail), the writing style allows you to fly through this in no time and you get caught up in the chicanery and hustling on offer.

Overall, this is an entertaining and easy read of the life of a quirky, cunning and fascinating character. Worth taking a punt on and giving it a read.



Paperback: - 256 pages - W. W. Norton & Co. (21 Jan 2011)

£7.99
---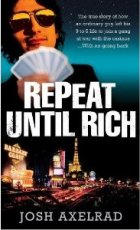 Repeat Until Rich
by Josh Axelrad



'I was thrown out of my first casino in spring of 2000. In the years since then I've kept playing and kept winning, in wigs, under aliases, from behind fake glasses. I've been chased across casino floors; followed outdoors by crazed goons with drawn weapons; pursued in a car at high speeds; and, placed wrongfully under arrest. Casinos continue to provide my entire income, along with free rooms, Champagne, and, most important, a mission in life. The heat, this business of getting thrown out, hasn't kept me away from the action at all; it's the very force that keeps me coming back'.

"Repeat Until Rich" is the hotly awaited true adventure of how an average Joe in a dead-end spreadsheet job took to the road as a member of a blackjack card-counting gang taking millions of dollars from casinos across the US. Josh was an Ivy League graduate who grudgingly started a regular life before a chance meeting at a party changed his life forever. This is a brilliantly written memoir first and gambling book second - a universal tale of an everyday guy's unexpected exit into a mysterious and dangerous underworld from which there's no going back. It is a story about finding meaning in a crazed ongoing battle far from the dull and comfortable confines of the 9 to 5 world.



Paperback - 320 pages (22 April 2010)

£6.49
---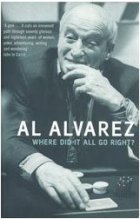 Where Did it All Go Right?
by Al Alvarez

Poker player, novelist, critic, rock-climber, failed suicide--Al Alvarez is a man of many parts and they are all presented here with endearing candour. He records that "my first 30 years were purgatory"--but that in retrospect, the next 40 were so blissfully happy as to seem almost uneventful in comparison. So the greater part of this autobiography is occupied with those first 30, storm-tossed years.

It starts in pre-war London, studying the different strands of the British Jewish community. His mother and father both came from very different families, and he writes about the trials of their troubled relationship. He then carries on the story to school, and his early love of poetry, rugger and boxing. Then he goes to Oxford, where he becomes disinterested in the petty arguements of academia.

Then comes an endless list of anecdotes about all of the key poets in the 1950s and 60s (whilst Al worked in America and as poetry editor of the Observer). Each person comes to life through Al's witty, insightful writing.

Alvarez lived and worked around some very interesting famous people, and here he dishes the dirt, and some praise too.



Paperback - 400 pages - Bloomsbury Publishing (18 Mar 2002)

£8.99

---