---
---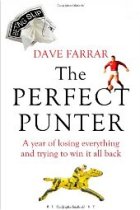 The Perfect Punter: A Year of Losing Everything and Trying to Win it All Back
by Dave Farrar

Like millions of other sports-mad gamblers around the world, Dave Farrar loved taking on the bookies. But when the girl that he loved walked out on him without explaining why, it all went wrong and he embarked on an ill-disciplined six-month losing streak that made him decide that he was done with punting forever.

As he started to get over the fact that the girl wasn't coming back, he resolved not to give up without a fight. But this time, he was going to do it properly, making sure that he did enough research to take on the bookmakers and win.

In The Perfect Punter, Farrar delves into the detail of every sporting event he'd lost money on in that bad run to make sure that, whenever he placed a bet in the future, he would know more about it than anyone else. He travels around the world following the sporting calendar, meeting experts who help him get to the bottom of each event so he can try to win back every penny that he lost.

From snooker at the Crucible and racing at Cheltenham, to tennis at Roland Garros, golf's Ryder Cup and the US Superbowl, The Perfect Punter is the engrossing story of one man's journey to overcome the odds.

Farrar has a dry sense of humour and the book's an entertaining read although if you're looking for it to provide the magical ingredients to beat the bookies - well if he had all the answers he'd be too busy making millions than writing a book although you'll pick-up some largely common sense but useful ideas as you read through and he certainly encourages you to do sensible things like keeping a diary of bets and thinking of adjusting your betting to win the same amount every time (his target is £2k each time). I tip up the book as an enjoyable read but if you want to get rich in sports betting, immerse yourself in your chosen sport and keep your fingers crossed too!



Paperback: - 288 pages - A & C Black Publishers Ltd (6 Feb 2012)


£6.99

$14.95
---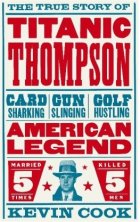 Titanic Thompson: The Man Who Bet on Everything
by Kevin Cook

The biography of Titanic Thompson recounts a life that is so outlandish you almost couldn't make it up.

A gambler and hustler who started out in the early twentieth century, Titanic travelled America playing poker, gambling on golf games and placing bets on anything he could think of. He married 5 times and murdered 5 men and lived a life so interesting it could quite easily be made into a film.

The stories of his early exploits as a child are a bit Tom Sawyer, where he hustles people and uses their own greed against them. His later life show him making bets of such audacity that although highly unscrupulous, you can't help but be impressed with his ingenuity and bare-faced cheek. Using sleight of hand, card marking and other scams with various accomplices Titanic made vast sums of money from things like games of poker, betting on golf games and how many melons may be in a lorry he sees drive past, to tossing a (secretly weighted) bottle cap over a block in distance.

This book portrays Titanic as a ruthless gambler and yet at the same time gentlemanly and generous and it's a wonder he hasn't been heard of more often. Other reviewers on Amazon have noted this book has an almost tabloid quality to the writing and whilst I agree it doesn't have a great deal of depth and skims over some details (like his brief time in jail), the writing style allows you to fly through this in no time and you get caught up in the chicanery and hustling on offer.

Overall, this is an entertaining and easy read of the life of a quirky, cunning and fascinating character. Worth taking a punt on and giving it a read.



Paperback: - 256 pages - W. W. Norton & Co. (21 Jan 2011)

£7.99

$10.85
---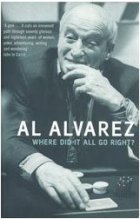 Where Did it All Go Right?
by Al Alvarez

Poker player, novelist, critic, rock-climber, failed suicide--Al Alvarez is a man of many parts and they are all presented here with endearing candour. He records that "my first 30 years were purgatory"--but that in retrospect, the next 40 were so blissfully happy as to seem almost uneventful in comparison. So the greater part of this autobiography is occupied with those first 30, storm-tossed years.

It starts in pre-war London, studying the different strands of the British Jewish community. His mother and father both came from very different families, and he writes about the trials of their troubled relationship. He then carries on the story to school, and his early love of poetry, rugger and boxing. Then he goes to Oxford, where he becomes disinterested in the petty arguements of academia.

Then comes an endless list of anecdotes about all of the key poets in the 1950s and 60s (whilst Al worked in America and as poetry editor of the Observer). Each person comes to life through Al's witty, insightful writing.

Alvarez lived and worked around some very interesting famous people, and here he dishes the dirt, and some praise too.



Paperback - 400 pages - Bloomsbury Publishing (18 Mar 2002)

£8.99

$10.62

---