---
---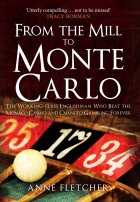 From the Mill to Monte Carlo: The Working-Class Englishman Who Beat the Monaco Casino and Changed Gambling Forever
by Anne Fletcher

This is the story of a man who went from Yorkshire mill worker to Monte Carlo millionaire. Amongst the men 'who broke the bank at Monte Carlo', Joseph Hobson Jagger is unique. He is the first known to have devised an infallible and completely legal system to defeat the odds at roulette and win a fortune. But he was not what might be expected. He wasn't a gentleman or an aristocrat, he wasn't a professional gambler, he was a Yorkshire textile worker who had laboured in the Victorian mills of Bradford since childhood.

For the author it all started with a single photograph, a newspaper article and then lyrics to a famous song. There was no way Anne Fletcher was going to stop the research now. There was an incredible story to be uncovered. And this really is an incredible true story. Joseph Jagger was a married man with four children with the youngest of his children aged only two. Life was incredibly hard. He himself came from a large family, not unusual in those times. He taught himself to read and write before working in the Mills. He then set up his own business which was maintaining the cotton looms. His business later failed with large debts and now the family was facing the worst scenario the dreaded debtor prison. Life would be incredible harsh with little chance of ever getting out.

Jagger knew of only one way to escape the debtor prison and his plan which was nothing short of crazy was to find the cash and travel to Monte Carlo by 1861 Jagger was bankrupt, but he was determined to get to Monte Carlo and this did not happen until 1880. Through the generosity of friends, he managed to get enough money together and travel 1000 miles to Monte Carlo were he hatched out a plan to get rich quick. He cleverly realised that the roulette wheels never span true. He studied the wheels very carefully and then started gambling. By the time he had finished he had won the equivalent of seven million. This had got the owners of the casino's questioning what he was doing and in the end the wheels were redesigned. Jagger knew it was now time to quit and return home.

So what exactly did Joseph Jagger do with all his winnings? Jagger was clearly not a man who fame, he sought a fortune to solve a problem and won. When he got home he quietly faded from the scene. He paid back everyone who had lent him money and then made sure his children never faced the same fate he did. Jagger never lived a life of a rich man, he carried on living in the same home and just lived a very quiet life. When he died in 1892 there was no wealthy will to be read out. It seems Joseph Hobson Jagger was ashamed of what he had done and did not want the fame that went with the man who broke the bank at Monte Carlo. An incredible story wonderfully told by Anne Fletcher.



Hardcover: - 304 pages - Amberley Publishing (15 July 2018)



£12.87

$19.46
---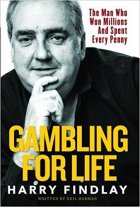 Gambling For Life
by Harry Findlay

Imagine what it would be like to turn your back on the nine-to-five drudgery of normal working life and risk everything you've ever had on the fate of a horse race or the outcome of a ball game. In the gambling fraternity, Harry Findlay has earned legendary status. He has been skint dozens of times, won over £20 million and spent just as much. But he will not change.

Harry recounts the mind-boggling tales behind the thousand and million pound multi-sport bets that will make ordinary punters shudder including the day he wagered £2.5 million on a rugby match

It is a remarkable life story of ups and downs. Aged 21 years old, he served nearly a year in some of Her Majesty's toughest jails. Who'd have thought he would go on to own Big Fella Thanks, winner of the Derby at Clonmel and the most famous dog to come out of Ireland and be part owner of the legendary racehorse Denman, who carried his colours to Gold Cup glory.

Harry's subsequent controversial disqualification from racing destroyed him, despite the ruling being overturned on appeal. Most fascinating of all, Harry tells how he has survived and continues to work his magic in the gambling world, and still believes in his own special talent to read sports events and to continue to stay one step ahead of the internet companies that flood our minds with the temptation to risk so much

Towards the end of the book there's a section on each of the major sports people who've had an influence on Harry's life, with the emphasis on their unique self assuredness and determination to succeed. There's much that we can learn from all of them, but no one more so than Harry Findlay, a bastion of self belief and living proof that the sky really isn't the limit. The writing may be a bit chaotic but its worth the read.



Hardcover: - 352 pages - Trinity Mirror Sport Media (7 Sept. 2017)



£16.99

$14.35
---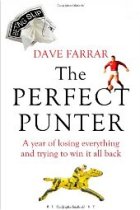 The Perfect Punter: A Year of Losing Everything and Trying to Win it All Back
by Dave Farrar

Like millions of other sports-mad gamblers around the world, Dave Farrar loved taking on the bookies. But when the girl that he loved walked out on him without explaining why, it all went wrong and he embarked on an ill-disciplined six-month losing streak that made him decide that he was done with punting forever.

As he started to get over the fact that the girl wasn't coming back, he resolved not to give up without a fight. But this time, he was going to do it properly, making sure that he did enough research to take on the bookmakers and win.

In The Perfect Punter, Farrar delves into the detail of every sporting event he'd lost money on in that bad run to make sure that, whenever he placed a bet in the future, he would know more about it than anyone else. He travels around the world following the sporting calendar, meeting experts who help him get to the bottom of each event so he can try to win back every penny that he lost.

From snooker at the Crucible and racing at Cheltenham, to tennis at Roland Garros, golf's Ryder Cup and the US Superbowl, The Perfect Punter is the engrossing story of one man's journey to overcome the odds.

Farrar has a dry sense of humour and the book's an entertaining read although if you're looking for it to provide the magical ingredients to beat the bookies - well if he had all the answers he'd be too busy making millions than writing a book although you'll pick-up some largely common sense but useful ideas as you read through and he certainly encourages you to do sensible things like keeping a diary of bets and thinking of adjusting your betting to win the same amount every time (his target is £2k each time). I tip up the book as an enjoyable read but if you want to get rich in sports betting, immerse yourself in your chosen sport and keep your fingers crossed too!



Paperback: - 288 pages - A & C Black Publishers Ltd (6 Feb 2012)


£6.99

$14.95
---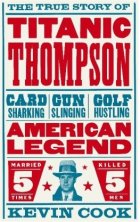 Titanic Thompson: The Man Who Bet on Everything
by Kevin Cook

The biography of Titanic Thompson recounts a life that is so outlandish you almost couldn't make it up.

A gambler and hustler who started out in the early twentieth century, Titanic travelled America playing poker, gambling on golf games and placing bets on anything he could think of. He married 5 times and murdered 5 men and lived a life so interesting it could quite easily be made into a film.

The stories of his early exploits as a child are a bit Tom Sawyer, where he hustles people and uses their own greed against them. His later life show him making bets of such audacity that although highly unscrupulous, you can't help but be impressed with his ingenuity and bare-faced cheek. Using sleight of hand, card marking and other scams with various accomplices Titanic made vast sums of money from things like games of poker, betting on golf games and how many melons may be in a lorry he sees drive past, to tossing a (secretly weighted) bottle cap over a block in distance.

This book portrays Titanic as a ruthless gambler and yet at the same time gentlemanly and generous and it's a wonder he hasn't been heard of more often. Other reviewers on Amazon have noted this book has an almost tabloid quality to the writing and whilst I agree it doesn't have a great deal of depth and skims over some details (like his brief time in jail), the writing style allows you to fly through this in no time and you get caught up in the chicanery and hustling on offer.

Overall, this is an entertaining and easy read of the life of a quirky, cunning and fascinating character. Worth taking a punt on and giving it a read.



Paperback: - 256 pages - W. W. Norton & Co. (21 Jan 2011)

£7.99

$10.85
---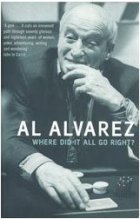 Where Did it All Go Right?
by Al Alvarez

Poker player, novelist, critic, rock-climber, failed suicide--Al Alvarez is a man of many parts and they are all presented here with endearing candour. He records that "my first 30 years were purgatory"--but that in retrospect, the next 40 were so blissfully happy as to seem almost uneventful in comparison. So the greater part of this autobiography is occupied with those first 30, storm-tossed years.

It starts in pre-war London, studying the different strands of the British Jewish community. His mother and father both came from very different families, and he writes about the trials of their troubled relationship. He then carries on the story to school, and his early love of poetry, rugger and boxing. Then he goes to Oxford, where he becomes disinterested in the petty arguements of academia.

Then comes an endless list of anecdotes about all of the key poets in the 1950s and 60s (whilst Al worked in America and as poetry editor of the Observer). Each person comes to life through Al's witty, insightful writing.

Alvarez lived and worked around some very interesting famous people, and here he dishes the dirt, and some praise too.



Paperback - 400 pages - Bloomsbury Publishing (18 Mar 2002)

£8.99

$10.62

---