.

Kerry Francis Bullmore Packer
born December 17 1937; died December 26 2005

The Australian business tycoon Kerry Packer, who died aged 68 following a long period of ill health, loved gambling, whether in the boardroom or the casino. In doing so, he transformed a magazine and television business worth millions into a diversified enterprise worth billions, became his country's richest person and, in the late 1970s, gained a lasting reputation as the man who transformed cricket, making the one-day international an established feature of the sport. In the words of the former Australian captain and commentator Richie Benaud, "It's because of what happened then, cricket is so strong now".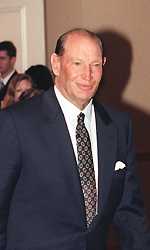 Packer believed that people could be bought. In 1976, before he pulled off perhaps his greatest coup in establishing World Series Cricket, he was stuck in talks with the Australian Cricket Board about television rights to Test matches. "Come gentlemen," he said, "there is a little bit of the whore in all of us; name your price."

He also liked to win, especially at gaming tables around the world, where tales of his successes, losses and extraordinary tips are legendary. He reportedly lost £8m playing blackjack in London in 1987, then won £10m at the same game in Las Vegas eight years later. Tales of tips to hostesses and waitresses of £50,000 also abounded.

Kerry and his brother Clyde saw little of their father and when they did it was often to get a taste of Sir Frank's strict discipline. In a rare interview on radio in 1979 Kerry talked about his upbringing. "I mean I got a lot of hidings because that's the sort of person I was and the sort of person he was."

Kerry's young life was lonely and disrupted. He was sent to boarding school at the age of five, and just a year later caught a serious illness called polio myelitis or infantile paralysis. Today children are immunised against the virus but in the 1940s severe cases could kill or leave a child crippled. Young Kerry's case was severe and he spent nine months immobilised in an iron lung, an early version of a respirator, which helped him to breathe.

By the time he got back to boarding school, at the age of nine, he was way behind his class mates. Luckily his recovery from polio had been complete because it was his size and strength that helped him achieve in one area , sport. "My life was sport. I was academically stupid. My method of surviving through school and those sorts of things was sport."

Kerry finished school when he was 19 and went to work for his father's newspapers. He took over the business when Sir Frank died in 1974.

In 1977 when he couldn't get exclusive television rights to Sheffield and Test cricket he made up his own teams with the best players in the world and started World Series Cricket. If the Australian Cricket Board wanted the services of these players it would have to give Kerry the TV rights and , in 1979, after a long battle, he got his way.

In 1987 he sold his two Channel Nine TV stations to businessman Alan Bond for one billion dollars. It was a lot more than they were worth and the deal made Kerry Packer his first billion. Three years later, Bond was in financial trouble and Kerry bought the stations back for just 250 million dollars.

His greatest love is polo and he spent three months of every year in England playing the game and millions of dollars on horses, stables and players for his own team. In 1990 a heart attack while playing polo left him literally dead for six minutes until he was revived by ambulance officers. But once again his returned to form. He went on to buy portable defibrillators - which quickly became known as Packerwhackers - for every ambulance in New South Wales. His charitable gifts were usually as generous as they were anonymous, and the episode gave rise to the most quoted of his rare public remarks, when he told an interviewer: "Son, I've been to the other side, and let me tell you, there's nothing there."

In 1995 he had a second heart attack, and in 2000 received a kidney from his friend and helicopter pilot Nick Ross. But eventually his lifelong gamble with life gave out. He might have had an unhappy childhood, but he was a family man, especially close to his son James, who took over the businesses in 1996. He also leaves his wife Roslyn, whom he married in 1963, and daughter Gretel.

Legendary Status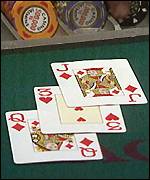 Mr Packer's legendary status as a high stakes gambler came to the fore when he took Las Vegas' MGM Grand for $26 million playing blackjack for $200,000 a hand, six hands at a time. It was this big hit and run style that actually got him barred from stuffy Vegas joints because they just couldn't take the action.

Mr Packer was also reported to have suffered the biggest losses ever sustained in the UK in September 1999, dropping £11m ($16.5m) at Crockfords casino in London. However at that time such sums were only a tiny fraction of the wealth of the owner of Australia's Nine television network, estimated to be around $8bn.

More $20 million losses have been reported but there are also tales of incredible generosity, including a $100,000 tip to dealers and waitresses and loans to fellow gamblers whose repayment he refuses to accept.

Legend also has it that Mr Packer's grandfather put the family on the road to riches by buying a passage from Tasmania to the mainland on the proceeds of a bet on a horse. He found his 10 shilling stake lying in the street.

.