| | | |
| --- | --- | --- |
| | Backgammon | |

Backgammon is an exciting game, a gambling game but a game of high skill at the same time. It is played in casinos only occasionally, as an attraction to get people in who wouldn't go otherwise. In its true nature, it is a private contest between friends. It is this intimate and competitive quality of Backgammon that explains its widespread appeal.

The game is known to be very old without the exact origins being identified. It was in England before the Battle of Hastings in one form or another but it was the Crusaders who made it really popular. In the Third Crusade in 1190, the french king ordered that no one below the rank of knight should play it, so demanding was the gambling spirit amongst the soldiers.



Richard I and his brother King John played it under its new name, tables, and it was popular among the upper classes. It spread throughout the Middle Ages for the next 400 years, gradually filtering down through the class system to Inn keepers who provided boards for their customers. The church tried to ban the game and fought a losing battle against it.

By 1645 the early game had been adapted in England with more complex rules, such as the triple game or a backgammon as we call it, and the way we play doublets today, that is one number played four times. It also got a new name, Backgammon, and within twenty years tables was never heard of again.

The game was popular until the 19th century when chess dominated the social scene. Early in the twentieth century the game absorbed the doubling cube, a way of registering the doubling of stakes mid-game. That was such a good idea that it was only time before the modern culture of gambling picked the game up again. So it was in the 1970s that Backgammon showed its real colours and today it is played around the world. Of course it has never been away from its roots in the Middle East, Turkey and Greece, although to this day many people there still play the game without the doubling cube.
| | | |
| --- | --- | --- |
| The Game | | |
Backgammon is alluring because of the tremendous history associated with it and the beauty of its simplicity. Its a game that Kings have played for thousands of years and yet all the rules can be learnt in ten minutes. Still more intriguing is the difficulty in grasping the methods of playing the game well and to this day, even aided by very fast computers, experts are undecided on the how best to approach the game. This fact makes the game more attractive than Chess, for example, where arduous computer work is able to solve problems completely.

Backgammon is also a game with two distinct parts which must both be understood to play well. Checker play must be allied with the equity calculations that go with gambling on the outcome of a game. The most effective way of winning a game is often not the best route in terms of winning equity, or money.

Today Backgammon is not as popular as Poker because poker is more easily played by groups of people and the image is more down to earth. Another reason is that it is very difficult to be a top backgammon player and playing against one becomes a very personal experience which is hard. The group of poker players at a table makes it much less personal and thus bearable, even when playing stronger opponents.

Popularity is however on the increase because of good computer software that allows people to practice very well at home and Internet sites that enable people from around the world to play each other whilst staying at home.
| | | |
| --- | --- | --- |
| Beginners | | |
A good book is crucial to learn how to play this game. Few players have the wherewithall to understand strategies of play without first being shown examples from books or experienced players. In fact all the worlds top players started with the book approach. If you want a quick reference look at How to Play Backgammon.

There are currently many pieces of computer software that play the game to varying standards. Most will give beginners a strong opponent but will be unlikely to show the way to develop their game. The top two programs are known as Snowie and Jellyfish and can achieve a very high level of play as well as show an eager learner the way forward to improve their game and results. They are however both in excess of £100 for the full analysis tool although straight forward game playing versions are much cheaper.

Beginners should attempt to encourage friends who will be good playing partners. When a basic level of skill is reached, as measured against a program or decent player, then consider finding a local club. These are listed below.
| | | |
| --- | --- | --- |
| Professionals | | |
A true professional is hard to find, if at all possible. Very good players at this game can be sure of making a profit over a long period of time but the difference between players at the top is very small and so competition is very strong. The best a world class player can realistically hope for is to earn money from tuition or royalties from books, as with many other pursuits or sports.

Top players do have enjoyable experiences to look forward to by playing in big tournaments in nice places around the world. Monte Carlo, the Bahamas, Costa Rica, Las Vegas and Istanbul are among the venues for the biggest events. It is a way of life rather than a professional pursuit.

The traditional place Backgammon had amongst the affluent classes still exits but they are no longer the main body of people who attend the big tournaments. There is a much younger set of computer wired players who had the benefit of good quality reference material to learn from. Now there are serious pieces of software that can be strong opponents for practising at length. Still however there are a few top players who manage to show the rest that there is still something to learn in this game.

The greatest player of the modern era is the 1978 World Champion Paul Magriel, whose book Backgammon served as the bible of the game for 20 years. It still is a brilliant piece of cohesive analysis and explanation of the game. All budding players should buy a copy to keep forever. Two time World Champion ('83&'87) Bill Robertie is the most prolific writer of useful books on the game.
| | | |
| --- | --- | --- |
| Clubs | | |
| | | |
| --- | --- | --- |
| Tournaments | | |
Tournaments make use of the match form of Backgammon and are the best way to identify good players from an entry field of mixed ability players. There are many attractive aspects of tournaments and some draw-backs.

Good features of tournament play
Limited Liability Players on the learning curve can compete in tournaments with very strong players with no risk other than the entry fee that they paid at the beginning of the tournament.
Focus Point Players developing their game get real life practice under pressure where they can demonstrate to themselves whether they can meet all the challenges of the game.
Large Prizes With many players in a single tournament, even modest entry fees add up to make substantial prizes for the winner and runners-up. This attracts the top players and creates tension in each match.
Bad features of tournament play
Knockout formats Most tournaments are run along the lines of the knock-out format and this means that an early defeat will put players immediately out of contention, often with nothing to do for a long time. To avoid this inevitable drawback, large International tournaments feature consolation tournaments. These take a slice of the original entry fees to form prizes of their own and all players knocked out in the first two rounds of the main event can play in the Consolation Event.
Expenses Tournaments are usually not held on your doorstep so travel expenses will always be incurred.
There are a handful of major tournaments in the world and many smaller national events that take place all the time. The World Championships take place in Monte Carlo in July of each year and have been there since 1979. Before that time it was held in the Bahamas and the last winner there was the great Paul Magriel.
| | | |
| --- | --- | --- |
| World Championships | | |
| | | |
| --- | --- | --- |
| YEAR | WINNER | COUNTRY |
| 1967 | Tim Holland | USA |
| 1968 | Tim Holland | USA |
| 1971 | Tim Holland | USA |
| 1972 | Oswald Jacoby | USA |
| 1973 | Carol Crawford | USA |
| 1974 | Claude Beer | USA |
| 1975 | Billy Eisenberg | USA |
| 1976 | Baron Vernon Ball | USA |
| 1977 | Ken Goodman | USA |
| 1978 | Paul Magriel | USA |
| 1979 | Luigi Villa | Italy |
| 1980 | Walter Coratella | Mexico |
| 1981 | Lee Genud | USA |
| 1982 | Jacques Michel | Switzerland |
| 1983 | William Robertie | USA |
| 1984 | Michael Svobodny | USA |
| 1985 | Charles-Henri Sabet | Switzerland |
| 1986 | Clement Palacci | Italy |
| 1987 | William Robertie | USA |
| 1988 | Philip Marmorstein | Germany |
| 1989 | Joseph Russel | USA |
| 1990 | Hal Heinrich | Canada |
| 1991 | Michael Meyburg | Germany |
| 1992 | Ion Ressu | Romania |
| 1993 | Peter Thomsen | Denmark |
| 1994 | Franck Frigo | USA |
| 1995 | David Ben-Zion | Israel |
| 1996 | David Nahmad | Italy |
| 1997 | Jerry Grandell | Sweden |
| 1998 | Michael Meyburg | Germany |
| 1999 | Jorgen Granstedt | Sweden |
| 2000 | Katie Scalamandre | USA |
| 2001 | Jorgen Granstedt | Sweden |
| 2002 | Mads Andersen | Denmark |
| 2003 | Jon Røyset | Norway |
| 2004 | Peter Hallberg | Denmark |
| 2005 | Dennis Carlston | USA |
| 2006 | Philip Vischjager | Holland |
| 2007 | Jorge Alberto Pan | Argentina |
| 2008 | Lars Trabolt | Denmark |
| 2009 | Masayuki Mochizuki | Japan |
| 2010 | Lars Bentzon | Denmark |
| 2011 | Takumitsu Suzuki | Japan |
| 2012 | Nevzat Dogan | Denmark |
| 2013 | Vyacheslav Pryadkin | Ukraine |
| 2014 | Akiko Yazawa | Japan |
| 2015 | Ali Cihanger Cetinel | Turkey |
| 2016 | Jörgen Granstedt | Sweden |
| | |
| --- | --- |
| YEAR | PLACE |
| 1967 - 74 | Las Vegas |
| 1975 - 78 | Bahamas |
| 1979 - present | Monte Carlo |

The World Championship started off in the gambling capital of the world, Las Vegas, in 1967. The winner then was one of the three sixties pioneers of the game, Tim Holland. The others being Oswald Jacoby and Carol Crawford. In 1975 the tournament moved to the Bahamas. There is some dispute about what happened in 1969 and 1970 as to the tournament, we think it didn't happen.

The last World Championship Event to be staged in the Bahamas was 1978, the victor being Paul Magriel. Since then the tournament has been held in the principality of Monaco and now it has a permanent place in The Grand Hotel (previously Loews Hotel for many years), over looking the harbour. Its a grand setting indeed and it is primarily a showcase for the game where the top players come to have fun.

The tounament is a week long affair with four consolation events running alonside the main event. The entry fee is around $1000 and there are usually around 250 players participating in the Championship. The are lower divisions as well for the many developing players. The total of $250,000 in prize money is distributed amongst the winners of all the events with the largest part going to the winner, the World Champion.

Backgammon shows itself to be international by the long list of different nationalities that have won the championship. It can't be long before one of the home nations (Greece, Turkey, Egypt) shows itself to have adopt the western game enough to provide a champion.

Jörgen Granstedt (Sweden) is backgammon World Champion, defeating another former World Champion from 1989, Joe Russell (USA) in the final. Joe, undefeated until the finals, had to face Jörgen, who after his loss in the main bracket, had to win 9 matches in a row and beat Joe twice to take the title. Jörgen Granstedt is the only person winning the title three times (1999, 2001 and 2016) in the modern era.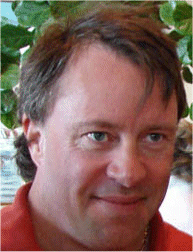 Jörgen Granstedt


| | | |
| --- | --- | --- |
| Software | | |
GNU Backgammon
GNU Backgammon (gnubg) is for playing and analysing backgammon positions, games and matches. It's based on a neural network. GNU Backgammon is free software and released under the GNU General Public License (GPL).

I (the editor) have won a few large BG tournaments in my time and this software will give anyone a challenge and the analysis and rollout features are wonderful for a product that is free. Get yours here.

Snowie
Snowie is generally accepted as the best tool for backgammon players of every level. Based on proprietary neural networks and a user-friendly interface, it will analyze and annotate an entire match. Snowie can be set for 1-ply, 2-ply or 3-ply play and will produce rollouts for match play and money games. Learn how to play specific positions and make cube decisions with this wonderful instrument. You may download Snowie Web Player Edition directly from their website. It is free for 15 days. There you may also check out the features of Snowie 4 Professional and Snowie 4 Student editions. Olivier Egger and André Nicoulin are the inventors of Snowie. Current prices seem to be about $365.

JellyFish
JellyFish has been around for a while and the last update was in 2004.
JellyFish is a neural net based backgammon program developed by Fredrik Dahl. It is a brilliant tool and a must for beginners and intermediate players to improve their game. It plays at a world-class level but can be set at seven different levels and analyzes positions and matches. JellyFish also provides a running commentary on moves and cube decisions. You can experience playing against this exceptional program by downloading their freeware versions JellyFish Light 3.5 or JellyFish Player 3.0, however, to obtain a version with a range of functions, browse their website and see about their commercial versions, JellyFish Player 3.5, JellyFish Tutor 3.5 and JellyFish Analyzer 3.5. There you will also discover why a backgammon program is named JellyFish and what some of the top players say about this product.

OTHER
Many other types of backgammon game software exist to play on your computer or you over the net. We sample just a few.

3DFiBs Backgammon
Developed by: Maareyes Solomon. Cost: Free. 3DFiBs offers a strong computer opponent with a GnuBG powered offline player that can give hints on the best move, and it also includes a popular fibs.com client for online play with real people. Games can be saved in jf.mat format for analysis. Enjoy smooth graphics with animation and sound effects. Windows 95 or later.
Monte Carlo
Monte Carlo is a neural net based computer backgammon player which has learned to play backgammon by self play. A free neural net based computer player for Win95/NT and upwards.

Ariston Backgammon
Ariston BackGammon is a neural net-based backgammon program available for the Windows 95/98/ME/NT4/2000/XP. Ariston is playing on a high level, is most easy to use, has attractive animated graphics and is yet unusually compact.

Backgammon 3.1b for your Palm
This is a well featured, lightweight and free Backgammon game. Play against your Palm or another human player. Learn basic strategy by making your Palm playing against itself. Hours of reflexion and fun! Palm OS 1.0 or later.
| | | |
| --- | --- | --- |
| Internet | | |
Try Gammonitis for up to date British Backgammon News

There are at least 20 different ways for you to play Backgammon on the internet. Many game sites exist ( like PlaySite2000 ) which include areas for Backgammon players and you'll have to download some software to connect. The are more general play areas within the big 3, ( MSN, AOL and YAHOO ) and there are four dedicated server sites that cater just for Backgammon, ( GamesGrid, FIBS, Netgammon and WorldBackgammon )

TMG


TrueMoney Games. You can play on thius site for money by depositing it in advance and selecting your level, whether match play or money games.
Money games
In money game sessions the rake is computed as a flat fee of 2.5% of the points at stake per player. As a courtesy to the losing player, the winning player pays the rake for both sides. Also, the rake per game is capped at a game value of 8 points.
Match play
In matches the rake depends on the matchlength and the stake. Refer to the website True Money Games



FIBS
The First Internet Backgammon Server, most commonly referred to as FIBS. First... on the internet since 1992. Friendly... a 24-hour international online community of backgammon players of all ages and experience from Beginner to Experts. Use FIBS with any computer operating system (Windows, Win9x, Mac, UNIX). No software required, but many Fibsters have created freeware and shareware graphical interfaces for Windows, UNIX and Mac. Fun... Fibsters play rated and unrated games and matches, compete in tournaments, or watch others play. Chat and shout (that's ok) or silence the shouters and concentrate on backgammon (that's ok too). And Free!


Facts
http://www.fibs.com/
Date Established : Jan-01-1992
Number of Members : 6469
Cost of Membership(annual) : free


GamesGrid
The Grid is an all singing and dancing site that has a lot of features. Most of the best players in the world who play on the net will at some time appear on this server. It is probably not as friendly as FIBS but then prima donnas never are.



Netgammon
They welcome players from all around the globe and to make their experience as enjoyable as possible offer the service in 9 different langauges.



Play65
Play65™ online backgammon room was named the best skill game online for 2008 in an independent opinion poll. They say they are the largest in the world.



GameSite2000
GameSite 2000 is an innovative server, featuring challenging games such as backgammon, chess, checkers and reversi. This site was designed to provide game players with a relaxed setting for meeting friends, playing games, and surfing the Internet in a user-friendly fashion. There are Snowie computer opponents to help you with your game.


Others
---