---
Positive Poker
by Dr. Patricia Cardner, Jonathan Little

The full title of the book is, Positive Poker: A Modern Psychological Approach to Mastering Your Mental Game,

Poker at a high level is mostly about the mental game but there are few books guiding the promising player. Where as there are literally hundreds of poker primers on the market teaching people the basic strategies and maths of the game, but when it comes to the mental side of things your choice is extremely thin. So it is with pleasure that here we have something genuine and useful. More so if you already have a good grasp of the strategies of poker because it's likely that it is your mindset and the mental aspects of your game that will be costing you moeny.

Positive Poker is one-stop-shop for all of the problems that will beset a poker player, and it's the most all-encompassing mindset book available today. I especially like the running themes of how to counter mental problems that creep into your game the more experienced you become. Many a player has elevated themselves up the poker skill level only to find ways of losing that did not exist when they were novice players. So the section on Common Motivational Problems and their solutions is especially useful to the more experienced player, I for one have been through everything listed and have failed to cure them all.

I strongly recommend this book if you are serious about becomming good and if you are already good. With just a few years of playing behind you may look at the list of problems and think, 'not going to happen to me'. It happened to every great player in history and its going to happen to you!

Paperback - 272 pages (Oct 2013)




£13.39 Book - £8.15 Kindle

$21.43 Book - $13.33 Kindle
---
The Education of a Modern Poker Player
by John Billingham, Thomas Tiroch, Emanuel Cinca

The original book from which this derives its name, The Education Of A Poker Player, is a classic poker playing manual and also a marvellous autobiography. This book is in no way similar to that other than being partly autobiographical.

Education of a Modern Poker Player follows amateur poker player and fanatical mathematician, John Billingham, on his journey from weak micro-stakes player to profitable low-stakes poker player. Billingham picks up two helpers (better poker players) on the way, Cinca and Tiroch, who act as his guides. You will need to like to see mathematical descriptions of situations to be happy with this book but there are not so many that you can't skip them and still profit from the dialogue here within. And that is how the book is written, in dialogue form between the authors.

What is refreshing from the outset is Billingham is under no illusions as to the quality of his play, and in the book he is receptive to accepting criticism and making improvements. This is the most useful part of the book. The content is broken up into two main parts where we see Billingham journey from losing at $10 No Limit tables, to competence where he becomes a profitable low limit player, specializing in fast-fold poker games. The game has changed and so have several key ideas. Whilst not exactly new info this is concise and thought provoking

Paperback - 272 pages (28 Nov 2013)




£13.39 Book - £8.15 Kindle

$21.43 Book - $13.34 Kindle
---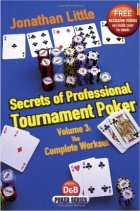 Secrets of Professional Tournament Poker, Volume 3 : The Complete Workout
by Jonathan Little

His first two books, Secrets of Professional Tournament Poker Volumes 1 and 2, outlined how the modern professional plays the game and changed the face of the poker landscape. Now Jonathan has produced a third volume, allowing players to test their understanding of the tricks of tournament play.

This volume has a question and answer format and this allows the reader to examine each individual hand, consider the relevant factors and formulate their thinking about the best line to take. There is then discussion on the possible plays

This is something that will help serious tournament players but also players fairly new to the real world tournaments will get a fast-track into the mind of successful tournament players. Jonathan tells you everything that went into his decisions giving you the tools to make your own solid poker decisions in today's ever changing game. Little has an awesome point system that can be used after every hand and chapter to track your progress. Use it to check for understanding and to more accurately judge what level your own poker game is at. This isn't just a strategy book; this is a guidebook for how to think and act like a tournament professional. They are the new poker bible for every aspiring player who wants to play at a much higher level

The other volumes are below!



Paperback - 432 pages (27 Jun 2013)

£15.99

$25.69
---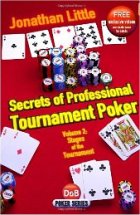 Secrets of Professional Tournament Poker: Volume 2
by Jonathan Little

We know Jonathan from volume 1 which was a great excercise in analysis and was an original approach to understanding tournament poker. This volume 2 moves on from the nuts and bolts of poker tournaments and teaches us why everything else associated with each hand is important.

The first couple of chapters of Volume 2 finishes off Little's tournament theory and then move on to what this book is really about which is how to live as a professional and all the day to day, even second by second, choices that you make that alter the way you play.

This is definitely a useful read for serious tournament players. It focuses with skill on how your life is being lived affects your ability at the poker table and raises solid pointers for you to concentrate on and improve. A very few people (if any) can live the fantasy poker pro life – huge amounts of money, drink, parties, sex, drugs, travel, fame and never having to work a real job again. A lot of those who do try to live that life eventually self implode and a lot go broke. Long term success comes from living right so read this!

Buy with the first book two spots below!



Paperback - 272 pages (Apr 2012)

£16.99

$18.45
---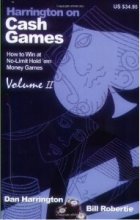 Harrington on Cash Games: Volume II: How to Play No-Limit Hold 'em Cash Games: 2
by Dan Harrington

Firstly, make sure that if you buy this book you are either really good at Cash games or you have read and own the first book in the series, Harrington on Cash Games 1.

This book focuses primarily on good turn and river play, as if you are playing good pre and post flop play against what stacks you have, then most of the bets on 4th and 5th street will be for a large proportion of your stack, so this book will help that critical large amount of your stack stay intact!

A definate read, with loads of hand analysis and interesting discussions on key moments of the hand, you get a great insight into how Harrington plays the game, and you certainly go on a journey that will definately improve your play.

Buy with the first book!



Paperback - 374 pages (Mar 2008)

£16.96

$23.07
---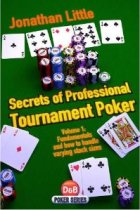 Secrets of Professional Tournament Poker: Vol. 1: Fundamentals and How to Handle Varying Stack Sizes
by Jonathan Little

Jonathan Little, a highly successful poker professional who has won over $4 million in tournament play in just four years, explains exactly how to succeed in this highly competitive field. Playing technically sound poker is crucial but this is far from the only skill necessary.

Jonothan provides a solid foundation with clearly written and easy to follow instructions for tournament play.

The materials provided are actually good and Jonathan Little is a very successfully player and is certainly one of the best teachers. This book is a blend of analitical and common sense. For people who want to be competitive in MTTs as they are currently played, I think that Little's book is essential.

If you are going to buy this book then you will probably also want to connect up with one of his videos as well.



Paperback - 266 pages (30 Apr 2011)

£11.07

$18.45
---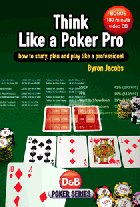 Think Like a Poker Pro: How to Study, Plan and Play Like a Professional
by Byron Jacobs

If you have ambitions to join the ranks of the consistently winning players, this book might help you plan your campaign.

There is a great deal more to being a successful player than simply knowing how to play a good game. Playing good poker is largely a technical skill which can be learned. Being a consistently successful player is much harder and necessitates acquiring expertise in many other areas.

Byron Jacobs has been a successful online poker player for seven years. In this book he identifies precisely how this can be achieved and shows how much of the battle actually needs to be conducted away from the table. If you already play a fair game of poker but want to become one of the very few players who consistently "play well", then you need this book.

The concepts discussed in this book are brought into clear focus on the accompanying 180 minute DVD of videos where the author can be seen explaining his decision-making process. This DVD addition makes the book great value and this the way forward for poker books.



Paperback - 301 pages (1 Feb 2011)

£18.69

$26.56
---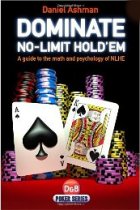 Dominate No-limit Hold'em: A Guide to the Math and Psychology of NLHE
by Danny Ashman

No Limit Hold'em is a tough game to play well which is why it is the game of choice for the high-stakes pros. Unless a player has the table covered then at any moment their entire stack is vulnerable. The key to NLHE is understanding and exploiting this fact. Dominate No-Limit Hold'em will reveal the key plays that will enable you to take advantage of this opportunity. Daniel Ashman is a highly successful NLHE high-stakes player. .

This book is full of great reasonnings and a goldmine if you want to improve. The right approach is to consider it as a workbook, rather than a strategy book. That means be prepared to work, to think, to recall you own hands, etc... rather than memorize anything.

It is not perfect but then no poker book is. I would critisise that on occasion Ashman doesn't get descriptive enough. For example, when explaining how to play a hand against different types of players he labels one as, "opponent is bad". This is not enough, he could and should explain the manner of the player's weakness.

Despite all the things that (I think) could've been done better, this book contains great value information, so much more than 95% of other poker books.



Paperback - 336 pages (1 Mar 2011)

£12.99

$18.21
---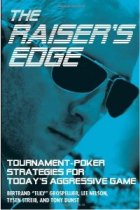 The Raiser's Edge: Tournament-Poker Strategies for Today's Aggressive Game
by Bertrand Grospellier, Lee Nelson, Tysen Streib, Tony Dunst

In the highly fluid and fast-changing tournament-poker universe, the dominant trend is toward looser and more aggressive (LAG) play, in which players move chips around at dizzying speeds. The Raiser's Edge shows you how to adapt to the current state of all stages of tournament play, analyzing how and why the LAG and hyper-LAG styles work, and instructing on how to apply -- and defend against -- them.

This book closely examines the many techniques used by the world's most successful players, including 3- and 4-betting, floating and squeezing, smooth-calling and min-raising, thin value betting, and the evolution of the metagame, along with equilibrium strategies based on starting hands and heads-up play. Even the ages and nationalities of your opponents are considered.

This is a must have if you are a serious tournament player. ElkY is one of the hottest pros out right now. This book Shows not only the recent trends in poker evolution but how they will go in the future and how to capitalize on an everchanging game. It inspires thinking.




Paperback - 440 pages (25 Jun 2011)

£19.30

$23.07
---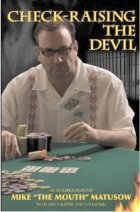 Check-Raising the Devil
by Mike Matusow

Hang on tight as Mike "The Mouth" Matusow, poker player extraordinaire, takes you with him on a breathtaking, true-life roller coaster ride from his humble beginnings in a trailer park to a rock and roll lifestyle full of hot women, sex, wild drug-filled parties and million-dollar wins and losses. Yet behind the glamour and glory of his high-stakes poker career lurked the flip side: a person torn between two debilitating mental illnesses?—?bipolar disorder and ADHD. To dig himself out of depression and suicidal despair, Matusow turned to dangerous street drugs to self-medicate a problem he didn't understand, and spiraled deeper into the darker world of addiction, police narcotic stings, and jail time.

In this revealing and tumultuous autobiography, the combustible Matusow holds nothing back. You'll get a mouthful of the man behind the infamous Matusow Meltdowns seen on national TV.

This is quite simply a great book which being so, transcends poker itself and is a most engaging psychological thriller of a man at war with his worst enemy - his own mind and its demons - while struggling to escape same through excelling at the game of poker. I will not say any more except that you should have no doubt in buying this book whoever you are and whatever little interest you may even have in one of poker's wildest and most verbose champions: Mike "The Mouth" Matusow. A stunningly compelling autobiography.




Paperback - 224 pages (1 Aug 2010)

£11.19

$16.47
---