---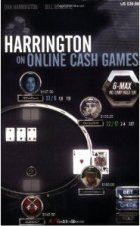 Harrington on Online Cash Games: 6-Max No-Limit Hold 'em
by Dan Harrington

Dan Harrington's grasp of the game is remarkable. Harrington's focus in this book seems to be the most efficient use of online tools. He briefly touches on some basics of poker, the differences between live and online, and then he delves into the world of the database.

His treatment of HUD statistics (HUD stands for head-up display - A HUD is an advanced software application providing real-time information about the players at your online poker table) is very worthwhile for an amateur. Harrington specifically describes a number of useful statistics that can be utilized to take advantage of patterns in your opponents' pre and postflop tendencies. After adapting my HUD to Harrington's suggestions I have made a number of strong plays that I wouldn't have thought to make otherwise.

He gives some really excellent suggestions on note-taking. You will go from a haphazard assortment of random notes to a clean system organized by street. He also helps discern some of the more important information to take note of. There is even a part about not cursing your opponents in the note box.

The most fundamentally sound analysis anywhere, laid out clearly. Once you beat small stakes games online, you'll crush medium stakes live.



Paperback - 531 pages (15 Jun 2010)

£19.15

$26.37
---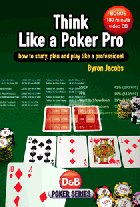 Think Like a Poker Pro: How to Study, Plan and Play Like a Professional
by Byron Jacobs

If you have ambitions to join the ranks of the consistently winning players, this book might help you plan your campaign.

There is a great deal more to being a successful player than simply knowing how to play a good game. Playing good poker is largely a technical skill which can be learned. Being a consistently successful player is much harder and necessitates acquiring expertise in many other areas.

Byron Jacobs has been a successful online poker player for seven years. In this book he identifies precisely how this can be achieved and shows how much of the battle actually needs to be conducted away from the table. If you already play a fair game of poker but want to become one of the very few players who consistently "play well", then you need this book.

The concepts discussed in this book are brought into clear focus on the accompanying 180 minute DVD of videos where the author can be seen explaining his decision-making process. This DVD addition makes the book great value and this the way forward for poker books.



Paperback - 301 pages (1 Feb 2011)

£18.69

$26.56
---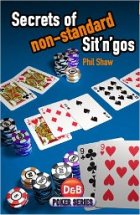 Secrets of Non-standard Sit 'n' Gos
by Phil Shaw

The sit'n'go (single table tournament) format is one of the most popular and exciting ways to play poker. However, ten players sitting at one table and playing for three prizes is not the only possible format. There are many other ways that these events can be run and these can provide a lucrative opportunity for the skilled player. In Secrets of non-standard Sit'n'gos, Phil Shaw navigates you through these exciting variants and explains how you can make them profitable.

The alternative formats discussed include: * Heads-up sit'n'gos (2-player) * 6-max sit'n'gos * Sit'n'gos with two tables * 45-player and 180-player sit'n'gos * Step systems (with prizes as entries to bigger money sit'n'gos) * Hyper turbos * Super satellites ...and many more

Secrets of non-standard Sit'n'gos also analyses the most effective way to capitalise on rakeback and reward programs.

This is not the most insightful of books but it will give you some new ways to analyse the different types of Sit'n'Gos that you play in.




Hardcover - 272 pages (12 May 2009)

£9.94

$16.47
---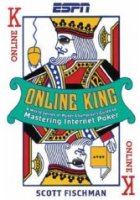 Online Ace: A World Series Poker Champion's Guide to Mastering Internet Poker
by Scott Fischman

Thsi is not a re-write or clone of everything else already out there. Although it is a niche book-addressing mostly online play- it is one of the best niche books I've read so far. Unlike many other poker books, Fischman's books teaches you how to "think" about the game in ways your opponents might not consider. There are more "nuggets" in this short text than many of the "cookie cutter" approach books coming down the pipeline.

His format and style are also very refreshing after so many rehashed "clone" type poker books. Although he doesn't provide a "hand chart" type book, his strategic ideas are worth their weight and he gives away much more in the way of "secrets" than many of the other high profile authors seem to be willing to. If you have not read a poker book prior to this one it will help your game. You will find it all very useful. It is a great book to make your first poker book, especially if you do not like maths.



Paperback - 256 pages (25 Feb 2007)

£8.44

$13.57
---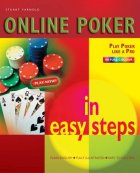 Online Poker in Easy Steps: Play Poker Like a Pro
by Stuart Yarnold, Computer Sep Editorial Team (Editor)

This easy-to-understand illustrated book introduces the essential facets of this popular game, explaining how it differs from "bricks and mortar" poker. After teaching you the fundamentals of poker software and security, it will help you to choose the most advantageous game and table. Within a few succinct chapters, you'll learn the key elements and strategies of Texas Hold'em, the most popular online game. The title also explains how to play No-Limit Texas Hold'em and Omaha, plus the rudiments of Seven-Card Stud. Tournament play is also covered.

Online Poker in easy steps does not guarantee you a winning hand, but it will enhance your chances of getting up to standard in short shrift. Well written, nicely illustrated, and very easy to understand. For the typical online player playing the low-limit tables, this book is the ideal introduction. Buy it.



Paperback - 192 pages (September 15, 2005)

£7.25

No US at present

---
---