eSports Betting Markets and Bet Types
---

eSports is a world growing at a fast pace, 25% per year in numbers of competitors, and expected to go from 385 million viewers in 2017 to 600 million in 2020. There are channels in all major countries that broadcast eSports live and there are many ways to stream online with Twitch, Dingit, YouTube, BBC3, Twitter and even BT Sport.

All forms of betting are now providing markets for eSports events, exchanges, bookmakers and Daily Fantasy Sports. Its big and getting bigger as a betting business. But its no different from other sports in needing to find value and good offers which is why it pays to use www.online-betting.org to get the information that will give you the best possible start.

Markets

LoL : League of Legends. Now the largest online game on the planet it is a combination of role playing with real-time strategy at a fast pace. Two teams play each other with 5 players each adopting a selection of champions to compete for them. Each team defends a Nexus (like a home base) and the match is won when a Nexus is destroyed.

LoL began development in 2005 based on a Warcraft III mod, Defence of the Ancients (Dota). Riot Games released the first version in 2009 and by 2012 it was the biggest participation game in the world. At the end of 2016 there were 100 million players active every month with LoL.

Finding value betting on LoL is more complicated than the other eSports. Players individual scores matter a lot but so do team scores. You need some real game knowledge to get involved with this sport.

All major pro-gaming tournaments feature LoL. Most popular bet is the simple money line, or result of the match. Bigger odds occur on winning without droping a map and there is over under betting on Kills, normally over/under 50.5.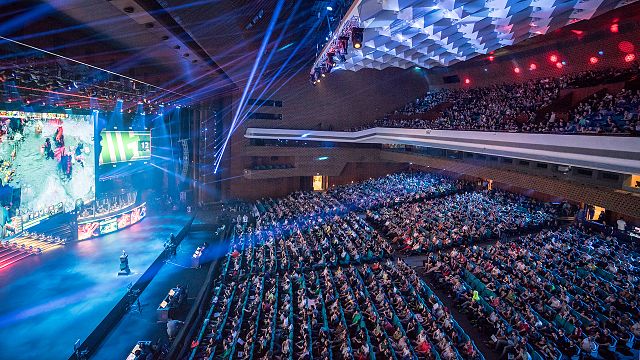 A photo of OG vs Virtus.Pro in the Dota 2 Kiev Major 2017. Taken during game 4 of the grand finals. Taken in the National Palace of Arts "Ukraina". By Watbe (Own work) [CC BY-SA 4.0], via Wikimedia Commons
Dota 2
Defence of the Ancients 2 (Dota 2) is a free-to-play multiplayer online battle arena (MOBA) game, action based with Real Time Strategy (RTS). Two teams again who select characters of either Strength, Intelligence or Agility. The object is to destroy the other team's base known as the Ancient.

Valve Corporation released this in 2013, another based on Warcraft III. Dota 2 is harder to master than LoL thus top teams and players can be a long way ahead of the opposition. Events to bet on include DreamHack, The International, The Defense and SLTV Star series as well as other smaller ones.

Outright markets, Money Line, Totals and more subtle ones like not droping a map during best of three or five match. There is also Total Kills and handicap betting on Dota 2.

Counter-Strike: Global Offensive : CS:GO
CS:GO is an older style game and still very popular. It is a multiplayer first-person shooter and again is a battle between two teams. The match is played in rounds, first to win 16 is the winner and you win by killing every member on the other team.

Terrorists must plant an explosive and make sure it detonates before the time runs out, while the Counter-Terrorists have to prevent the explosive from ever being planted, defuse it if it is planted or have the time run out before the Terrorists complete their objectives.

Released in 1999 and based on an earlier game Half-Life, it soon became a surprise hit and Valve purchased the rights to it. There were different versions of CS:GO; Counter-Strike: Condition Zero, Counter-Strike: Source but Counter-Strike: Global Offensive combines them.

Outright betting and individual map betting are most popular. A feature can't be found in the other popular multiplayer titles are the Maps and a team's mastery of them. While a team can be an underdog to win the overall match (reflected by Money Line odds), their strong performance on a particular Map can make them considerable favourites for betting on that particular Map.

Major CS:GO tournaments such as PGL Major, ESL One, Dreamhack, SLTV StarSeries, FACEIT, ESEA seasons, ECS and ELEAGUE as well as online tournaments can be bet on.

StarCraft 2 (SC2)
This is the fastest-selling real-time strategy (RTS) game typically played between two players, each of whom select one of three different factions to play. The three factions are the Terrans, human exiles from Earth; the Zerg, a swarm of super-species and the Protoss, a technologically advanced psychic alien. Players start matches with a few workers & buildings and must grow their army by gathering resources and building more structures. The winner of the game is simply the player who wipes their enemy out.

SC2 was released worldwide in July 2010. It was a sequel of the immensely popular StarCraft, released way back in 1998.

Even though SC2 has been in decline, there are still a number of tournaments available to bet on, such as Global StarCraft League, VSL Season 1 League and the World Championship events held around the world.

Popular bets are the Money Line (outrights) and handicap bets. StarCraft 2 betting is solely focused on the player. Most big matches are 1v1s, so team play is not something you need to consider often when learning how to bet on StarCraft 2. Of course, there are certain players who match up well against others, with the strategies within SC2 almost endless. As maps are such a big factor in SC2, it may also be profitable to find information about individual maps before betting closes – and who is generally stronger on each one.

Others
There are other less popular eSports to bet on. These include Overwatch, Heroes of the Storm, Hearthstone, World of Tanks, Warcraft III, Starcraft Broodwar, Rocket League and King of Glory.



---