Unbeaten in 17 over hurdles
– can anybody stop Altior?
---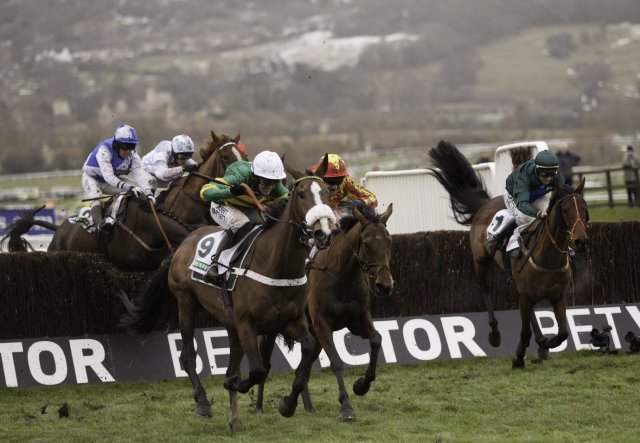 Probably the undisputed champion chaser over two miles, you surely can't look beyond Altior to retain his Queen Mother Champion Chase title at this year's Cheltenham Festival. He is favourite with the bookies, with odds of 2/5 to make it back-to-back wins on Ladies Day, while also extending his winning run over hurdles to 18 races. But is there any horse out there that can stop him? Before we study the competition, let's have a look back at how he's embarked on this incredible unbeaten run.

17 consecutive wins since October 10, 2015

Altior's unbeaten run began back in October 2015, when he first won at Chepstow in the Novices' Hurdles and was largely unchallenged, going on to win by 34 lengths. His next race was a lot closer, but by asserting himself on the flat, Altior beat Ch'tibello by one-and-a-quarter lengths at Ascot in another Novices' Hurdles race. However, the trials for the Cheltenham Novices' Hurdles saw Altior under some pressure, heavily challenged by Maputo – but the Irish-bred held on and won by just half a length, extending the run to three races without defeat.

The season finished with two more wins; first on Boxing Day at the Novices' Hurdles in Kempton, romping to victory over Open Eagle (rode by Ruby Walsh) by 13 lengths; and ending the season with his first win at the Cheltenham festival. Altior went into the Novices' Hurdles as a keen favourite and following a mistake from Min, went on to out-pace the French-bred in the final stretch to win by seven lengths.

The following season, Altior continued his winning run, beginning with another win at Kempton, this time in the Novices' Chase. In a two-horse race, Altior was on top and totally out-paced Black Corton, who was approaching the final fence as Altior crossed the finish line, which saw him win by an incredible 63 lengths. A sprint finish at the Henry VIII Novices' Chase at Sandown saw Altior come from the back of the pack to eventually win by six-lengths and extend his winning run to seven races.

Again, at the Novices' Chase at Kempton, Altior came from behind to record a further victory – but he made it look easy at Newbury in February 2017, looking consistently impressive to go in to another Cheltenham race the favourite. And it was the Arkle Challenge Trophy that Altior was to feature in this time. It was a tough-fought race, which saw Charbel leading for a large proportion, before falling at the penultimate fence. Altior capitalised and managed to draw clear within the final 100 yards. He may not be racing this time around, but check out Betfair's Arkle Chase odds now. That season ended on a high, with another win at Sandown to add to his collection; and Special Tiara proved no match for him.

Wind surgery saw Altior take a break for a large part of the following season, but he was back again in February 2018 in fine form, managing to extend his run to 14 races without defeat. The highlight of those three wins was undoubtedly the Queen Mother Champion Chase victory over Min by seven lengths at the Cheltenham Festival; a race that it took until the penultimate fence for Altior to challenge, but he looked impressive in the final stretch. The two will go head-to-head again this year, no doubt.

Going into this year's Queen Mother Champion Chase, Altior has continued his great form, with three victories from three races and the most recent of those came in Ascot at the end of January. In fact, Altior has beaten many of his rivals – with a win against fifth-favourite Un De Sceaux at Sandown at the back-end of last year. He's also previously beaten Diego Du Charmil and Fox Norton.

In unbeatable form, it'll take something very special to knock Altior off the top-spot – but who are the likely horses to pose a threat?

The Competition

Min @ 9/2 – Of course Min is the second-favourite, having been unsuccessful last year but familiar with the course. The eight-year-old ridden by Ruby Walsh is unbeaten in two races and is undoubtedly the strongest threat to Altior.

Footpad @ 6/1 – Last year's Arkle winner, Footpad suffered a shock defeat over Christmas, losing to Simply Ned by just half a length in the "Sugar Paddy" chase at Leopardstown. Based on last season's form, the first encounter between Altior and Footpad was billed to be a thrilling one – however, both horses are on different ends of the spectrum when it comes to form this time around.

Sceau Royal @ 14/1 – Having previously lost out to Altior in the Tingle Creek Chase at Sandown, Sceau Royal poses a minimal threat, having taken a break and only raced one this year.

Un De Sceaux @ 17/2 – Un De Sceaux was most recently beaten by Altior at the Tingle Creek Chase and at 11-years-old, it looks as though this could be the last time we see the horse at Cheltenham. Making it a hat-trick of wins at the festival would certainly make it a final farewell for one of the most likeable and underrated charges to enter the circuit; however, it doesn't look likely.

---