Top 20 footballers and their earnings
---

The money earned by footballers has become a hot topic in recent times and with that, majority of football fans could name some of the top earners. However, how many of us know the top earners for sure, and how much do they actually earn? Here we countdown the top 20 in world football.

In 20th position we find Uruguayan striker Edinson Cavani, the first of 5 players that play for oil rich French club Paris Saint Germain, who according to Find Betting Sites, earns a reported $19,446,721.31 a year.

Closely following in 19th place is the only African player in the top 20, Ivory Coast International Yaya Toure, who plays his football for English side Manchester City and is rewarded with a yearly salary of $19,546,448.09.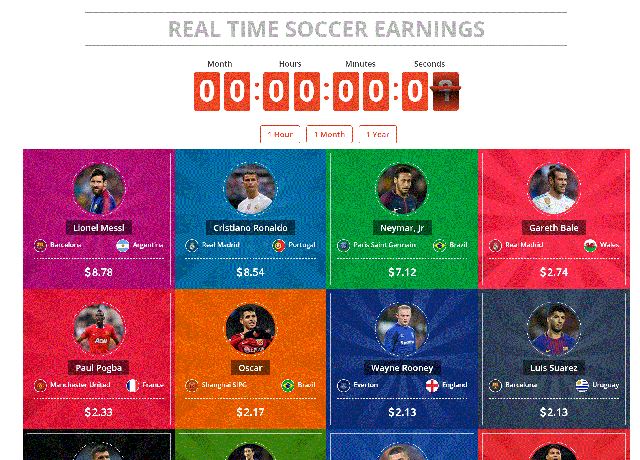 Our next two places are taken up by European stars from the Spanish La Liga in Frenchmen Antoine Griezmann, who is currently wearing the red and white colours of Athletico Madrid, and Gerard Pique, who plays for his hometown club in FC Barcelona. Griezmann's salary of $19,646,174.86 is beaten by Pique by over $1 million with a total of $20,743,169.40 for the Spaniard.

Our first player that is working outside of Europe comes next on the list, with a contract almost as big as his ego, Zlatan Ibrahimovic currently plying his trade in the Major League Soccer in USA. A reported yearly $20,942,622.95 goes some way to justify his self-confidence.

Another player plying their trade outside Europe is next, Brazilian striker Hulk with his lucrative deal of $21,939,890.71 in China with Shanghai SIPG earning him 15th place on our list.

Another big payday in China was given to Graziano Pelle in the form of a $22,039,617.49 yearly salary when he joined Shandong Luneng in 2016.

We go back to Europe for 13th position with Bayern Munich's James Rodriguez. The Colombian is currently on loan to the German club from Spanish side Real Madrid, which could explain his appearance as the only Germany based player on the list. The Spanish club will probably still be paying the bulk of his $22,039,617.49 yearly salary.

The next 3 positions are filled by team mates of Edinson Cavani at Paris Saint Germain as Thiago Silva, Kylian Mbappe, and Angel Di Maria all earn around $22 million per year at the French club. $100,000 separates each player with Silva in 12th, Mbappe 11th and Di Maria sneaking into the top 10 with a $22,538,251.37 salary.

Earning around $100 an hour more than his compatriot is Argentine Sergio Aguero who English side Manchester City are paying $23,435,792.35 a year to their all-time top goal scorer.

In 8th place, we move on to the second Uruguayan on the list in Luis Suarez, who is earning $26,826,502.73 a year after his move to Barcelona from Liverpool.

Next we move on to the first British player to join the list in Wayne Rooney, the ex-Manchester United and Everton player, who is currently on the books of Major League Soccer side DC United, is being paid $26,926,229.51 a season.

The highest paid player not playing in Europe is in 6th place on the list with former Chelsea man Oscar being paid $27,326,136.61 annually by Chinese Super League side Shanghai SIPG. The Brazilian was one of the first big money foreign imports into the league in 2017.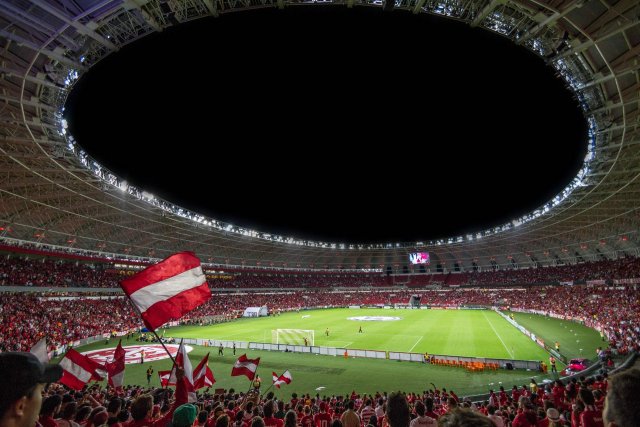 Entering the top 5, we have Frenchman Paul Pogba, who is being paid a reported $29,419,398.91 an hour after his return to Manchester United, the club that he left on a free transfer at the age of 19.

The second and final British player on the list comes in 4th place of our earnings list in Gareth Bale, who left English side Tottenham Hotspur for Spanish giants Real Madrid in 2013, signing a contract extension in 2016 to earn $34,505,464.48 a year.

The world was rocked by the huge transfer fee when Neymar Jr moved from Barcelona to Paris Saint Germain for over $200 million, but even more eye watering is the yearly salary of $89,754,098.36. This amount is more than double that of 3rd place and shows the gulf between the top, top players and their rivals.

Although not as big as the gap between 3rd and 4th place, the next gap to the top 2 is again huge. The top two places could go to no one else but Cristiano Ronaldo and Lionel Messi, who have dominated football headlines for years. Their rivalry goes beyond the pitch with many football fans choosing one to follow as their GOAT (Greatest of All Time) and using many facts to back up their claims. In terms of money, however, there can only be one winner and this crown goes to the Argentine captain Messi. He earns a reported $110,696,721.31 a year compared to $107,704,918.03 earned by his Portuguese rival.

Infographic source: https://www.betting-sites.uk.com/soccer-earnings/

---