The History Of NFL Betting
---

The NFL is the most recent of sports to take a top seat in the world of sports betting, an international world led by football, especially the Premier League. Although newcomer esports will inevitably challenge this position once a unifying body presents a global franchise that is not fronted by teenagers, and a TV format is found, the National Football League otherwise known as American Football outside of the US will remain contender for second spot.

Betting on the NFL has been beset by the unfortunate timing of it coming of age at the wrong time with the first Super Bowl being held in 1967. This was bang in the heart of the USA's most aggressive, restrictive and punitive stance against sports betting in its history. Forgetting that the independence wars had in part been paid for by lottery income and that the vast majority of Americans were and are happy with the idea of betting on sports, the US government brought in aggressive legislation to restrict sports betting, including on the NFL.

A slew of bills were passed for the purpose of constricting sports betting including The Federal Wire Act (1961), the Travel Act (1961) - which included no betting by mail, the Sports Bribery Act (1964) and the Illegal Gambling and Business Act (1970). None of these slowed the progress of illegal bookmakers and some common sense let up occurred in 1974 when Howard Cannon, then the Nevada Senator, convinced Congress to drop the legal sportsbetting tax from 10% (unworkable) to 2%. This heralded a boom in Las Vegas sports books especially after the famous Frank Rosenthal convinced Nevada to allow them inside casinos. "Lefty" Rosenthal, whose life was central to Scorsese's film Casino, opened up the first Race & Sports Book in the Stardust on the Strip in 1976, second only to that opened in the Union Plaza downtown a year earlier. Up until 1975 betting on horse racing and professional sports was done in Turf Clubs but these combined movements towards removing the shackles of bookmakers prompted all major casinos to add what are now known as sportsbooks and all the turf clubs closed down.

In 1976 the state of New Jersey voted to allow casinos in Atlantic City and along came the Resorts Casino Hotel in 1978 with a fully fledged sportsbook taking bets on the NFL amongst others sports.

1990s
Things were looking good for the development of sports betting and with the further reduction of sports betting tax to 0.25% in 1983, corporate bookmakers could challenge the very best of mob operated bookmaker outfits. But then disaster. In 1992 Congress passed PASPA, the Professional and Amateur Sports Protection Act that outlawed states from offering any sports betting services to people on any sport other than horse racing and dog racing, exceptions for some long standing offerings were granted. Of course Las Vegas escaped alone for full sportsbook freedom and sports related lotteries including NFL were still allowed in Delaware, Montana and Oregon. This handed the world of professional bookmaking to the British and South East Asian bookmakers and with it billions of dollars of profits and tax revenues.

The time was right for expansion in the UK. NFL had been on TV for a while and live games could now be watched. Bookmakers in the UK had just got used to betting on football matches without having to make them parleys and the NFL was a really simple format. Just three main betting markets were in play, much as it is today. UK bookies copied what they witnessed in Vegas sportsbooks and this brought new betting formats to a UK audience.

Win Bet or Money Line (US)
The simplest bet type is betting on the winner without the draw. Unusual in the UK as the win bet is traditionally a three-way bet which includes the draw. Including the draw can be found in the UK but is not popular now.

Handicaps or The Spread (US)
New to UK shores, an easy way for bookies to make odds more appealing for both sides was to balance each team's chances by giving the weaker side a points start. New England Patriots (-17) versus New York Giants (+17) might be close to Even money either side. Half point handicaps take out any confusion as to what happens with a draw but it is normal for bets to be tie-no-bet.

Total Points or Totals (US)
A new concept for the UK but normal in the US. This is betting on the combined total of both teams' score. Normally quoted in half points to remove the draw, for example Carolina Panthers at Tampa Bay Buccaneers - Over 48.5 Evens and Under 48.5 5/6.

Note : matches are quoted in their traditional US format of away team @ home team.

Spread Betting
With bookmakers slow to evolve their markets an opportunity for the relatively new spread index firms to offer more devolved bet types was readily filled by them. NFL was ready made for point spreads with many games being potentially high scoring. The standard offer was on Total Points where a quote for the Carolina/Tampa game might be 47-50. Meaning if you think its low scoring then you sell at 47 for £x per point or obversely buy at 50. The 3 point gap in the quote represents the firm's spread and 3 points is quite a lot.

This form of betting brought in much more esoteric markets made up by the spread setters. An example is TD shirt numbers, meaning the total when you add the shirt numbers of the players that score a touchdown. These are wild markets studied by pros but very tricky for the casual player.

2000s
The new millennium ushered in yet another new UK innovation, the exchanges. This transformative idea allowed individual punters to match money against other individuals. Markets created and maintained by the operator who just took a commission on any winnings. The big three bets of Moneyline, Handicap and Totals Points are the NFL betting mainstay but others like 1st to TD (touchdown) or TD anytime were also introduced. With tiny margins between back or lay (for or against) the exchanges began to eat into the position of bookmakers and squeezed the spread confirms considerably.

Feeling the heat of competition bookmakers began offering more than just the big 3 NFL bets and offered markets on 1st to touchdown, last to touchdown, anytime touchdown as well as well as scoring totals and spreads in each half and also in each quarter.

During the early years of the new millennium the internet revolutionized gambling and Americans were once again able to bet on their favourite sport by visiting sites around the world, many of which were in the Caribbean set up purposely to attract their wealthy neighbours. Once again the US government decided that its citizens were not grown up enough to bet on sports and in 2006 created a new federal law, the Unlawful Internet Gambling Enforcement Act. Not only did they not say what unlawful internet gambling is but they determined that fantasy sports was a game of skill.

2010s
Understandably the temptation of being offered the world of US sports betting money was too much to resist to fantasy sports operators. What was a season long campaign of changing your team line-ups to try and win a fixed prize at the end of it all, quickly morphed into daily fantasy sports, known now as DFS. A complex team selection process that earns points during a game places your team in sometimes very large competitions with millions of dollars in prize money. NFL is the biggest attraction although many other sports are involved all through the year.

DFS on NFL is obviously gambling and many a court battle has been had in the USA to determine its legality. Along with these there are countless state battles to try and get around PASPA on a state by state basis with an eye on the freedom to have sports betting and rake in tax revenue from it.

NFL betting will remain a growth market with new development predominately aimed at US citizens but European bookmakers continually grow interest, especially as more games get played in the United Kingdom and elsewhere. It's only going to get bigger, whoever tries to regulate for it or against it, and it's a clear contender for second spot in the world of sports betting.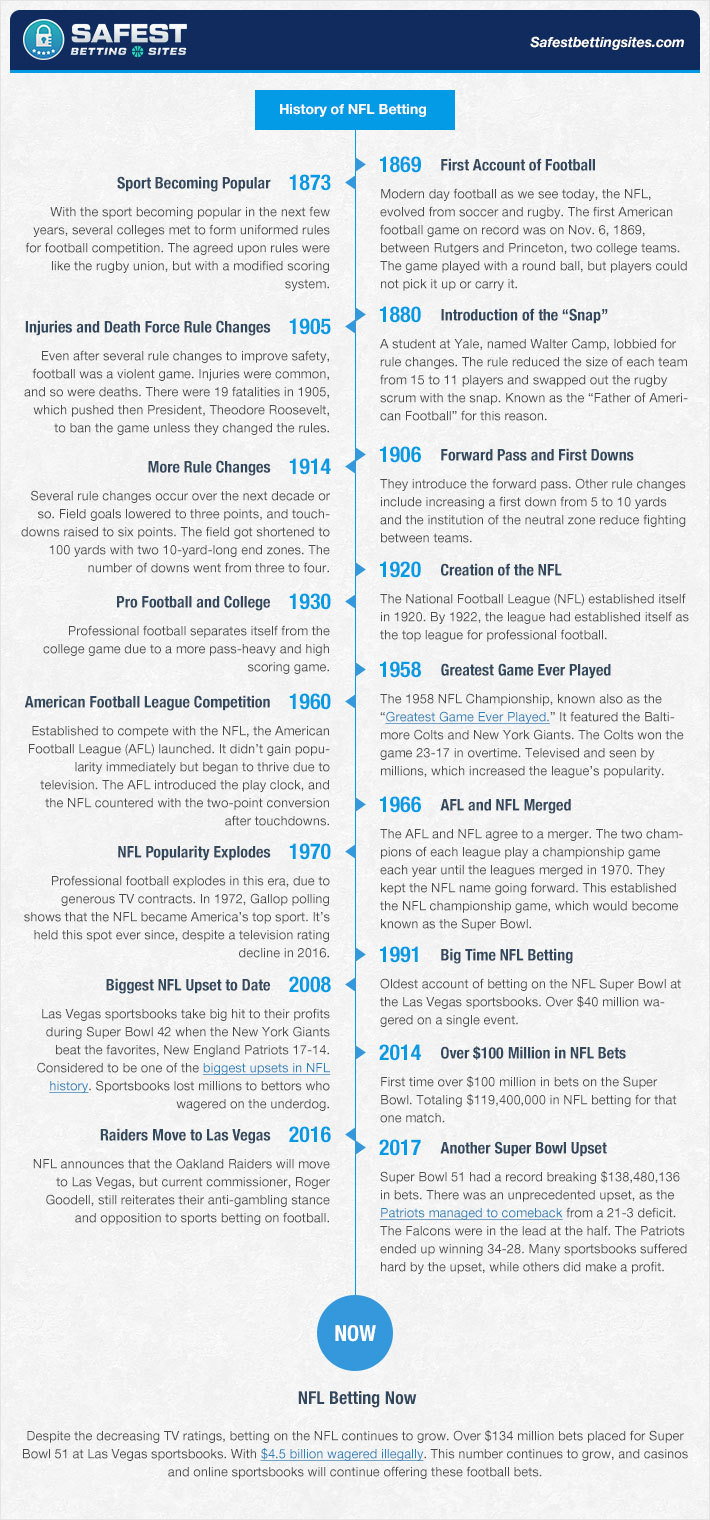 Image Source : Safest Betting Sites

---