Getting into eSports gambling
---

A few years ago, the idea of people flocking to watch others play online games would have seemed improbable, to say the least – and the notion of describing it as a sport would have been enough to send people into fits. Yet today, the eSports phenomenon is a firmly established part of 21st century leisure, with live streams online and even coverage from global sports networks like ESPN.

With coverage like that, and box office names like NFL legend Joe Montana publicly backing the major teams, it is no surprise that the eSports sector is rapidly following the same route as any other major sports. The teams and are growing their own fanbases and are also attracting the attention of bookmakers and gamblers.

A Growing Sector

The thing about eSports is that the sector has such vast growth potential. At present, the games themselves are typically multiplayer fighter games such as League of Legends, Overwatch or Call of Duty. But the potential for other genres to enter the fray seems inevitable, from games that are already familiar to the gambling fraternity, such as slots classic Book of Ra to sports games like FIFA or Grand Turismo.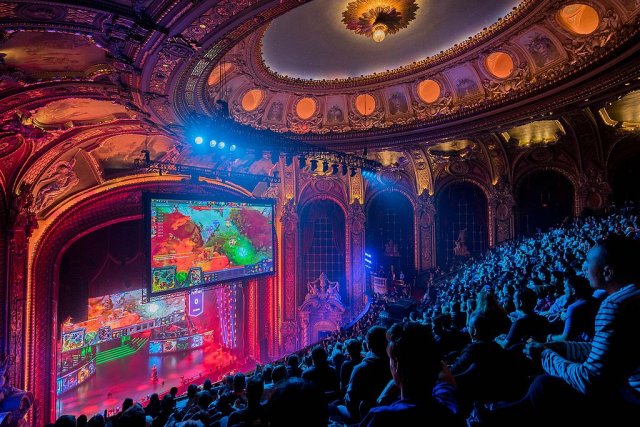 A photo of the Boston Major 2016 grand finals match between Ad Finem and OG. Taken in the Wang Theatre on Dec 10 2016. By Watbe [CC BY-SA 4.0 (https://creativecommons.org/licenses/by-sa/4.0)], from Wikimedia Commons
Getting started betting on eSports

The fundamental rule behind making a success of betting on eSports is no different to any other sport: You need to understand the game and the teams. Those who are successful at backing the horses understand the form, the runners and the track. In eSports, you need to approach it from the same angle.

This means the first thing you need to decide is which game you will be betting on. CS:GO, League of Legends and Dota 2 are among the most popular and widely followed. However, what is most important is that you choose one in which you are interested – because you are going to need to devote lots of time to watching it.

What bets can you place?

Again, there is no great mystery when it comes to eSports bets. There are simple money lines, in which you bet on which team will win or lose, outrights, where you can back the ultimate winner of a series and totals, in which you bet on specific events in a game. This can be compared to betting on how many goals will be scored in a football match.

Sometimes, bookmakers will introduce handicap betting, in which a lower ranked team will be given a positive handicap, which is factored into the result.

Where to bet

The growing popularity of eSports means that odds are being offered by a growing list of sports betting sites. This can only be good news for gamblers, as it means more choice and a better opportunity to get favourable odds. Check out your favourite online bookmaker, and chances are, you will find they are offering eSports betting.

A Whole New World of Sports Betting

Once you have got into the swing of betting on your chosen eSport, there is nothing to stop you from broadening your horizons and exploring new games. And really, that is the beauty of eSport. As long as developers keep bringing out new games, the landscape will continue to be one of new opportunities.



---