Jesse May Championship Reports : Latest
23rd - 28th May - $10,000 World Championship Event (No limit Holdem)
The Prize Pool: $24,214,400 First Place: $5,000,000 Entries: 2576


Final Day
Start Chip Positions
(1) Greg Raymer $8,215,000
(2) Matt Dean$4,920,000
(3) Josh Arieh $3,205,000
(4) Glenn Hughes $2,275,000
(5) Dan Harrington $2,245,000
(6) David Williams $1,575,000
(7) Al Krux $1,305,000
(8) Michael McClain $885,000
(9) Mattias Andersson $740,000
Play began at about 13:40 Vegas time, 21:40 London time. Blinds begin at $25,000-$50,000 and there is a $5,000 ante.

Greg Raymer held the clear chip lead and he wasted no time in getting lucky against poor Michael McClain who had managed to get all-in with Ace-Ace and saw Raymer turn over Ten-Ten. The second card out was a ten and that was the end of him.

Immediately, after only 15 minutes play, there was a break so that the ESPN crew could interview the eliminated player. With 7 of these before the end the finish could be a long way away.


After 2 out
(1) Greg Raymer
(2) Mike Dean
(3) Josh Arieh
(4) Glenn Hughes
(5) Dan Harrington
(6) David Williams
(7) Al Krux
$9.5m
$4.1m
$4.0m
$2.1m
$1.9m
$1.4m
$1.2m
Not wanting to slow down and fearful of all the delays, it takes Raymer (a PokerStars qualifier) only a couple of minutes to call the short stacked Mattias Andersson with his Ace-Ten. Mattias has A-K. The unlucky Swede led all the way until 5th street where Raymer hit a middle pin 8 for a straight. Board Qc 7c 9h Js 8s.

After about an hour and a half, Matt Savage the tournament director, decides this is the time to propose to his girlfriend sitting in the VIP row. He's been up too long and watching unreality TV. After this event and players get back to their own disbelief, Harrington finally gets all-in when his Q-9 hits a 9 on the flop. Raymer the unbeatable calls having his A-J pairing the Jack on the flop. The 5th street card is another 9 and Dan is back and into chips.
After 3 hours
(1) Greg Raymer
(2) Josh Arieh
(3) Dan Harrington
(4) David Williams
(5) Al Krux
(6) Matt Dean
(7) Glenn Hughes
$7.7m
$4.6m
$2.8m
$2.7m
$2.6m
$2.5m
$2.1m


About 3½ hours in and Matt Dean tries to take his Ace-Ten all the way but David Williams had Ace-Ace and that held up put Dean out in 7th spot. Just after this the customary card board box(es!) are brought out with the $5 million dollars in cash inside.


After 4¼ hours
(1) Greg Raymer
(2) David Williams
(3) Josh Arieh
(4) Dan Harrington
(5) Glenn Hughes
$12m
$5m
$3.6m
$2.6m
$1.5m
At the 4 hour flag Al Krux got overly happy with his A-9 only to find the ever present Raymer with Ace-Queen. No nine for Krux and curtains in 6th spot.

Short stacked Glenn Hughes makes an all-in move at 4½ hours in with K-T. With such a huge chip stack Raymer once again calls, this time with 5-5. The board was all over the K-T hand but missed and Hughes goes out with a mere $1.1 million. Raymer now at $13.5m.

After 5 hours play Dan Harrington gets a little too aggresive from a position of calling in the small blind, Williams checking the big blind. With 2-3-5-9 out there Dan fires all-in with 8-6, double belly buster straight draw. The River turns out to be another 3 and a full house for Williams. Dan get $1.5 million.


After 5 hours
(1) Greg Raymer
(2) David Williams
(3) Josh Arieh
$14.4m
$8.6m
$2m
There was a 75 minute dinner break and then blinds increased to $50,000-$100,000 and the antes to $10,000.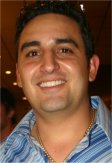 Soon after the break Josh Arieh got himself all-in with a good pair, 9-9. Williams bows out and Raymer calls with A-Q. He flops trip Queens and its all over for Josh but he gets $2,500,000 for 3rd spot.

The five million dollars in bundles of 100 dollar bills gets pushed onto the table. If the tournaments increase in size like this then they will have to get a bigger table. Raymer has $17m and Williams $8¼m in chips.

Just 7 hours of play including a dinner break and numerous interview stopages and they reached hand 113. There was small action before the flop which turned out to be 5-4-2. Williams had a small bet and Raymer jumped it up to $2 million to play. Call. Fourth street brought another deuce and this time Raymer bet $2.5m, call again. The River card was another deuce and Raymer moved in and Williams called. Williams had Ace-Four for a full house but Raymer showed 8-8 for bigger house and $5 million and the World Championship bracelet.

The new champion is a semi professional player who plays at Foxwoods Casino. He qualified for the WSOP Championship with a $150 ticket in a PokerStars competition. Pretty much like last year.
Places and Prize monies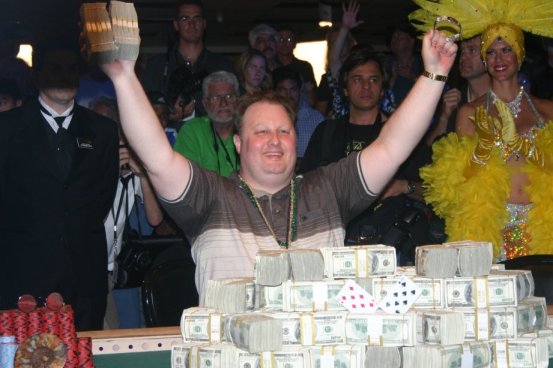 Jesse May Championship Reports : Latest