The Editor or one of our professional correspondants make regular contributions to coverage of the gambling world.
Email : TheEditor on any subject.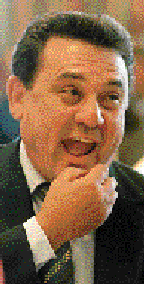 South African renegade invades London

Sol Kerzner, the gaming magnate who founded the Sun City resort in South Africa, is to bring a Las Vegas-style casino to the site of the Millennium Dome.

Mr Kerzner's company has signed an agreement in principle to build a $350m (£211m) casino and hotel resort at the Dome, which has been falling into disrepair since it was closed to the public in 2001. The deal has been struck between Kerzner International and Anschutz Entertainment Group Europe, which is creating an entertainment and sports arena within the Dome.

Kerzner International owns the lavish Atlantis hotel and casino resort in the Bahamas and recently acquired its first UK gaming licence. His Bahamas-based company, Kerzner International, has bought into the beleaguered London Clubs International (LCI) - one of Britain's premier casino businesses that has recently fallen from grace - perfectly positioning himself to enter the soon-to-be-deregulated British gaming market.

It is 13 years since Kerzner, creator of the notorious Sun City and Lost City resorts, left South Africa under a cloud of alleged bribery, transferring his focus to the Caribbean and the United States, where he now owns mega-casino hotels in the Bahamas, Connecticut and Atlantic City. Each time he has sought to open a casino in a new territory, his controversial reputation has travelled before him and he has had to convince the local gaming board he is a person to be trusted. Each time he has eventually prevailed.

Now, as he contemplates his next move, British casino owners may well be wondering which Sol will turn up: the misunderstood genius with the Midas touch who some say has mellowed with the years, or the pugnacious, uncouth, roughhousing man-boy not shy to tell his fellow board members to buck up or "f*** off".

Solomon Kerzner was born in Johannesburg on 23 August 1935, the youngest and only son of four children to Russian parents who had immigrated six years earlier. He grew up dirt-poor in the rough, poverty-stricken neighbourhood of Doornfontein, where, as one of only two Jewish boys in his class, Kerzner was regularly beaten up. His answer was to enrol for boxing lessons, where he learned, in his own words, "to beat up all the boys who beat me up". But Kerzner discovered his talent for boxing went beyond street fighting, and went on to became welterweight champion at the University of the Witwatersrand, where he studied accountancy, qualifying at the age of 26, and becoming a junior partner in a firm of chartered accountants.

His struggling parents, meanwhile, had relocated to Durban, where they ran a kosher boarding house called the Menorah Hotel. Kerzner used to help out and, inspired by the swanky new hotel franchises coming out of the United States, started to dream of opening a very different kind of establishment. Within three years, at 29, Kerzner had borrowed money from clients to build South Africa's first five-star hotel, the Beverly Hills. It went up on a deserted beach in a tiny fishing village to the north of Durban called Umhlanga Rocks. Even in that very first project, Kerzner's leitmotif was evident: he saw potential where nobody else did; and then he built faster, bigger, better and more grandiose than anyone else.

Within five years, Kerzner had started the Southern Sun Hotel franchise, the South African hotel chain that transformed the leisure sector in South Africa and grew to 31 hotels. But his big break came in 1979, when he built Sun City in the so-called independent homeland of Bophuthatswana, striking a deal - which would later be attacked as highly suspicious - with the then homeland leader, Lucas Mangope, for the exclusive gambling rights. Sources in South Africa would subsequently allege that Mangope was in the pocket of Kerzner, pointing to the mysterious £1.8 million fortune he amassed before fleeing to his private mansion in Switzerland. Whatever its murky origins, Sun City was nevertheless perfectly positioned - just a two-and-ahalfhour drive to the west of Johannesburg, and it became the favourite haunt of wealthy white South Africans who were otherwise prevented from gambling in Calvinistic, apartheid South Africa.

Kerzner was reputed to be worth around £600 million but, as fast as his fortunes rose, so his private life unravelled. By the mid-Eighties, his third marriage - to blonde beauty Anneline Kriel, South Africa's first Miss World - was on the rocks and dark rumours circulated Johannesburg as to just how stormy and violent the parting had been. His five children all come from his first two marriages, though two of his children were left motherless when Shirley, his second wife, committed suicide in 1978.

In the midst of it all, to celebrate his 50th birthday in 1985, Kerzner chartered a Jumbo jet to fly 150 of his closest friends to Mauritius, where he also owned a brace of casino-hotels, replacing the air stewardesses with dancers who performed an in-flight striptease. Meanwhile, his womanising, workaholic, alcoholic lifestyle was beginning to damage his health.

In 1989 Kerzner had a heart attack, and his doctor told him not to bother to come back until he had given up his 60 cigarettes a day, cut the booze, and somewhat reduced his daily intake of 20 cups of coffee and a dozen cups of tea.

Kerzner would later hook up with Californian model Christina Estrada, becoming engaged to her on Valentine's Day 1994 with a diamond ring so large she had to keep it in a bank vault. Her subsequent seven-year wait for tycoon Sol to say "I do" provided regular juicy copy for gossip columnists worldwide, especially when he finally dumped her for her best friend, New Yorker Heather Murphy, who at 33 is half Kerzner's age. She was destined to become his fourth wife. But by then he was immune to embarrassment. He had already endured the humiliation of being accused of bribery in the acquisition of exclusive casino rights, not just in Bophuthatswana but in the Transkei, another "homeland". Kerzner later admitted to paying £500,000 in cash to Transkei prime minister George Matanzima but, when accused in 1989 of giving a bribe, Kerzner insisted it was not a bribe but extortion on Matanzima's part. Matanzima was jailed for nine years for accepting the money but Kerzner never returned to the Transkei to stand trial and got off scot-free.

Now based in the Bahamas, he has set about building an international empire even more extravagant and fantastical than his South African one. His flagship is the hugely successful Atlantis on Paradise Island in the Bahamas, where his £1.4 billion casino-hotel is set amid the world's biggest man-made aquarium, a water-slide marine park inhabited by 100,000 marine animals including piranhas, sharks and stingrays. He also built the £200 million Mohegun Resort-Casino in Connecticut, owns the £300 million Resorts casino-hotel in Atlantic City, and has eight other beach resorts at exotic locations in Mauritius, Dubai and the Maldives.

AEG Europe declined to comment on whether it had plans for the Dome but said: "We are monitoring a number of opportunities in the London area. We hope to become a big operator in London." AEG Europe said it was "in talks with various parties regarding the overall entertainment mix of the Dome". It added: "There has been speculation about a possible casino at the Dome since day one and AEG believes that a casino could play a part in the overall entertainment mix." The Dome casino development hinges on the deregulation of the gambling industry, which is likely to become law by 2005. The Dome cost £800m to build. Maintenance is costing taxpayers more than £200,000 a month.