The Editor or one of our professional correspondants make regular contributions to coverage of the gambling world.
Email : TheEditor on any subject.
The DCMS

The Department for Culture, Media and Sport aims to improve the quality of life for all through cultural and sporting activities and through the strengthening of the creative industries.
Blackpool Dreams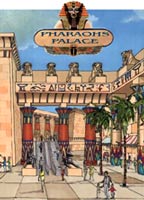 "We want gambling to be safe"

Those words come from the mouth of the Tesse Jowell, State Secretary at the Department of Culture, Media and Sport. Oxymoron springs to mind.

We are at last in the presence of the White Paper on gambling reform in the UK and however silly their opening words may be, there are important changes coming to a place near you that will affect your life if you are a gambler.

A new Gambling Commission is on its way that will sweep away the many and varied out-of-date groups like the Gaming Board, the HBLB, Local Authority regulators and the Tote. It will be a big new body that should take care of everything from Casinos to Bookmakers to Pools and Bet Exchanges and Internet Gambling.

This will not really play a part of most gamblers lives. What then are the changes that will make a difference?

For the Good

The very old 1845 Gaming Act is going to finally be removed from the statute books. For those who don't know (and why should you) this is the nasty little number that makes a 'gaming contract' one that is not enforceable in a court of law. With that gone, the new Gambling Commission's aim is that all disputes are handled in the courts. Gambling debts will now be pursueable as they should be. When a bookmaker or a casino takes a bet, that will be legally binding on both parties.

Future Casino developments will not be restricted to designated areas or companies. Foreigners like Park Place or MGM can set up shop in competition with the locals and competition in this sense is good. The failing quality of our provincial casinos must surely benefit from a dose of real commercial pressure. However without real imposed standards I fear pandering to the lowest common vice will prevail, I mean alcohol. Casinos could descend into little more than night clubs with gaming tables.

Live Entertainment will be allowed back more than 30 years after Peggy Lee did a turn at a top London Casino. She and that quality won't be involved but its a step towards casinos becoming an entertainment venue.

Internet Sites will be licensed by the Gambling Commission. This will only change the players ability to get their money if a site goes under.

Neutral Changes

The 24-hour waiting for membership rule will go and be replaced by identification for all customers and probably a fee.

Pools like the football variation will have unlimited prizes and be accessable via the Internet.

Negative Changes

Alcohol will be allowed at the tables. This might seem like a good idea in Vegas but without the security that is in place there, it may well lead to the further degeneration of casinos into nightclubs.

Credit Cards will be used in Casions and Bookmakers. Nothing could be worse for the uncontrolled gambler.

Notes will be allowed into slot machines. These machines can now eat faster.

We probably won't have to wait too long for some of these changes as the DCMS are keen on forcing through some of the poorer ideas through before the wholesale Gaming Act revision.