| | |
| --- | --- |
| Sporting Stories | |
---
---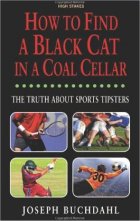 How to Find a Black Cat in a Coal Cellar
by Joseph Buchdahl

How do we know if we can beat the bookmaker? That's easy: just look at our bank balance. But how do we know if we've not just been lucky? More specifically, how do we know that someone who says he can do it, and who is selling his 'expertise', can keep doing it again and again, through talent, skill and hard work?

This book examines the techniques available to answer that question, to identify those qualities and to help the punter find value for money in an industry that appears to be largely built on trust and the influence of chance; to uncover the truth about sports tipsters and ultimately how to find the best tipsters – the 'Black Cats'.

Joseph Buchdahl runs a website independently verifying online sports betting advisory services to provide a measure of quality control and a means of demonstrating transparency, validity and reliability for a sports tipping industry that is otherwise unregulated. His previous book: Fixed Odds Sports Betting is a perennial best selling gambling book.



Paperback - 424 pages - Portico (6 Jan 2013) £13.39
Kindle - 433 pages - Portico (25 Jan 2013) £8.54

---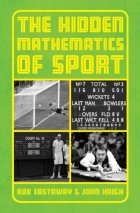 The Hidden Mathematics of Sport
by Rob Eastaway

The Hidden Mathematics of Sport takes a unique and fascinating look at sport, by exploring the mathematics behind the action. You ll discover the best tactics for taking a penalty, the pros and cons of being a consistent golfer, the surprising connection between American Football and Cricket, the quirky history of the league tables, the unusual location of England s earliest football and how to avoid a repeat of the Isner-Mahut tennis marathon at Wimbledon. Whatever your sporting interests, from boxing to figure-skating, from rugby to horse-racing, you will find plenty to absorb and amuse you in this insightful book. This book is a new edition of Beating the Odds

Accessible, interesting and full of historical as well as mathematical curiosities. Was alerted to this book by a good review in The Times. Be warned, this book came out under a different title ('How to Take a Penalty') when it was a hardback so don't buy both books thinking they are different..

For anyone, like me, who happens to be independently interested in maths and sport, this book is nerd heaven. My personal obsessions are cricket, football and snooker, so I was thrilled to see chapters explaining interesting mathematical facts and approaches to all three of these sports. This is the best 'loo' book you could wish for - and I mean that totally as a compliment!



Hardcover - 200 pages - Portico (2 Jun 2011)

£6.89

$15.95
---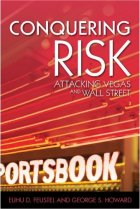 Conquering Risk - Attacking Vegas and Wall Street
by Elihu D. Feustel

How do you win at sports betting? Hard work and lots of modeling. This book walks you step by step through four winning computer models in NFL, WNBA, MLB and NCAA Football.

All manners of gambling are becoming increasingly popular in our society. Whether a person places a bet on sports or gambles on a stock, he is making a decision on risk. Most people need much more information than they have to make good decisions on either. A majority of the book focuses on sports betting. Four in-depth winning models are demonstrated for MLB, NFL, NCAA Football and WNBA. In addition to methods for handicapping these sports, there are explanations of a variety of approaches to exploit sports market inefficiencies and incorrect assumptions of bookmakers. The approaches to stock betting challenges commonly accepted knowledge.

How important is diversification? Are investors in individual stocks just gambling? Is maximizing your portfolio growth worth taking on added volatility? Is sports betting a better investment than stocks for some people? The approaches offered to risk taking, especially sports betting are ground breaking, with more fresh ideas than ever seen in a single coherent publication.

To elaborate, this is a book that is more of a guide to thinking about gambling in an advanced sense as opposed to a cookbook detailing recipes of how to do various bets. Finally a sports gambling book worth reading.



Paperback - 288 pages - George S. Howard (August 16, 2010)

£24.99

$24.95
---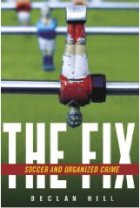 The Fix: Soccer and Organized Crime by Declan Hill

The Fix is the most explosive story of sports corruption in a generation. Intriguing, riveting, and compelling, it tells the story of an investigative journalist who sets out to examine the world of match-fixing in professional soccer.

Declan Hill chronicles his experiences with Asian gamblers who claimed to have fixed all kinds of football matches, from low-level Belgian league games to England's 1-0 victory over Ecuador at the last World Cup. The allegation was made by the respected French newspaper Libération. It said that the greatest football match in recent memory – the 2005 Champions League Final in which Liverpool, 3-0 down at half-time to AC Milan, came back to win on penalties – was fixed.

"Declan has written a well-researched book of investigative journalistic brilliance. A book that deals with the unseen and often shadowy world of soccer's match-fixing. . . . A world the authorities try to ignore; the effects of its existence swept under the carpet in the name of preserving the game's image." –Shaka Hislop, ESPN soccer commentator and former English Premier League and World Cup goalkeeper.

Declan Hill has written a book which is astounding in all its parts; the meticulous research, skill in following leads, tying up various and diverse pieces of information, a thorough and intelligent analysis of the game, the power structures of corruption, the legal obstacles and the people. Not only is his writing fluid and his reasoning logical, it is also accessible.



Paperback - 400 pages (2 Sep 2008)

£15.34

$19.11
---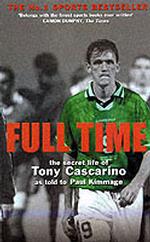 Full Time: The Secret Life of Tony Cascarino by Paul Kimmage

This book is the most praised football autobiography in a very long time. Reviewers' jaws dropped at "the searing honesty ... and the breathless style" (The Saturday Times); The Observer Sport Monthly gasped "It's Angela's Ashes with half-time oranges ... a footballer's autobiography like no other. The most astonishing sports book of the year." "Autobiography" of course means ghost-written: though told in the first person it was put together by award-winning Irish journalist Paul Kimmage

Making the book compulsively readable Kimmage structured it brilliantly, guarding the series of secrets that Cascarino reveals so that the reader is tantalised by cryptic glimpses then made to wait until each revelation in turn is suddenly unveiled. What are these secrets? Suffice to say that some are personal, some professional, some minor and quirky, one major enough to generate heated debate in the press. At times the book reads like the confession of a man who's lived with too much guilt for too long.

The Guardian said, "Compared with the standard-issue footballer's autobiography, this is Tolstoy." Perhaps not quite, but it's brilliant storytelling, and gives a shockingly honest portrait of one footballer and his world. .



Paperback - 208 pages (1 Aug 2005)

£7.99

$9.63
---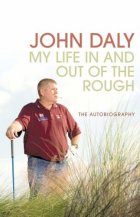 John Daly: My Life In and Out of the Rough
by John Daly
The 1995 Open Champion and legendary wild man of golf recalls the best and worst of his life: his inspirational play on both US and European tours; the demons that afflicted him on the course and his addiction to gambling and drink; and the trashed hotel rooms and spectacular marital problems. John Daly took professional golf by storm when he came out of nowhere to win the 1991 PGA Championship at Crooked Stick in Indiana. A big hitter, Daly quickly became a favourite with PGA crowds for his long drives and no-frills philosophy of 'grip it and rip it.' Almost as quickly he became a controversial figure thanks to his on-course fits of temper and off-course bouts of drinking and gambling.

He overcame erratic play to win the 1995 British Open, then suffered through six years of poor play and personal turmoil before winning the BMW International Open in Munich in September of 2001. In February of 2004 he returned to the winner's circle on the PGA Tour, winning the Buick Invitational at Torrey Pines.

Daly has been married four times, and his spectacular marriage bust-ups have attracted endless media headlines. His fourth wife, Sherrie, and her parents were indicted on federal drug and gambling charges in 2003; they were accused of selling cocaine, marijuana and methamphetamines from 1996 to 2002 and of laundering the proceeds through local banks.

Daly talks openly in his book about his controversial private life, the tantrums, the additictions to drink, gambling and women, and reflects on a new course in life in this richly entertaining read.



Hardcover - 356 pages (June 5, 2006)

£11.38

$15.57
---

Tournament Week : Inside the Ropes and Behind the Scenes on the Pga Tour by John Strege
This chronological, anecdotal excursion reveals surprising facts about golfers' habits and secrets, following them every step of the way during this hectic week. Tournament Week begins with the red carpet unrolling for them on Monday, to the gambling practice rounds on Tuesday on to Wednesday's dealing with amateurs, straight through Sunday, the ultimate payday in professional golf, when the press mounts and even the most poised golfer is prone to choke. Unique behind-the-scenes perspective also examines the practice round, where often more is going on than one would suspect including high-stakes gambling games.



Paperback - 240 pages (May 2001) expected price £8.75 Buy This Book

---

Nice Shot, Mr. Nicklaus : Stories About the Game of Golf by Michael Konik
From the author of "The Man with $100,000 Breats". Excellent book about golf for fanatics as well as ignoramuses. I liked how Konik reminds us that the high stress of competition and money and stardom don't excuse a rotten attitude on the golf course, or in life in general. The way he describes some golf courses makes you want to log onto the Internet to instantly buy an airplane ticket. There are also some clever chapters -- describing equipment in the style of "Twas the Night Before Christmas" and rewriting the Canterbury Tales to include golf.



Hardcover - 230 pages (1 November, 2000) expected price £14.97 Buy This Book

---

Playing the Moldovans at Tennis by Tony Hawks
This supposedly originates from an obscure bet. This time, Hawks bets he can track-down the Moldovan football team and beat them all at tennis. The loser must perform the Moldovan national anthem naked on Balham High Road. However, knowledge of tennis and/or football isn't required to enjoy the book. It is an entertaining, easy read that will make you chuckle.



Paperback - 248 pages new edition (4 January, 2001) expected price £5.59 Buy This Book

---
---

The Great Encyclopedia of Formula 1 1950-2000 - 50 Years of Formula 1
by Pierre Menard, Bernard Cahier (Illustrator), Jean-Francois Galeron (Illustrator), Chronosport (Translator), Bernad Cahier (Introduction), Nigel Roebuck (Introduction)


This book is a result of enormous amount of work. The statistics include also lap charts of every race run until today. Paintings include almost every model of each manufacturer. The pictures on the book could have been perhaps a bit larger, but in the contrast there are lots of them and enourmous amount of information. The book tells the history of every team until today. I would say, this is not quite race by race covery, but most important races for each team each year. Notice that the book is TEAM based, not RACE based, although there is a short common history. The profiles of frontrunner drivers throught the years are also included. The circuits are covered in their every form raced. Even different chicane shapes are shown. Of course some very slight changes to chicanes are missing. A must for the statistics.



Paperback - 864 pages (16 November, 2000) expected price £67.50 Buy This Book
---

It's Not About The Bike: My Journey Back to Life
by Lance Armstrong with Sally Jenkins
The best sporting stories are human dramas, and Lance Armstrong's is one of the greatest. At 25, the American cyclist was diagnosed with cancer. He fought it, beat it and three years later, amazingly, won the Tour de France. This is a gripping story: from tough, fatherless childhood (he pointedly calls his absentee father a "DNA donor"), through devastating illness, to triumph in the toughest endurance test in the world.




Paperback - 314 pages New Ed (3 May, 2001) expected price £6.40 Buy This Book

---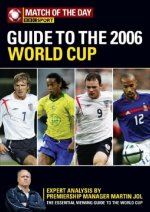 Guide to the 2006 World Cup
by Terry Pratt

This is the most revealing form guide to Germany 2006. In tandem with the "BBC/FIFA World Cup Stories", which looks back on the rich history of the world's biggest tournament, Interact Publishing and the BBC also look forward to the World Cup 2006. The Match of the Day team, led by Gary Lineker, will be the viewing public's first choice when they settle down to wallow in the 2006 World Cup. This guide will be the perfect accompaniment to that TV coverage. The MATCH OF THE DAY GUIDE TO THE 2006 WORLD CUP has been tracking 4000 of the world's top players to produce a unique World Ranking system so every key player going into the World Cup will be ranked for their form over the preceding year.




Paperback - 160 pages (April 13, 2006)

£3.49

no US version
---

Complete Encyclopedia of Soccer
by Keir Radnedge


A celebration of the world's No.1 sport, providing essential information on not only the world's leading international and club competitions, but the famous players, the great clubs and the classic matches. Contains comprehensive statistical coverage of the world game and all the principal records.




Hardcover - 648 pages (1 September, 2000) expected price £31.24 Buy This Book

---

Total Football II : The Official Encyclopedia of the National Football League (Total Football, 2nd Ed) by Bob Carroll (Editor), Michael Gershman, David Neft, John Thorn (Editor)
The book is extremely well organized into interesting categories such as: 1. The 300 Best Players 2. The 100 best Games - outside of the play-offs 3. The details of every draft for every team since the draft was initiated. This feature is my personal favourite since it allows one to objectively analyse the process of building or not building a winner and who did it. 4. The history of every player whoever played - teams - position - performance. Mandatory as a source for all serious discussions on the performance of a player - How we remembered it versus what they really did - very helpful and interesting. Overall this is a MUST book for any serious fan of the NFL.

Hardcover - 1664 pages (September 1999) expected price £37.58 Buy This Book
---

A Lot of Hard Yakka by Simon Hughes
Beneath professional cricket's monotonous, poorly paid routine is a soap opera of diverse characters living together through their ups and downs. A Lot of Hard Yakka takes you behind the scenes for a real insight into how the household names of the last two decades--Botham, Brearley, Gatting, Gooch--have made it through. Simon Hughes followed them for 15 years, riding the peaks and troughs with the great, the good and the ghastly. This series of warts-and-all vignettes is revealing,...




Paperback - 311 pages new edition (12 March, 1998) expected price £5.59 Buy This Book
---

500 -1 The Miracle of Headingley '81
by Rob Steen, Alistair McLellan, Mike Brearley
The events of 1981 hold a matchless place in the hearts of English cricket fans. For the only time in nearly fifty years, the whole country stood transfixed by the course of a Test series, and the fortunes of the English cricket team became a common topic of conversation in homes, schools, offices and pubs throughout the country. Over the course of that summer, during the Third Test, England came from 1-0 down to retain the Ashes 3-1. The events of that match, and the exploits of Ian Botham........




Hardcover - 267 pages (8 June, 2001) expected price £13.59 Buy This Book
---

The Mystery Spinner
by Gideon Haigh
Jack Iverson played five Tests for Australia half a century ago. His first-class career lasted barely three years. Not obvious material for a 376-page biography, but Gideon Haigh has written a superb book about him. Iverson didn't play top-flight cricket until he was 31. His rise thereafter was meteoric, but he never quite believed in himself and quickly abandoned playing for both Australia and his state, Victoria. He had a key role in retaining the Ashes for Australia in 1950-51 but then declared himself unavailable.




Hardcover - 376 pages (20 May, 2000) expected price £16.14 Buy This Book
---

The Great Olympic Swindle
by Andrew Jennings



Andrew Jennings has spent a decade rooting out the "culture of corruption" endemic in the International Olympic Committee. This book is a blow-by-blow account of how Salt Lake City bribed its way to winning the 2002 Winter Olympics, and the crisis this produced within the IOC. His energy in pursuing his quarry is remarkable....




Hardcover - 390 pages (24 July, 2000) expected price £13.59 Buy This Book
---