---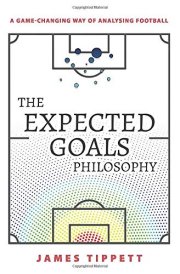 The Expected Goals Philosophy: A Game-Changing Way of Analysing Football by James Tippett

The latest media reporting involves many new stats and they have recently started using Expected Goals to offer more profound insight in their broadcasts.

Expected Goals (otherwise known as xG) was originally conjured up by a small corner of the online football analytics community. It didn't take long for professional gamblers to begin using xG to predict match outcomes. These bettors utilised the Expected Goals method to turn over hundreds of millions of pounds from the bookmakers.

Before long, football clubs had caught on to the ground-breaking insight given by xG. Brentford FC were leaders in this field, managing to assemble a Play-Off-reaching squad on a shoe-string budget. In the last five years, the small West London side have turned over more than £100m in transfer revenue from their use of the Expected Goals method in player recruitment.

More recently, the Expected Goals method has been adopted by the media as a form of insight. Fans are finally catching on to the pioneering means of football analysis. Soon enough, anyone who doesn't understand the Expected Goals philosophy will be left behind

If you are a beginner in football analytics or not comfortable on expected goals, this is without a doubt the most complete book you can read on the subject. If you are like me and work in performance analysis, I assure you this book will only make you more comfortable on the subject and ensure you are applying expected goals in the proper manner. Overall, this book is an excellent choice for any level of knowledge and interest on the subject and I cannot recommend it enough.

Paperback - Independently published 220 pages (8 Nov 2019) £9.95


Kindle - Amazon Media EU 220 pages File Size: 3249 KB (8 Nov 2019) £5.99

---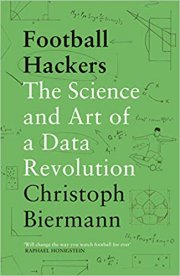 Football Hackers: The Science and Art of a Data Revolution
by Christoph Biermann

A nicely written examination of the football data revolution. Easy to fall in love with. A brilliant, thought provoking book that details how much further football's data revolution can go. Genuine research book to have if you are embarking on football betting though clearly there are other approaches to evaluating bets on football.

Big football data is here to stay with the use of advanced metircs and complex analysis. Some of this is in play on the pitch with teams analysing their play and opponents play with this new approach. More so the big teams of pros are using this whole data set approach to find value bets.

Just finding value football bets is only half the game though. The art and science of getting yours bets on continuosly is not treated here so you will have to look else where for that. Nevertheless this a book full of exciting ideas and inside views on modern football gathered from inside interviews from the clubs. Obviously professional betting teams keep their secrets to themselves but this is the best industry view you can get hold of. If you are new to this approach this book will not only change your understanding of the game but also stimulate you to think differently in terms of dissecting individual elements of it and making sense of it all together.



Paperback - 304 pages - Blink Publishing (30 May 2019) £8.51
Kindle - 304 pages - Blink Publishing (30 May 2019) £2.63
---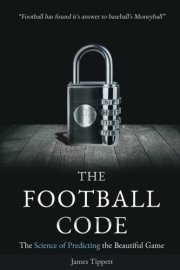 The Football Code: The Science of Predicting the Beautiful Game by James Tippett

James Tippett used to work for Matthew Benham's Smartodds, a company who make a business out of getting new types of data for soccer and turning this data into predictive models. Benham is well known in soccer circles as the owner of Brentford in the second tier of English soccer and also recent Danish champions, FC Midtjylland.

The Football Code teaches how a more scientific approach can eradicate the damaging effects of chance, leaving a clearer image of what is actually happening on the field of play. Only then can managers sign better players. Only then can pundits offer better judgements. Only then can fans compile better fantasy football teams.

The idea of expectation is explored along with essential concepts such as regression to the mean, the dangers inherent in drawing faulty conclusion from statistically noisy, small sample sizes, the multitude of cognitive biases that often cloud our decision making and the catastrophic effects of "once in a lifetime" Black Swan events.

Many of the new guys in the rapid growth of analytical based thinking about soccer come from a betting background and this book is essential to understand the new industry and the skills needed to compete.

Predictive models for teams and individuals are often built on the cornerstone of expected goals, a measure of the chance quality based on location and type of attempt, which attempts to quantify a side's creative and defensive process, rather than simply relying on the often luck ridden but more obvious outcomes seen in the actual goals they score or allow.

If you've wondered how data is collected and transformed into an expected goals model, Tippett provides explanations based on his own experiences and tracks the primacy currently enjoyed by expected goals and the deficiencies inherent in some of its predecessors in the evolutionary chain of key performance indicators.

Paperback - Independently published 268 pages (6 Sep 2017) £11.39


Kindle - Amazon Media EU 262 pages File Size: 2795 KB (6 Sep 2017) £6.02

---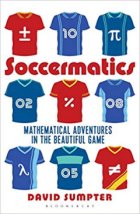 Soccermatics: Mathematical Adventures in the Beautiful Game Pro-Edition David Sumpter

Football - the most mathematical of sports. From shot statistics and league tables to the geometry of passing and managerial strategy, the modern game is filled with numbers, patterns and shapes. How do we make sense of them? The answer lies in the mathematical models applied in biology, physics and economics. Soccermatics brings football and mathematics together in a mind-bending synthesis, using numbers to help reveal the inner workings of the beautiful game.

Welcome to the world of mathematical modelling, expressed brilliantly by David Sumpter through the prism of football. No matter who you follow - from your local non-league side to the big boys of the Premiership, La Liga, the Bundesliga, Serie A or the MLS - you'll be amazed at what mathematics has to teach us about the world's favourite sport.

Really interesting read and Sumpter manages to strike the balance between explaining his reasoning and not going into too much detail for people who haven't studied maths at a higher level. And if the maths does interest you there are further explanations and links in the appendix.

Paperback - 352 pages Bloomsbury Sigma; Reprint edition (9 Mar. 2017) £7.75
Kindle - 352 pages Bloomsbury Sigma; 1 edition (5 May 2016) £6.17

---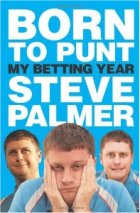 Born to Punt: Steve Palmer's Betting Year by Steve Palmer

Steve Palmer is that rare commodity, a journalist with a huge and very loyal following for his regular columns in the "Racing Post". His many thousands of fans enjoy his idiosyncratic and amusing interpretation of his own and others betting activities as well as life in general. Where others see pain and misery Steve inevitably sees a unique and amusing angle.

"Born to Punt" brings the best of Palmer's often hilarious anecdotes and stories together under one roof for the first time. These stories frequently involve the hideous misfortune and sometime joy which befalls the many of millions of punters who regularly bet each week.

Absolutely hilarious from the start! For anyone that is regularly involved in financial combat with the bookmakers, or simply intrigued into what makes thousands of people regularly frit away their finances on a variety of sports, Steve's account is frightfully recognisable. Chasing the dream! The lazy boy lifestyle led with his accomplice through various fast-food establishments adds the required light humour!

Hardcover - 288 pages (22 Feb 2011) £9.32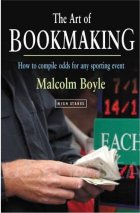 The Art of Bookmaking by Malcolm Boyle

Why do you try and beat the bookmaker, without knowing the basics of the business? The bookmaker offers punters prices based on his/her expertise, luring you to invest in a betting scenario from your amateur viewpoint. Yes, you have an opinion and might have even researched previous results and form guides from time to time, but unless you approach betting from a professional viewpoint, you will continue to lose money to the dreaded enemy.

"The Art of Bookmaking" explains how 'Turf Accountants' approach any potential betting scenario, and the (simple) mathematics that govern transactions. From a detailed look at 'percentages' through to frame betting in snooker, it shows you how to 'price up' any sporting event in the calendar. And it will show you how the Odds Compilers create prices for tournament betting (World Cup - US Open Golf Championship - Wimbledon etc), and inform you of the mistakes bookmakers have made down the years.

Hardcover - 256 pages (23 Mar 2006) £6.59


-----------------