Aspers at The Gate (2005)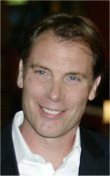 Damian Aspinall – Aspers director

Damian Aspinall – Aspers director and son of John Aspinall (1926 - 2000) the casino and zoo entrepreneur - opened Great Britain's best looking casino on October 27th 2005 in Newcastle-upon-tyne.

The multi-million pound Aspers flagship, 45,000 sq ft venue has a capacity for 1,250 people. It has a contemporary theme, designed by Australian architects Bates Smart, finished in silk, fine woods and stone and 27 multi-media plasma screens. It comprises two bars, the Air Bar – with live entertainment - and Lady O's, two restaurants, Freya's Restaurant – for high value cosmopolitan food – and Café Marie, for light, freshly prepared meals.

As well as the latest high tech gaming facilities Aspers Casino offers an iPod relaxation lounge, shoeshine and a beauty salon. There's also Club Aspinalls VIP area and a room for social gaming where friends can play anything from mah jong to poker to backgammon.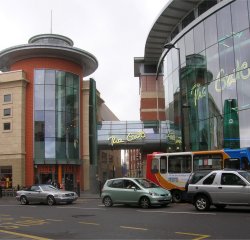 The Good Gambling Guide's editor travelled the long way up the east coast line from King's Cross to Newcastle train station in a very reasonable 3 hours (but try not doing it during school half-term).

Straight out of the station I found Grainger Street at about the two o'clock angle from the main entrance/exit. A four minute walk along this busy street brought me to Newgate Street and turning left brought me into view of The Gate complex. Approaching I could see the red carpet had been laid out with numerous cars emptying their contents at the doors of the bar/restaurant/cinema and now casino complex in the centre of Newcastle.

Avoiding this horde I slipped through the press entrance to get some champagne before it ran out. I need not have worried, they had lots. Before the thousand or so guests managed to get through the door I surveyed the joint to see what all the fuss was to be about and what exactly you can stick into a 45,000 sq. ft. casino in the UK.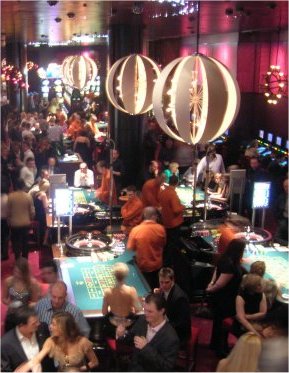 The answer is quite a lot. In a style reminiscent of the newly refurbished Desert Inn in Las Vegas, before Steve Wynn knocked it down 2 years ago, high ceilings and a mixture of brown shades and purples were put to a space pleasing effect. First impressions are distinctly all the about the height of the place, making it far more comfortable than the usual British casino.

There are roulette machines, then roulette tables, then card tables and then more roulette. Along all the sides are slot machines, 150 in all! To the right of the entrance is the Air Bar (with live entertainment) with a lounge to relax in. Beside is Café Marie with plenty of fish swimming in open pools. At the far end is the main restaurant and to the right of that a large card room for poker and the like. This is one floor but there are two others.

Upstairs you find the VIP gaming area, a beauty salon (??) and a more casual bar that I expect will be reserved for the big spenders or the famous.

Down below the main gaming floor is another bar with more machines and most suprising of all, a second entrance which leads straight out into China Town. Its a first for a British casino to have two manned entrances but a smart move here to lead into China Town.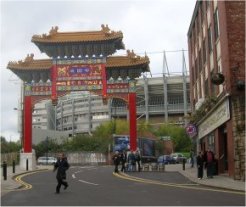 Should you wish to pop out at midnight for a quick duck and rice dish then go straight out the door, turn right and you'll find the China Town Express one hundred paces away.

Back inside the guests had filled the place and it looked to me that they got through 1000 bottles of champagne, all-beit not Dom Perignon. Singer Amy Winehouse performed a half-hour set which couldn't be heard because of the sound system. Later, after midnight, the crooner of swing numbers fared much better. Everyone was a lot merrier by then.

The gambling got underway at about 10p.m. James Hewitt played blackjack and Sir Clement Raphael Freud had a go at the roulette machines helped by his 'niece'. Other guests included footballers.

With 1000 people drinking away for hours the most impressive thing from my experience of the domestic product was the fact that the air-conditioning system coped easily without missing a beat and the air was clear.

All in I give them 10/10 for effort. The staff seemed willing to provide good service in fine spirit. However I shall return in a few months to see whether the venture is viable. The Membership Booth is situated on the first floor at The Gate entrance or telephone Aspers direct on 0191 255 0400.

Aspers at The Gate, The Gate, Newcastle upon Tyne NE1 5TG View on Map
Tel : 0191 255 0400. Fax: 0191 255 0419 Email: membership@aspers.co.uk