Just books about Sin City and the people that made it.

Las Vegas - The Delaplaine 2022 Long Weekend Guide
by Andrew Delaplaine

Another in Delaplaine's series of Long Weekend Guides offering a personal view on the best things to do, places to eat, shops to visit and attractions to focus on during a Long Weekend in the place where everything stays, Las Vegas, certainly one of the unique cities of the world. Whether you love it or hate it, Vegas also provokes a strong reaction either way.

You'll save a lot of time using this concise guide.

=LODGINGS (in several parts of town) variously priced
=FINE & BUDGET RESTAURANTS, more than enough listings to give you a sense of the variety to be found.
=PRINCIPAL ATTRACTIONS -- don't waste your precious time on the lesser ones. We've done all the work for you.
=SHOPPING -- a handful of interesting selections



Paperback - 148 pages (23 Aug. 2021) Book £11.49 Kindle £6.49


---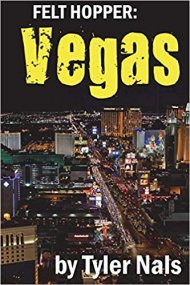 Felt Hopper: Vegas
By Tyler Nals

The author plans to play in the most popular poker rooms of Las Vegas during 4 days for the adventure and the objective of getting a profit.

We can read in short chapters all the poker rooms que visited, including downtown Las Vegas. He also includes anecdotes and interesting characters he met in Vegas. You are never bored and the pages go fast.

You don't need to know anything about poker to enjoy this book. If you do play poker, you will find out the best poker rooms for winning (and why).

Tyler's twisted description of poker opponents is comical and thoughtful. Great adventure for the casual poker fan.

Recommend for poker players not already familiar with Vegas.




Paperback - 204 pages (23 July 2018)

£6.84
---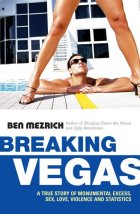 Breaking Vegas
Ben Mezrich
For nearly five years, he was known as the 'Darling Of Las Vegas'; the biggest high roller to hit Sin City in decades, a hotshot, twenty one year-old kid with a seemingly unlimited bankroll and an even more unlimited lust for big money action. His name was Semyon Dukatch, and stories swirled in his wake. Some said he was a Russian arms dealer, others a pop star from Eastern Europe. But the truth was even more unlikely: he was a twenty-one year old graduate student who had a plan that would one day make him richer than anyone could possibly imagine.

The Darling of Las Vegas quickly became a legend in the casino world. He is the only person banned from the island of Aruba. He was held, at gunpoint, in a cave in Monte Carlo and told that if he ever returned, he'd be murdered. And, he made millions of dollars playing blackjack, using three simple techniques that gave him the edge, techniques that are revealed in this book for the first time.



Paperback - 304 pages (January 5, 2006)

£7.25

$16.47
---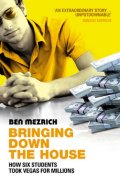 Bringing Down the House: How Six Students Took Vegas for Millions
Ben Mezrich
Liar's Poker meets Ocean's Eleven in Ben Mezrich's riveting story of a team of brilliant card counters who developed a system to take some of the world's biggest casinos for millions of dollars. Bringing Down the House is a gripping real-life thriller, and a captivating insight into a tightly closed, utterly excessive and totally corrupt world.

The first third of the book is a bit of a waste of space but Mezrich finally hits the jackpot on page 79, when M.I.T. student Kevin Lewis steps onto the floor of the Mirage.

This is the basis of the new film with Kevin Spacey called 21.



Paperback - 306 pages (6 May 2004)

£5.99

$9.00
---

The Man Who Invented Las Vegas
W. R., III Wilkerson, W. R. Wilkerson III
In 1946, two men battled for power in Las Vegas. Bugsy Siegel stole Billy Wilkerson's dream of a luxury hotel in the desert, and died in a hail of bullets. Although Billy lived on for many years, he never spoke of the man some believe was murdered for stealing his dream. Now, in this compelling First Edition, Billy's son finally uncovers the secrets behind the building of the Flamingo Hotel and the death of Bugsy Siegel. To put it simply, Bugsy Siegel did not create either The Flamingo Hotel or the Vegas Strip.

Paperback - 160 pages (24 Oct 2006)

£8.03

$11.56
---

Murder in Sin City : The Death of a Las Vegas Casino Boss
Jeff German
Ted Binion, the son of legendary gaming pioneer Benny Binion, was a wealthy, drug-addicted casino boss who loved to break the rules until his death in 1998. Binion's death turned into the biggest murder case of all time in Las Vegas and resulted in the convictions of both Murphy and Tabish. German, who covered the investigation from its beginning, wrote the book with the help of thousands of pages of court transcripts and exclusive documents and fresh interviews with key Binion case players.

Paperback - 352 pages (July 2001) expected price £5.03 Buy This Book at WHSmith


Paperback - 352 pages (July 2001) expected price £4.33 Buy This Book at Amazon.co.uk
---

Running Scared : The Life and Treacherous Times of Las Vegas Casino King Steve Wynn
by John L. Smith
This book reads like what it is -- a quick 300 pages cranked out by a Vegas journalist familiar with the subject, commissioned by a publisher with a rich history of wallowing in libel. The preface admits as much. It is a rags-to-riches tale of a true-life Vegas player and there is much interpretation of loose facts. The moral of the book is that Wynn works in a business with a lot of shady peers, and that Wynn doesn't seem to mind it. What a surprise!
Paperback - (March 2, 2001) 352 pages expected price £9.35 Buy This Book
---

Burning The Tables in Las Vegas--Keys to Success in Blackjack and in Life by Ian Andersen


In the mid-1970s, Ian Andersen wrote Turning the Tables on Las Vegas, the classic book on casino comportment. As the first book to broach the all-important consideration of how to get away with getting the money, Turning was the book that launched a thousand blackjack careers. After its publication, however, Andersen disappeared from the scene. Where did he go? The answer is spelled out in this long-awaited sequel.
Hardcover - 305 pages (January 1999) expected price £17.08 Buy This Book

---

Super Casino : Inside the 'New' Las Vegas
by Pete Earley
In the 1990s, Vegas overtook Walt Disney World as the most popular tourist destination in the country; also in the 1990s, Las Vegas became the fastest-growing city in the U.S. Pete Early takes readers on an atmospheric trip here that should prove popular, even among those who have not yet taken that magic stroll down the Las Vegas Strip. He charts the history of the evolution from old Vegas to new Vegas by focusing on the history of two "supercasino" companies, Circus Circus and Mirage Resorts.
Paperback - 512 pages (January 2001) expected price £4.64 Buy This Book

---

The Players : The Men Who Made Las Vegas by Jack Sheehan (Editor)
Las Vegas has been largely shaped by a handful of colourful and astute casino operators who turned a dusty desert town into the gaudy, booming holiday mecca that it is today. The stories in this book introduce us to the "players". We discover how early leaders like Cliff Jones, Moe Dalitz and Benny Binion first grasped Las Vegas's potential as a centre for high-stakes gambling, and we read of mobster "Bugsy" Siegel's effort to bring to reality another man's dream of a glamorous resort-casino on a then-remote site at the edge of town. Other visionaries turned casinos into islands of fantasy, with lavish entertainment spectacles. The arrival of eccentric billionaire Howard Hughes introduced a new style of corporate management - a style of management since carried on by Kirk Kerkorian and Steve Wynn - to an industry previously led by independent entrepreneurs and their families. Contributors consulted a wide range of sources and conducted interviews with many of the surviving players and their families and associates. The result is an informative account of a city's growth through the vision, energy and decisions of some remarkable gambler-businessmen
Paperback - 240 pages (October 1997) expected price £10.70 Buy This Book
---

Novels
---


Fear and Loathing in Las Vegas by Hunter S. Thompson


From the moment you start reading this book, you know you're in for one hell of a ride. Thompson documents his debauched exploits in typical manic fashion expressing the characters and settings, however eloquently, according to his warped drug addled perceptions. From start to finish the reader shares in Thompson's unparalleled journey through the American psyche and as a result, one can not help but laugh hysterically at what transpires. I whole heartedly recommend this book to anyone who wants something a little different, yet at the same time, funny, original and completely unputtdownable. Top stuff.

Paperback - 224 pages (15 June, 1998) Johnny Depp cover expected price £5.59 Buy This Book
Paperback - 224 pages (October 1972) Original cover expected price £5.59 Buy This Book
---