A Review Of Wombat Casino
---

Every month it seems like there's a flood of new and exciting games and apps for us to check out. For players it's great because it means more choice and potentially more places where we can try our luck. But with such a multitude of choice around it can be a little overwhelming when it comes to trying to track down and pinpoint your most perfect online casino. Every player is different and of course the range of games available at any said casino is vital in this ultimate selection however there are plenty of recommended features and offers that the best online casinos around should be able to offer the player. You may not always expect some of the newest casinos around to be able to cater to its customers in this way but thankfully Wombat Casino is a fine exception to the rule.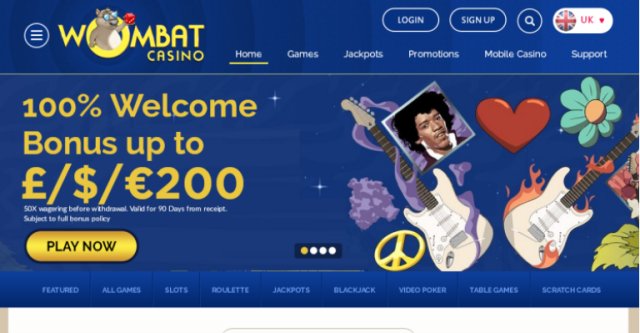 Wombat Casino has only been around for a few months now and already it has managed to bring with it a fresh and welcome design, game selection and welcome bonuses. The casino is filled with all the latest offerings from the likes of Microgaming, Nextgen and Net Entertainment, a trio of popular game developers. Not only that but the site itself has managed to attract plenty of players thanks to an appealing sign-up bonus, available to all new customers, who are able to take advantage of a 100% match on any deposit up to the value of £200, making it a fantastic site to enjoy plenty of free betting action long before you even need to dip into your own real money. The welcome bonus match is subject to a 50x wagering requirement.

Of course over at Wombat it's accessible to those on most devices so it won't matter if you need to view the site from your PC, Mac, desktop, smartphone, tablet or other mobile-based device - meaning that you can play almost anywhere and at anytime at your convenience. And you can enjoy the aforementioned welcome bonus no matter what device, platform or operating system you use to sign up through.

It goes without saying that Wombat Casino is absolutely packed with fun and exciting slot games to choose from. There's plenty of choice no matter what your interest or tastes, there is bound to be a slot perfect for you. But it's not just the slots on offer that is drawing the players in, it's the fantastic range of other more traditional casino games that feature on the site that is managing to prove a lot of fun for all its members.

Roulette fans for instance will be able to select from a number of virtual roulette variants and can even participate in live roulette games featuring real-life croupiers. Wombat also provides players with Blackjack, Baccarat, six shooter, triple pocket hold 'em poker, video poker variants and even online scratch cards. And with the sites incredibly simple and easy-to-follow layout you'll be up and playing in next to no time.
---