Benefits of Online Casino Games with Live Dealers
---

The world changed very quickly through a pandemic and habits necessarily evolved to suit the times. With quarantine restrictions removed its easy to think that life goes back to where it left off but for many people the new experiences learnt through onlline connectivity have changed the way they want to gamble. This is true for many gamblers who were prevented from experiencing the real world casino floor and instead joined an online operator for the first time.

There are problems that come with gambling online when previously you were used to people dealing the games physically to you as you lose the slow natural pace that comes with shuffling cards, or getting a ball to spin thirty times around a roulette wheel and paying players out in satisfyingly tactile chips. Chip stacking might be come a lost art.

This is where the live dealer games play more than just a gimmicky role, they give real human pace which gives you the player the time to think about your gambling and make decisions in a time frame that you were used to when sipping your drink and sitting on a chair inside a casino. Live dealer games are just better for you.

More Live Dealer Games than you Think

Its easy to think that there are not many types of game that can be played online with a live dealer but times have move on and the strong competition has forced casino operators to offer more and more choices in all types of games including those that can be dealt by a real person. Its a clear attraction to punters and operators have spent a lot of time and money investing in them.

Traditional Live Dealer Games

Blackjack played online with a lilve dealer was the first to be offered. At first very basic with poor video streams and no audio communication but now a fully interactive experience where you can even talk to the others at the table, talk to the dealer and even table hop if you get the feeling that the dealer isn't lucky for you.

Roulette quickly followed suit as a live dealer game and now has become the most popular game, even occupying hours of national TV every evening with your own bets appearing on screen broadcast to millions. Both Blackjack and Roulette variants have been created in their dozens all with real croupiers.

Along with these two main games all the other casino games can now be played with a real dealer in a casino setting, sometimes in a part of a real casino for added reality. Games like Baccarat, Sic-Bo, Casino Hold'em, 3 Card Brag and Casino Poker can all be played in this way with a real person dealing.

New types of Live Games

Popularity of using real people has meant developing the live dealer game play into areas that never existed before. A great example of this is Monopoly Live which is being offered by some operators in a new type of game that combines the tradional board game, that we all know, with a big wheel spun by a croupier. This is a fun new game that you can find using a list of Monopoly live online casinos and it is truly a new concept with possibilities of winning up £500,000.

Monolpoy Live is a two part game. Firstly a wheel (similar to a Dream Catcher wheel) with 54 segments is spun by a croupier with 48 segments that payout 1x, 2x, 5x and 10x and if you bet on the type of winning segment thwn that is what you get paid. So if you bet 5x and it comes up then you get 5 yimes your stake back.

Two of the segments are marked Chance, from the board game, and they pay an RNG created amount of money which varies each time it comes up. This process is presented by an animated character who you will see in the next part.

The second part of this game is the four segments marked "2 rolls" (3 of them) and "4 rolls" (1 of them). This is the bonus section of the game where the potential for big money payouts exist and where the board game features come in to play. If you have your money on "4 rolls" when it comes up then the Monopoly board appears with RNG created multiplies on each property which can be very large. You then get 4 rolls to see which of the properties you land on and get paid each time you do. If you roll a double then you get an extra roll. If you pass Go then all the next prizes will be doubled. So big doubles lead to big prizes.

Why all the investment in Live Dealers?

There are a few reasons why there is a move towards more real live dealers. Firstly, as casino consultant Bill Friedman writes in his book about Las Vegas, a comfortable player is a continuous player. So add the cozy sounds and soft pace of a real world environment and players are attracted to come back with interaction between customers and croupiers getting you closer to a bricks and mortar experience which you might not have anywhere near you.

Secondly regulation is getting tougher and stricter all the time. Pitfalls of online gambling that allow people to bet at a very fast pace are being highlighted by pressure groups and so casino operators are keen to show that they are providing real entertainment and not just a way of exploiting people using techniques that soon will be outlawed in licensed online casinos.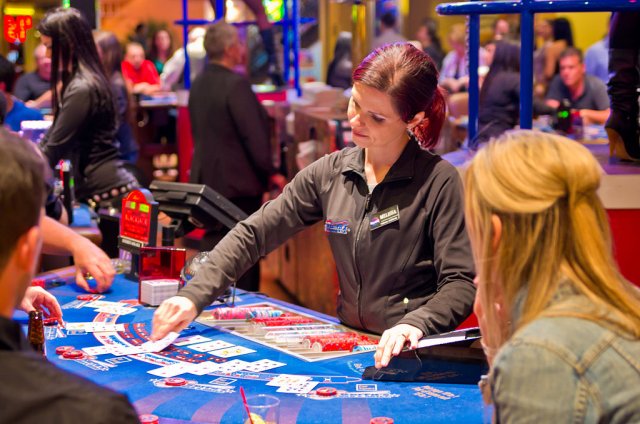 Image by Antoine Taveneaux
License

---